Violet's College Election Crawl: How a defining night went down in Cambridge
Our News Correspondent Sneha Lala attempted to report live from every college on Election Night. Here's what she learned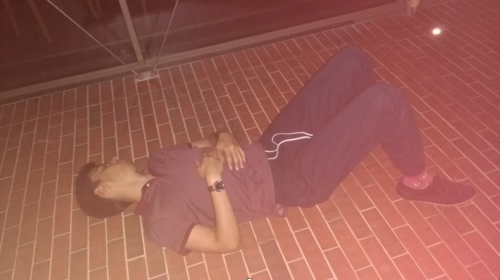 For Election Night, I took on the foolish, exhausting and exciting challenge of visiting every college and getting an insight into how they took in the election. By the end of it, I couldn't feel my feet anymore, was still none the wiser who would actually be running the country, and estimated well before the results that Cambridge would be Labour. Here's how the challenge went!
I started off at 9:22pm with a huge challenge all in itself – cycling to Girton. The things I do for journalistic integrity!
Girton
Arriving at Girton, I met first year history student Rose, ready to get into the election mood with the Lola's all nighter.
She told Violet: "We were all planning on wearing red...didn't work out, but we're red in spirit!"
When the exit poll came out, everyone huddled around the tv – the result was met with cheers and screams of joy. Student Molly Hale commented, "I'm really glad that Labour seems to have done better than we were all expecting and I'm hoping it will stay as it has done."
Girton student Rory Copeland summed up the election perfectly, saying, "I think this election is confused. Some people are still bitter about Brexit, so they're voting Lib Dem, other people are voting for the revolution and some people are scared of Dianne Abbot. As a sentient human being I don't know where to look."
Churchill
Less than an hour later and an exit poll in, I finished up and headed home. Disappointingly, the bar was closed. I'm still disappointed guys. Churchill was a nice change and provided both plenty of alcohol and election hype. It provided a stark contrast to the silent Medwards. As soon as we walked in, we were greated by an enthusiastic student yelling, "Down with the Tories!" The bar was enthusiastic – not as exciting as Girton but better than Medwards, which wasn't that hard. The mood was positive – Jamie Howie, first year Phys Natsci simply told Violet: "It's incredible."
Fitz
I finished off the hill with Fitz, where people had assembled in the auditorium. Here, I finally bumped into a Tory who simply said he had "no comment," only that he was "drinking... heavily."
Magdalene
Next, on to Magdalene where I met Mate Harstein who told Violet: "Go Corbyn! I did lose a bet with the stake of four shots that Tories would keep as many seats as they had in the exit poll." In the name of journalistic integrity, I sampled the shots he had to have – it's an acceptable punishment/reward for losing.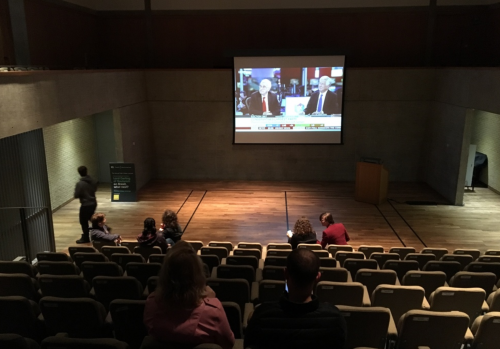 Johns
Getting to Johns was interesting and involved sticking my head through the window to get let in. Generally the mood here was Conservative, with a hint of Labour. One anonymous student expressed his desire "to run through fields of wheat."
The room seemed mostly Tory but there were a few Labour voters, one particularly interesting as a Lib Dem member voting Labour. He told Violet he voted Labour because he "wanted real change... tactically voting for Labour is more important in this constituency." However, it has to be said, as tempting as it is to stereotype the college, another Johns student wanted to make it clear to us that there was a space for the left in Johns, just like there is a space for the right in other colleges.
Jesus
We found a few Jesus members in their JCR. The mood was calmer, but it's clear students were excited, with Callum Moran telling Violet: "Here we, here we effing go," and a fellow student echoing his sentiments. Lydia and Eddie told Violet: "At the moment, it's looking better than expected. The big thing is Theresa May out." They added, for good measure, "Zeichner is bae. He's a fun, socialist piece of dough." Well, we couldn't argue with that!
Trinity
Then, after a brief stint at Gardies, we headed to Trinity. We started off in the Trinity JCR, where the mood was generally sombre. There was a difference however, with the alternative Channel 4 coverage being show: David Mitchell can always make a sombre mood better with laughs being drawn. One viewer joked that they "felt strong and stable."
Another, more contritely, told Violet, "it's a lose, lose situation." But we were not done with Trinity, don't you worry. Violet was tipped off about a private election viewing and talked to some people, who seemed more hopeful. One student (a Johns student visiting the college) told Violet: "This has shown that even if Labour hasn't been elected, they're not unelectable." She further pointed out that "the complete annihilation of UKIP" is particularly interesting, as "it shows that people are happy to vote for hope again, which they haven't been in a while."
Catz
Catz JCR was quiet but focused. Olly Francis told Varsity: "It's pretty dandy, could get less dandy in the future, hope it doesn't get less dandy." Can't argue with that! Hope, a Catz finalist, told Violet: "I really want Labour to win, that's basically it. I'm trying not to be too pessimistic but at the same time be realistic. But that's just the life of a labour voter." Deep, man.
Corpus
Next, on to the Corpus JCR, where one viewer told Violet how they were "initially optimistic, but now confused." Another was reluctant to comment, saying, "it's just so early that it's difficult." An engineer added a scientific edge, telling Violet: "It swang once but I feel like it should oscillate and then steady out." When Nick Clegg lost his seat, the reaction was certainly dramatic, with a few cries of shock.
Kings
After some major sneaking, we got into Kings, only to find ... nothing was happening. Gotta say, Kings, I expected much more from you. To have nothing? Shame on you. Worse than John's. In future you've got to up your game!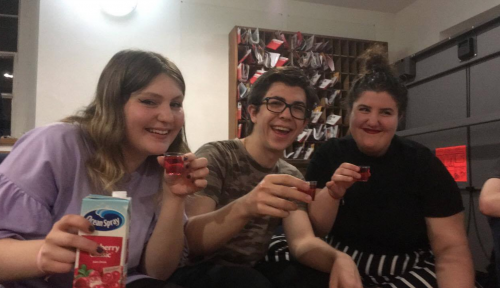 Pembroke
Here there was a small gathering in the MCR- stocked with plenty of alcohol to make a good night. One viewer was positive, telling Violet: "It's certainly interesting giving how it looks like it's going to be a hung parliament. Definitely embarrassing for Theresa May. Also quite nice because I could win £210 on this because I put a tenner on a hung parliament."
Christs
After a failed attempt to break into Peterhouse after our resident Petrean lost his keys, we moved onto Christs as the light came up. A healthy number of people were still going in the TV room. There was a mix of feelings, with one viewer commenting, "I'm very indifferent to it, I was hoping for more Lib Dem success but it's been a bit hit and miss. It's all a bit up in the air at the minute." Another seemed more positive, telling Violet: "I'm so glad Zeichner won in Cambridge. Even if there's all sorts of blue in this election, I'm glad that locally we'll be protected."
Climbing the gate didn't work out.
Misc.
After this there was a range of failed attempts. Downing, Emma, Gonville and Cauis, Queens, Newhnam, Selwyn, Robinson and Clare; we're not clairvoyant – we can't figure out how to get through those massive and very much locked gates. And then Trinity Hall? More like Trinity small (amount of coverage).
Homerton
Finally, Homerton. By this point it was 5am and I had bumped into a Homerton student on the way so I felt like it counted because I was nowhere near home and had to be awake in 4 hours. The student told Violet: "I think the fact is, earlier on in the evening, nobody expecting it would be the way it is now. I think it shows hope is here. It's really interesting to see how the youth vote will be and to show the north-south divide isn't there."
It was a long night, and when I finally returned to home sweet home at 5:15am, my feet were dead, my eyes ached and I'd had an unhealthy mixture of caffeine tablets and alcohol. However, the election crawl was successfully done