The Violet Guide to Election Night in Cambridge
Violet is here to take you through the excitement, confusion and pain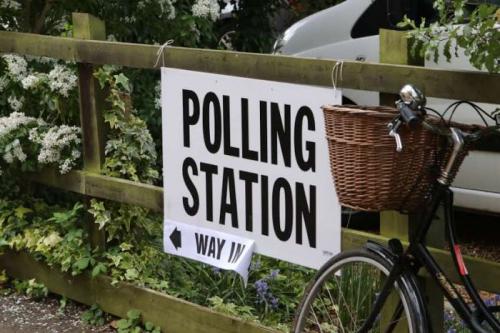 By breakfast time on Friday, the winners and losers of the general election will be just about obvious. The easiest thing to do would be to go to sleep until then. Except that we're Cambridge students.
Voters throughout Cambridge and the UK are deciding the fate of Theresa May, Jeremy Corbyn, Tim Farron and all the political parties as we speak, so it would be rude not to put ourselves through the stress of an all-nighter, guessing and grudging their way to Westminster.
"Polling stations across the country close at 10pm – at which point the national broadcasters will jump into action"
Yet since a hectic timetable of revision and exams is about as helpful when it comes to a general election as walking around with a paper bag over your head, navigating the next 24 hours is a daunting task for anyone who's not quite managed to spend every spare second on the Varsity website. So, for your convenience, Violet has compiled a guide of what's happening and when.
Voting
Voting's open from 7am until 10pm. Your polling card which, if you're voting in Cambridge, should have arrived in your Pidge, will tell you where to go to vote. You don't need to take your polling card with you, as they'll have a list of people on the electoral register, although it might make things easier if you do.
A proxy vote is when somebody else votes on your behalf if you're not able to get to a polling station, for example because of medical emergencies, occupation, service, employment or disability. You can apply for an emergency proxy vote at any time before 5pm.
Election Night
Polling stations across the country close at 10pm – at which point the national broadcasters will jump into action with an exit poll predicting just how many seats each party has won in the election.
Based on interviews with thousands of voters as they, well, exit polling stations, asking them how they cast their ballots, this will be our most accurate clue as to who has made it to Downing Street.
Watch out for some memorable quips from politicians who will only have heard the forecast when we do – and who finally won't be hustling for our votes. Is another Paddy Ashdown "I'll eat my hat" moment on the cards, or will the political beasts have learned their lesson and trot out the usual line of 'I'm waiting to hear the real result'?
"For those wanting to get weak and wobbly, Lola Lo's 'Let's Kill Disco Election Section' allows clubbers to stay up all night to stream the election"
It will be a few hours yet until we find out the actual verdict, but the constituency of Houghton and Sunderland South gets all smug about being the first seat to declare its votes by around 11pm.
Under Britain's first-past-the-post system, a party needs to win more than half of the seats – that's at least 326 out of 650 constituencies – for booking their appointment with the Queen to form a government. Though the lazy seats may not declare until lunchtime tomorrow, the broader outcome can be expected in the early hours.
The floodgates will open around 1am when the big batches of results start arriving. Depending on how close the outcome is, we could have a good idea of the UK-wide picture between 3am and 5am.
Estimates suggest Cambridge will announce its result in the region of 5am, with Cambridgeshire South coming in near 3.30am.
Where to Watch
On top of viewings arranged by colleges in their JCRs and bars, our typical Thursday night haunts have got in on the act.
The Cambridge Union is welcoming members and non-members alike to a live screening of the BBC's election coverage in its debating chamber and, crucially, the bar. Drinks will be served until 4am.
If watching coverage of the first results coming in doesn't tickle your fancy, you could always head to the ADC Theatre for 'Have I Got to Snap The Buzzcocks For You: An Election Panel Show'. The election-themed late show will be over well before most seats settle up.
For those wanting to get weak and wobbly, Lola Lo's 'Let's Kill Disco Election Section' allows clubbers to stay up all night to stream the election while listening to some ballot-blasting tunes. Post your names on their Facebook event before polls close for free entry