The Sidgwick library dropbox has a Twitter account and it's surprisingly sassy
'Sidgbox' has taken to social media to reveal an irrational fear of squirrels and love of Eminem and Beyoncé, writes Violet Editor Danny Wittenberg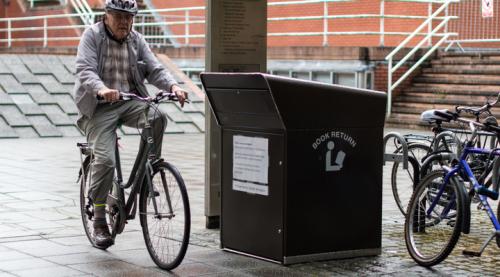 You see some interesting characters on the grind at Sidgwick. The edgy Englings, flashy lawyers and other humanities eccentrics we know all about. The strangest though, it would seem, is a humble black box.
"Woooooah we're halfway there/ Woooooah Candide by Voltaire"

@sidgbox on Twitter
Going by the nickname 'Sidgbox', the wooden bin for returned books from faculty libraries on the Sidgwick Site has been offering an insight into its innermost thoughts and feelings on its very own Twitter page.
The internal monologue gives fans regular updates on Sidgbox's literary and pop culture preferences while it waits for its contents to be sent back to their loving library homes. And it has even taken to memeing.
Alongside such enlightening messages as "I've got library conference FOMO" and "best doggo ever just walked by" (the easily-frightened Sidgbox doesn't share the same taste for "pestilential" squirrels, mind), the dropbox passes the occasional sarcastic comment on the books it consumes.
MMMM Stephen Greenblatt's Renaissance Self-Fashioning. What a classic.

- Sidgbox (@sidgbox) January 25, 2017
Sidgbox has exhibited a diverse taste in music as well as non-fiction, channelling lyrical geniuses like Eminem in self-referential tweets.

And this banger from Bon Jovi (or should that be ′Bien Jovi'?):

Perhaps seeking to combat the post-apocalyptic desolation of the Raised Faculty Building, Sidgbox, aka the Lovebox, even experienced romantic phase. The banter box inquired of its followers: "Hey, anyone know any single book drop-boxes around here? Asking for a friend."
Andy Priester, a marketing and communications expert who has spent six months researching into the use of library spaces at the University of Cambridge, denied responsibility.
A colleague suggested the Sidgbox might be Helen Murphy of the English Faculty Library. Classic Helen