Bread and Rutter: John Lewis Espresso Bar
Violet's food critic Emma Rutter returns for Easter Term and, this week, she samples one of Cambridge's obscure coffee freebies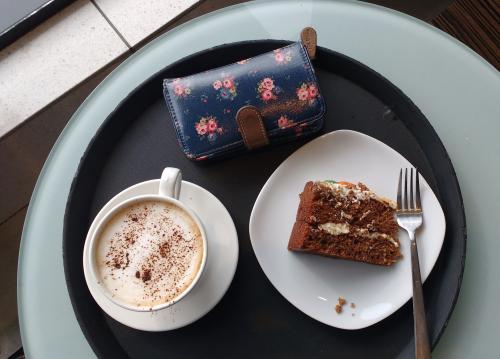 "A café chain?!" I hear you cry. "Outrageous!" 
"We're meant to be encouraging independent local vendors, not greedy international corporations, Emma. Why couldn't you have just reviewed Fitzbillies instead?" 
Well, dear reader, although I'm a girl who loves an independent coffee shop as much as the next beanie-wearing, camera-toting hipster, I'm also a girl who cannot say no to a bargain when she sees one. When I realised one of the perks of a John Lewis card includes a free hot drink and slice of cake several times per year (with the whisper of free ice-cream in the summertime), I couldn't resist giving it a cheeky try.
John Lewis is buried in the depths of the Lion Yard Centre – a place I try to avoid as much as possible since a traumatising visit on one of the busiest weekends of the year in Michaelmas. Well, 'attempted' visit is probably a more apt description.
I decided to brave the gauntlet again, however, and took myself out one Saturday morning in the hope of finding a quiet spot in which to read my latest Waterstones purchase.
The Espresso Bar, situated on the top floor of John Lewis, isn't the most picturesque café I've been to. The black, white and grey colour scheme, broken up with pops of pink, is modern but slightly soulless, with floor-to-ceiling windows looking out onto the backs of dirty brick buildings. Still, I wasn't here for the décor, and it was refreshing to mix with a range of clientele: parents with young children, lovely elderly couples, and families on a shopping trip.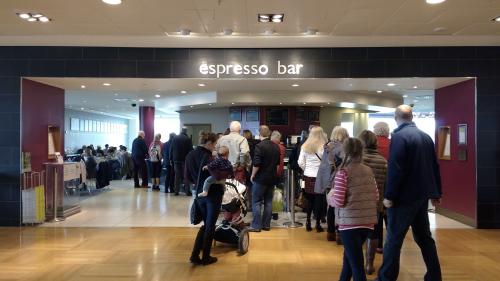 John Lewis offers a range of food which caters to all tastes. Brownies and juice for the little ones, tea and scones for grandparents, and chocolate-covered rice-cakes for the health-conscious. I also spotted some of the new marshmallow bars that everyone seems to be talking about, and was tempted by the toasted panini. I was doubtful as to what constituted 'cake', according to the terms of my card agreement, so avoided the thick fudgy chocolate cake and the cheesecake (I mean, it was ten o'clock in the morning after all) and plumped for a nice, safe slice of carrot cake instead.
Although I was intrigued by the idea of an Earl Grey tea loaf, it sadly didn't live up to expectations. It looked markedly dry and would have clashed with my coffee.
As I brought out my little pink coupon, the cashier smiled knowingly at me. There was a point a few months ago when I would have been too embarrassed to do such a thing, but now, after experiencing frugal student life, I waved away my voucher for a thick wad of cake and a cocoa-sprinkled cappuccino.
Free cake is all well and good but, as they say, the proof of the pudding is in the eating. The carrot cake seems to change according to the season: in Lent it was a layer cake, but last week it came in the form of a square. I preferred the layers (more cream-cheese icing, obviously), but both were equally as tasty. As a fan of juicy vegetable cakes, though, I have to say this was a tad too crumbly for my liking. In spite of this, it made a passable breakfast (sorry mum), particularly due to the white-chocolate carrot on top.
Coffee, just like the cake, was average but not awful. A friend of mine enjoyed her mocha and passed on her praise about the chocolate-orange cake – though this may have been a seasonal product since this term you're more likely to find a lemon drizzle cake or Victoria sponge.
John Lewis may not be the place to go for a romantic date or a cute post-holiday catch-up, particularly if you're looking for some Insta-worthy photos. In all honesty, it isn't the best coffee I've ever had either. But for those miserable days when you're feeling too poor to splash out on some gastro-therapy, I really cannot fault their voucher system. Of course, the premise depends on you spending time perusing the rest of the shop, but this doesn't have to be a bad thing. Between browsing the stationery section and munching on cake, your time will be well spent