Canvassing goes rogue in Cambridge as Tim Farron seems to ask voters to 'smell my spaniel'
The gaffe of the general election campaign has gone down in Chesterton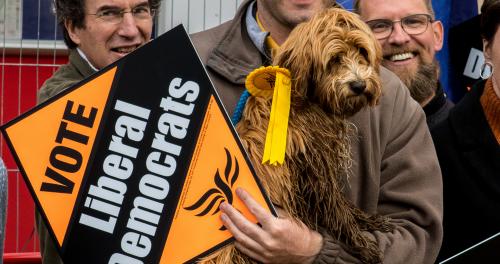 "Smell my spaniel, maybe?"
Tim Farron might have just become a meme.
An average morning on the campaign trail in Cambridge for the Liberal Democrat leader sparked mayhem on social and national media when Farron appeared to ask a voter that howler of a question.
While Farron was greeting residents in Chesterton alongside Julian Huppert, the local Lib Dem candidate, flanked by a press pack desperate for news, a brown labradoodle wearing a rosette coloured in Liberal yellow stood out among the election-watchers.
The doggo in question, Bonny, stealing attention from the politicians turned into the running gag of the canvassing session – until Farron ensured the joke was on him.
"Isn't that a sin?"
The labradoodle had taken a liking to the Member of Parliament and was eyeing up a lick. In a response reminiscent of legendary general election gaffes such as Ed Miliband's "hell yes I'm tough enough" moment, Farron duly replied: "Smell my spaniel, maybe?"
This was the only Lib-Lab coalition Farron would consider.
It later emerged that Farron had suggested Bonny was so besotted because it could "smell my spaniel, maybe?" on his clothes.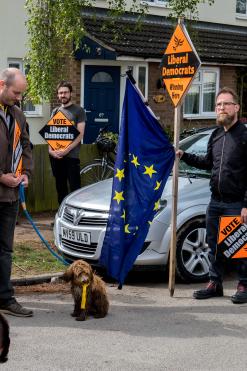 Nevertheless, the phrase swiftly found its way onto Twitter, which had only just recovered from Boris Johnson saying "mugwump".
"Isn't that a sin?" came the inevitable reply from Guido Fawkes, while others evoked Alan Partridge's "smell my cheese" sketch.
The incident even made it onto the BBC Daily Politics before anyone could decode the absurdity.
Farron does indeed own a spaniel, a black-and-white doggo named Jasper, and a Lib Dem spokesperson told reporters they could unleash him as their "secret weapon".
"We are finding Tim is going down very well in this election with canines and canine owners," one of Farron's aides explained.
News of Tatton, Richmond, Nuttall and Gandhi, Farron, Corbyn, snooker, JME with @EllieJPrice who asks what "smell my spaniel" means #bbcdp pic.twitter.com/vJElTAk7hM

- DailySunday Politics (@daily_politics) April 27, 2017
Footage from the BBC's flagship political briefingdaily_politics
"Tim and his family own their own spaniel. He is up in the constituency at the moment, no doubt undertaking his Liberal Democrat delivery round with his usual diligence.
"We don't rule out, however, that he could be unleashed at some point nationally," he added. "Jasper believes passionately that Britain should remain open, tolerant and united."
That was, perhaps, an optimistic take on a ruff day for their leader