Balliol defeats Wolfson for University Challenge title
Internet sensation Eric Monkman's knowledge was once again on full display, but unfortunately was not sufficient to overcome a strong performance by Balliol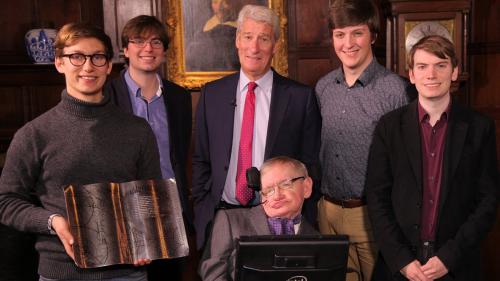 Wolfson College were defeated in this evening's University Challenge final, going down to Oxford's Balliol College 190-140. The tense contest marks the first time an Oxford college has defeated a Cambridge college in four years, as the two rival universities faced off in 2014, 2015 and 2016, with Peterhouse, Gonville and Caius and Trinity taking out the respective titles.
The team, comprising Justin Yang, Ben Chaudhri, Paul Cosgrove and captain Eric Monkman, started off strongly and opened up a lead over Balliol, only to lose it as Balliol's game picked up in the later parts of the match.
The team captains were once again especially prominent, with Balliol captain Joey Goldman answering question after question for his team. Monkman's usual erudition was on full display, but unfortunately marred a little by some premature answers which cost his team points,
Something of a rivalry had already emerged between Monkman and Goldman, who, upon getting a question on British actors wrong, refused to put up with Paxman's sass, responding to an infamous Paxman sneer with a backhanded 'whatever'.
The Wolfson team had gained particular traction online, as the emphatic, speedy responses of Monkman gave rise to the hashtag '#Monkmania', leading the Telegraph to reflect upon how "the shining beacon of hope we all needed [has] come in the form of a strangely intense Canadian genius with a severe fringe".
Appearing on University Challenge for only the second time in the college's history, the Wolfson team won their place in the final breezing through questions on Greek prefixes, stained glass windows in northwest England and early 20th-century Nobel laureates.
Wolfson were strong favourites for the title, having beaten Balliol 165-135 earlier in the series, and having a generally impressive run in the competition. Although they narrowly avoided a loss to SOAS in Round 1 and were defeated by beaten semi-finalists Edinburgh in the quarter-finals, the team's appearances were always hard-fought, particularly as they comfortably defeated fellow Cambridge colleges Jesus and Emmanuel as the rounds progressed.
Jeremy Paxman commented on the Emmanuel face-off, "You guys, all of you ... you are very, very clever, and it was a pleasure to watch this match", as internet sensation Monkman faced off against fellow social media star, Emmanuel's Bobby Seagull.
The Balliol team, Freddy Potts, Joey (Daniel) Goldman, Benjamin Pope and Jacob Lloyd are the third Balliol team to make a University Challenge final, but the first to win, as the college lost to Leicester in 1963 and Trinity in 1974. They progressed to the final having beaten the University of Edinburgh 215-140 in the semi-final, and defeating fellow Oxonians from Corpus Christi College in the quarter-finals