CUS-who? The apathetic student's guide to the elections so far
Violet looks towards CUSU after Amatey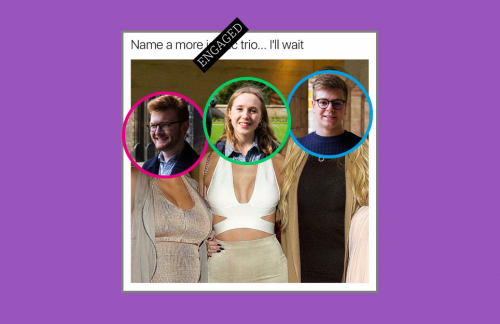 Facebook may have informed you that campaigning for next week's CUSU elections is underway. Beyond a few event invites, questionable hashtags and cover photo changes, it's likely you don't know very much at all about how CUSU works, and, most importantly, who has plans to run it. Only about 16 per cent of students voted in the last two presidential elections, and only around 10 per cent the year before, when the role was uncontested. So, Violet's got you covered.
Introducing this year's presidential candidates:
Jack Drury, CUCA and 'Save the Class Lists' frontman
When Jack Drury isn't saving the Class Lists, he is busy compiling CUCA's 'Direc-Tory' for incoming freshers with a liking for lazy Friday nights in with port and policy. But, the unconventional candidate's social calendar may soon take a drastic turn, as he has vouched to work a 45-hour week, and record every moment spent working towards: creating an 'Advocacy Committee'; a more collaborative council approach to the NUS; a closer relationship between CUSU and college JCR; and mental health training for Tutors, Porters and counsellors.
Hopefully President Drury will get a break on a Wednesday afternoon, advocating for non-teaching times for students to voluntarily subject themselves to physical activity and other such "valuable activities".
While he may be missed at some CUCA events if elected President, and may indeed miss out on a good croquembouche himself, his presence may be strongly felt by a sabbatical team likely to hold fundamentally different (left) political views.
Daisy Eyre, (college) daughter of one Amatey Doku and ex-JCSU President
When humble HSPS fresher Daisy Eyre arrived at Jesus College in 2014, she had no idea she would be daughter to the revered Amatey Doku. Having taken over the JCSU presidency from her father, Violet wonders whether Daisy will simply continue her father's legacy, or if Cambridge will see a Joffrey Baratheon-esque ascension to the CUSU throne. After all, Daisy did reveal to Varsity that her "guilty pleasure" is reading Game of Thrones.
Daisy's policies focus on improving access initiatives beyond the admissions process, building on the Student Advice Service and support groups for mental health, and training supervisors to be more realistic and understanding about student workload. Her ideas fall under the umbrella values of "representation", "activism" and "communication" (memorable three-pronged policy – check). 
Keir Murison, former President of Student Minds Cambridge and former Emma JCR Welfare Officer
#keirforcusu promises to "equalise", "engage" and "encourage" the student body through a revamp of welfare and mental health procedures, a new feedback system for Council decisions and an update to CUSU's social media platforms (direly needed). The mellow orange of Murison's campaign logo (and custom badges!!) reflects the reconciliatory approach he has vowed to take on a number of issues, such as mental health workshops, an online system to facilitate conversation between CUSU and students, and more consistent intermission policies and supervisor training across colleges.
If elected, Keir must somewhat awkwardly revert on his stance to abolish Class Lists completely, given the result of last term's student referendum and the passing of a University Grace.
The Tab speculates: Varsity's own Louis Ashworth
At 4:40pm on Saturday, The Tab were fresh off the mark to share Louis Ashworth's Facebook status, uploaded only three minutes earlier when a third-party gained serendipitous access to his account: "These candidates are a joke kmt, I'm running for CUSU President."
The Tab stated that Ashworth's "endless notes and pointless questions at CUSU council must have paid off, if he thinks he is confident enough to run for pres", an interesting comment given that The Tab themselves ranked Ashworth on their BNOC list.
Lola Olufemi: Running for Women's Officer, not President, but let's take a moment to appreciate her website
She may not be running for President, but the website of uncontested candidate for Women's Officer Lola Olufemi features enough ironic glitter to earn the vote of every ArcSoc goer ever. Perhaps the third-year English student from Selwyn will finally break Cambridge's vote drought with olufeminism.info, and her policies of 'Taking up Space', 'Transparency', 'Bridging the Gap' and 'Speaking up'.  
You'll be please to know that flyers will continue to be awkwardly thrown to you all week, as you rush to lectures in the rain and the presidential race intensifies. Voting runs from 7th-10th March
Comprehensive elections coverage
The latest news and analysis on the CUSU Elections, all in one place.
Visit Varsity's Elections 2017 hub.