Bread and Rutter: Bridges
Top marks from Violet's food critic for a quaint café that asks little in cash or calories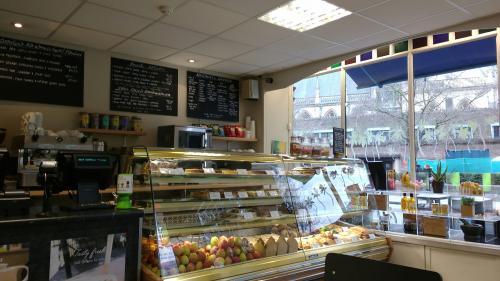 Week Five has been and gone. If you're anything like me, it involved the extra treat or two, be it a trip to the ADC, a film night with a friend or a cheeky pain au chocolat for breakfast. 
The problem only arises when one morning pastry suddenly morphs into an extra spoonful of Biscoff on your toast, or a bag of Sainsbury's cookies pre-bedtime. A bar of Cadbury's Dairy Milk, I'll be the first to admit, seems to have some kind of magical, mood-lifting powers, but like all good things, it's more enjoyable in moderation. To this end, I decided to search for a healthier establishment to review this week, in the hope of alleviating the sluggishness resulting from too much cake and not enough vegetables.
Bridges – on Bridge Street, funnily enough – was a lucky Google Maps find. Despite being a loyal follower of several Cambridge bloggers, I had never heard of this café before, and the longer I think about it, the more I wonder why. Ironically, Bridges started life as a patisserie but dropped the latter part of their name, aiming to promote the healthy aspect of their brand. They've kept one step away from the clinical white walls and rustic wooden tables of some health-food cafés, instead opting for a cheery combination of dark blue, orange and white which perfectly embodies their hands-on, no-nonsense attitude towards food.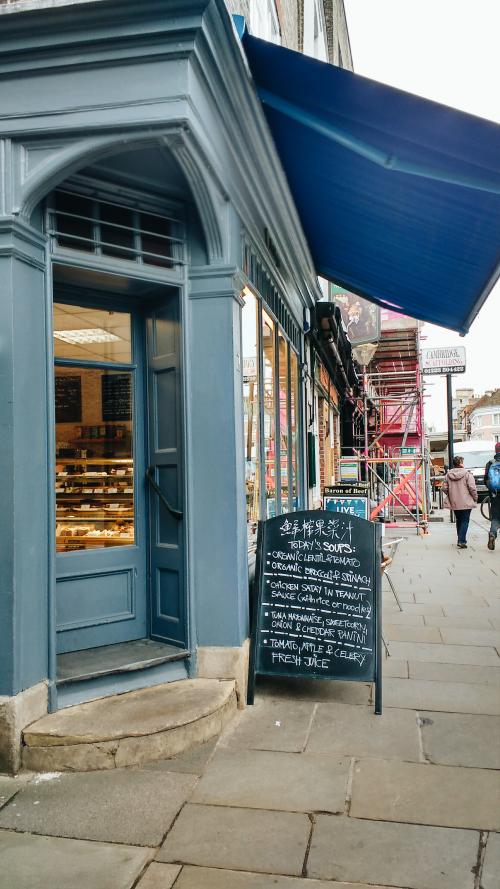 Inside, the café is small and seemed rather empty for 11 o'clock on a Saturday morning, aside from the trickle of customers popping in for a takeaway sandwich. This probably has something do with the fact that it is out of the way for many tourists, who rarely venture beyond the boundaries of King Street, but it would be perfect for a break after a morning walk or lacrosse practice on Midsummer Common.
The café focuses on freshly-made juices and smoothies, all of which change according to the season: beetroot, apple and ginger in winter, or pineapple and watermelon in the summer. If, like me, you're feeling a little under the weather, you should try the zingy cold-press shot – a potent tongue-tingling, nose-clearing combination of lemon and ginger. Tea and coffee is reasonably priced, and reasonably good: my morning coffee struck a good balance between bitter and mellow, and wasn't scalding hot, either.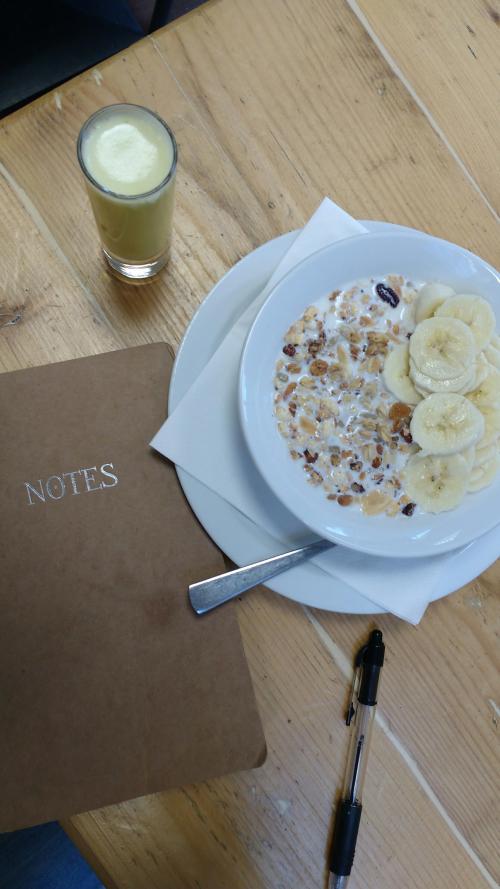 However, I would suggest you don't just stop at coffee. Breakfast options include eggs, toast and pastries, but the real star of the show is the granola. There are four different flavours to choose from (I picked maple and pecan, but was tempted by apple and cinnamon), and it is fully customisable, served with yoghurt or milk and topped with apple or banana. It has the added advantage of being much cheaper than many of the other granola bowls I've seen floating around town. They also have a good range of sweet slices and cakes, many of which are low-sugar and/or gluten free.
On the other hand, you could skip the morning snack and head straight for lunch instead, choosing between baguettes – with meat, vegetarian or vegan fillings – or seasonal soups for under a fiver, or you could opt for the full health benefits of a salad box, which will only cost you a few extra pennies. It's cheaper to take your food away with you, but eating indoors won't cost the earth and the café is relatively quiet: good for those of us who can't abide high levels of noise when studying. Just make sure to bring cash if you're planning on spending less than £5, or be prepared to pay the 50p card transaction charge.
Bridges is quiet and unapologetically simple, but it truly excels at selling healthy, hearty food at student-friendly prices, particularly if you choose to take away. Make it your next pit-stop and you won't be disappointed