Bread and Rutter: Harriets Café Tearooms
Violet's resident food critic Emma Rutter and friends can't beat a typical English tea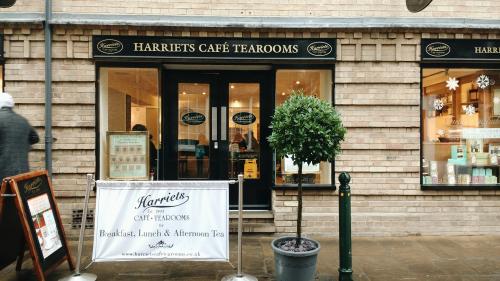 You'd think we had enough customs at Cambridge. Formal hall, gowns, starting the week on a Thursday… some of these traditions seem a bit bizarre, particularly when you compare your university life here to that of your friends elsewhere. But for some reason, there are several English traditions that charm the hearts of tourists and Englishmen alike.
Take, for example, the English tearoom. Tearooms became fashionable in the late 19th century, as places where noblewomen would gather in pretty dresses and dainty gloves to drink tea, eat tiny cakes and have a good gossip. Very little has changed since then – save perhaps the length of hemlines – and today English tearooms can be found in many an old town across the country. Harriets Café Tea Rooms fit the bill perfectly. We visited the Cambridge café (one of three – the other two to be found in Norwich and Bury St Edmunds) for brunch one Saturday morning, our budgets not quite able to stretch to the price of a proper afternoon tea.
"Eggs Benedict, served with extra bacon, was luxuriously rich and creamy, while the buttery crumpets won approval from our Yorkshire lass."
Harriets' charm is found partly in the soft cream carpet, which muffles the buzz of conversation and makes you feel as if you are drinking tea in someone's home. Our waiter – dressed smartly in a shirt and waistcoat – was polite and kind, willing to go the extra mile for our rather large group of six people, which was surely obstructing the doorway. By the time we had taken our seats among the elderly couples tucking into fish pie and Welsh rarebit, we had perused the menus and knew exactly what we wanted to order.
Despite being a traditional tearoom, the brunch offering at Harriets is bang up-to-date. You'll find classic breakfast food (toasted teacakes) alongside the now-staple dish of poached egg and avocado on toast; though, if we're being picky, I'd say they skimped on the avocado a little. Eggs Benedict, served with extra bacon, was luxuriously rich and creamy, while the buttery crumpets won approval from our Yorkshire lass. Cinnamon toast cast its dreamy scent all along the table – making me slightly jealous, and determined to order it the next time – and the breakfast grill was meaty, though not fatty, making it the perfect brunch fare on a bitterly cold morning.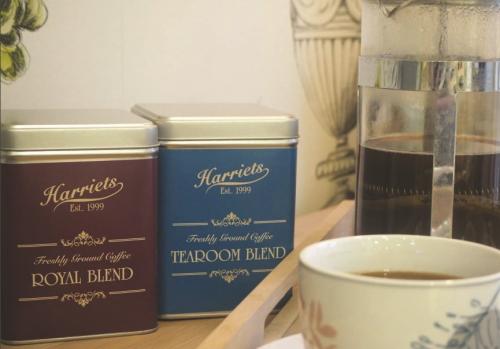 However, the coffee menu is rather confusing. They serve six different filter coffees, as well as espresso-based Americanos, lattes and cappuccinos. An Americano seemed expensive at over three pounds, but a pot of single-origin Java Bayukidul coffee will set you back by almost a fiver, which is, quite frankly, unnecessary. That said, it is possible to order a pot of coffee (or tea) for two, which is a nice touch – further elevated by the fact that it comes in a shiny silver pot. Tea is almost as expensive as the coffee; but it is a tearoom, and the wide range of speciality teas is enough to tempt the taste buds of those who say they aren't tea-drinkers. 
Though Harriets is not as hip as some of the other cafés in Cambridge (Espresso Library, I'm looking at you), it is worth a visit – perhaps with your grandparents, when they come up to spoil you for the day. After all, everyone needs a treat once in a while, don't they?