The Turn of the Screw
Despite strong performances, Alex King felt this adaptation fell short of its potential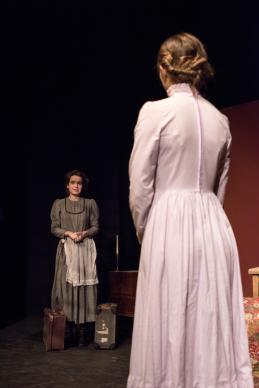 Henry James' notorious ghost story uses the manipulative voice of an unreliable first person narrator to create questionable portrayals of uncertain spectres. The translation of this to the stage led to some difficulties. Though a sense of tension was created throughout the play, it never managed to develop into fear, despite the best attempts of a talented cast.
The mutterings of the children and the nervous energy of the governess (Helena Blair) made for a perturbed ambience, and building sense of unease. This was, however, left somewhat flattened by a disappointing closing scene. While prop manipulation led to occasional shock reactions from the audience, the replacement of the governess' twisted, polyvalent narrative with occasional soliloquies failed to quite convey her vision of the ghosts to the audience. The Turn of the Screw evinces fear from a reader by allowing them to see the ghosts through the governess' eyes, and then introducing the possibility of her madness. Viewed on the stage, the final scene, though well acted, was anti-climatic without the presence of the demonic Peter Quint at the window.
The 'children' presented another problem within the bounds of student theatre. Though Rose Reade did a commendable job of masking her age with physicality and expression, the insistence that she was an eight year old girl felt uncomfortably false. Acting can only go so far to disguise an age gap between actor and character without requiring a different angle in direction. The inclusion of the line 'Why, he's scarce ten years old' to describe the obviously not ten years old Miles felt a little awkward. It is questionable why, in adapting the book to a script, age references such as this were not removed in order to create a less specific sense of childhood and youth.
This being said, the performance of the cast kept the play tense and unnerving. Isobel Laidler in particular captured exactly the unsettling confidence of Miles. With a boyish demeanour and mocking smirk, the power clashes between her and the governess formed the most engaging moments of the production. Natalie Reeve and Seth Kruger (playing respectively Mrs Grose and the children's uncle) deserve honourable mentions for their clear understandings of what their parts required, faithfully portraying the slightly neurotic housekeeper and distant uncle. Overall, an ambitious production elevated by strong performances, but falling a little short of its potential.