A Festival of New Writing
New student writing followed by discussion from industry professionals, these plays are tribute the potential of student theatre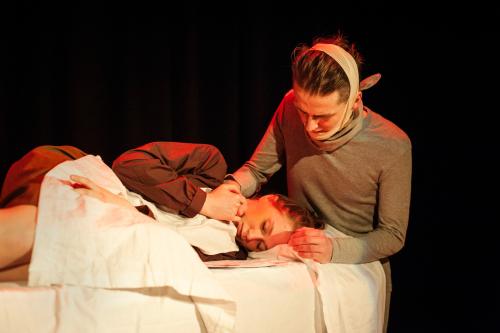 A Festival of New Writing is a three-day event, showing ten pieces of new writing, at a rate of three or four per day, followed by a discussion between industry professionals and the student writers involved at the end of each night. Each play runs for twenty minutes, with brief pauses to set up the stage between performances and an interval after the second piece. The plays showcased, selected from almost 40 initial entries to the competition, were chosen by Steve Bennett, theatre director and award-winning television scriptwriter. Rehearsals were over a short period of time so the actors were still holding scripts, but managed this in such a way that did not distract from the performance. Publicity emphasises the relaxed 'festival-feel' of the event, and this is true: the experience is similar to sitting down in an Edinburgh 'Free Fringe' venue and refusing to move as the different performers go on and off the stage in front of you.

Some of the opening night's plays handled the challenging 'One-Act' format better than others. Sarah Caulfield's Hamelin suffered from a story too complex to have emotional impact in such a condensed form, while Tom Stuchfield's Beautiful Voices, on the other hand, was powerful even in twenty minutes, without too much forced exposition. Miz Hashimoto's Howl, meanwhile, changed the tone from drama to comedy, and would not be out of place in a sketch show; the drastic change in mood is another struggle that potential writers have to face, and it is interesting to see how others handle it over the coming days.

The festival showcases more new writing on each day, and there are plans to make it an annual occasion. The panel discussion at the end kept the focus firmly on how the plays may be developed in the future, focusing on the positives (the beautiful poetic language in Hamelin, for example), and giving advice to writers and actors more generally. The discussion itself was very informal, and could have done with firmer steering by creative director Lili Thomas; but overall it allowed those involved to make salient points from professional perspectives on the plays. Despite its challenges, what the format does encourage is the critical reception of the performances by everyone who sees them, creating constructive discussion and a clear sense of student theatre as 'in progress'. Though there were certainly weaker moments in all of the plays, watching them was never boring because of this investment in development.

With an anonymous submission process and variety of performances from old hands and new faces alike, A Festival of New Writing is perhaps the perfect answer to those who see Cambridge theatre as clique-y and exclusive.
A Festival of New Writing is on at the Howard Theatre, Downing College, 12-14 March at 7:30pm