Henry V
Frances Myatt enjoys this visually stunning show, but feels it hasn't quite lived up to expectations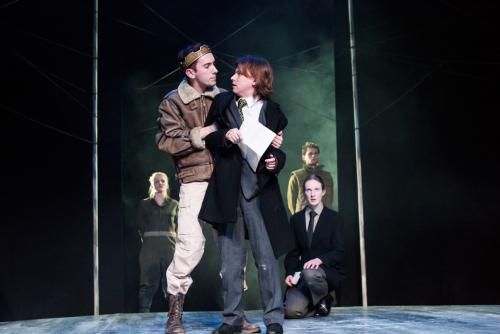 Henry V, one of Shakespeare's most famous plays, charts King Harry's war against France, the famous battle of Agincourt, and Harry's eventual reconciliation with the French King and marriage to Princess Katherine. Unfortunately however, the Marlowe Society's production of this dramatic, emotionally-charged play fell oddly flat.
Some parts were brilliant – Queen Katherine's attempts to learn French, the arrests of Lords Cambridge, Scroop and Grey at Southampton, and the 'leek scene' with Pistol and Fluellen were all engaging, funny and touching by turns. Edward Eustace had great stage prescence as both Ely and the King of France, as did Léa De Garnier Des Garets, who played Katherine. Some of the actors playing smaller roles also stood out, including Dom Ryan, who played the Boy and Lord Scroop, and Henry Jenkinson as the messenger Montjoy.
However, many of the more dramatic scenes just weren't quite played to their full potential, and some of the actors didn't quite have the charisma to fill the stage. Speaking Shakespeare naturally is difficult, and while several characters managed well, there was also a couple of slightly dodgy accents, some mannered, verse-speaking style diction, and quite a lot of shouting. The real problem, though, was that the play didn't quite succeed in the characterisation of the incredibly complex Henry V. His characterisation was rather inconsistent, and lacked psychological depth, so while there were flashes of brilliance in Mark Milligan's acting, it wasn't quite enough bring Henry to life as a real person, fiercely proud yet aware of his own flaws, guilty of betraying his former friends and himself betrayed by the lords he trusted, thirsting for battle but sensible of the horrors of war, and torn between his light-hearted youth and the responsibilities of his role as king.
In the end, the real star of this particular play wasn't Henry V, but the production team. The setting was incredible – for which special mention must be given to set and costume designer Sophie Thomas – thin wires strung between tall metal poles seemed to transform from banners in a throne room, to ships' rigging at Southampton to barbed wire on the battle field. Lighting was beautifully dramatic and both costumes and music highly effective. It's just a shame the acting didn't quite live up to the standard of the set.