Lemons Lemons Lemons Lemons Lemons: A bitter-sweet cult classic in the making
Emily Beck discusses the process of bringing a beautifully nuanced relationship to life on stage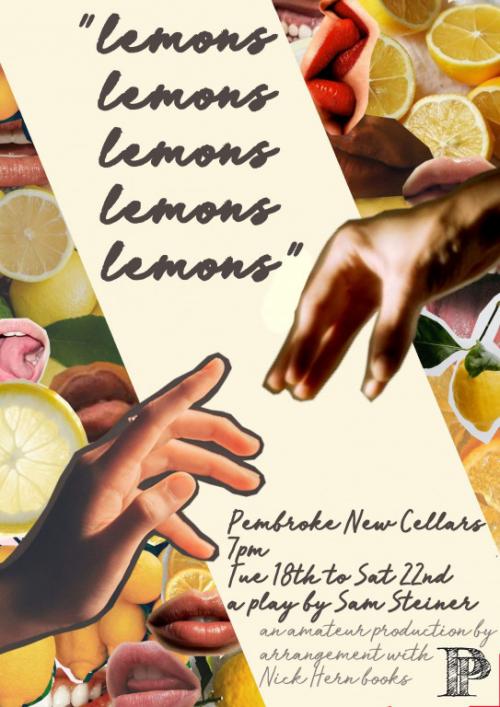 Sam Steiner wrote Lemons, which first premiered at the National Student Drama Festival, while studying at the University of Warwick, making his dystopic rom-com pertinent to the university experience. The intensity of Olive and Bernadette's relationship (there are no one-character scenes, resulting in persistent dialogue); their experiments, failings and occasional successes in communicating; the polarising political situation within which they exist: these ideas all feel incredibly close to home.
We both happened to want to be in this play at the same time, which led to our slightly unconventional route of pitching the show as actors. Sara Hazemi (Bernadette) and I have both been big fans of Lemons for some time. Recently the play has started to become something of a cult classic: its quirky title, fast-paced episodic structure and contemporary relevance are certainly key contributors to its popularity. For us as actors, however, the characters are at the heart of what drew us to pitch the show. Bernadette and Olive (my character, originally Oliver) are both very lovable, very flawed, and therefore very human; the extended exploration of their relationship in the play gives us, as actors, the exciting opportunity to develop their dynamic almost in real (if non-chronological) time.
We took the slightly unconventional route of pitching the show as actors
Ironically given the play's themes, communication has been key to keeping this process running smoothly. I think Sara would agree that making friends on the intense experience of a tour show has been really helpful in strengthening our working dynamic. It has also been a brand-new experience for me to be involved in a show right from the very beginning. This show has become our baby, and we are very excited to birth (?) her on Tuesday.
One question that worried us to start with, however, was what impact our pitching as actors would have on our working relationship with the production team we chose: we had a lot of ideas for the play and what it could be, but didn't want to take away from anyone else's role. Our worries were immediately put to rest during our first team meeting: everyone had so many different ideas to throw into the mix and different perspectives to bring. It's been a total joy working with and combining the ideas of so many brilliant creatives with our version of Lemons.
The gender swap of my character, Olive, has been quite significant. When Sara initially suggested that we pitch the show with the role of Oliver gender swapped, I have to admit that I was hesitant at first. When I had read the script previously, I had strongly disliked Oliver, reading all sorts of manipulative subtext into his relationship with Bernadette. Considering the gender swap made me reassess my own gendered preconceptions about these characters: did I assume initially Oliver was more likely to be manipulative simply because he was male, and did I recognise this trait less in Olive purely because she was female? The decision to play with the gender of characters, at least in Cambridge theatre, seems to be more based on a comparative dearth of male actors as opposed to actors of any other gender. As a result, the process of rehearsing this show has been hugely refreshing in how it has allowed us to use the decision to play with gender as a way to reinvent character.
The process of rehearsing this show has been hugely refreshing
We struggled during the pitching process to decide whether to tick the box defining our show as an LGBTQ+ narrative, and decided not to because we didn't want this show, originally about a straight relationship, to distract from plays which have queer narratives written into their original texts. That said, the emphasis on communication in the play does adopt a distinctly LGBTQ+ quality in our production: what words can we use to define or describe sexuality? What does it mean to be silenced?
Lemons has been an incredibly exciting and, in Olive's words, "refreshing" production to work on. There's a real sense of collaboration and commitment from everyone involved and while I am, quite frankly, a bit terrified of letting an audience into Bernadette and Olive's world, I – and I'm sure Sara agrees – have never felt more supported as an actor by the whole team. We think this show is really something a bit special, in its own sweet, sad way, and we would love you to come and enjoy it with us.
Lemons Lemons Lemons Lemons Lemons is on from 18th-22nd February in Pembroke New Cellars.