You're dead and I'm eating Pic'n'Mix is a real treat
Freddy Legg's one man show is a menagerie of humour, heartbreak, and hedgehogs – and a huge success.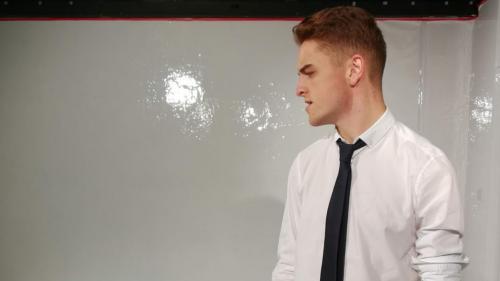 For a show that features a disco ball, some Ray-Bans, and a cheese and pineapple hedgehog, You're dead and I'm eating Pic'n'Mix causes a surprising amount of tears. For a show that centres around the death of the main character's boyfriend, there is a surprising amount of laughter. Directed by Niall Conway, Freddy Legg presents the story of Steven, who is grieving the loss of his boyfriend, Charlie, after he was killed in a terrorist attack in central London. The play takes the audience through the landscape of memories built by the couple against the backdrop of family tensions at Charlie's funeral.
Legg's talent as displayed in the text cannot be ignored: he has masterfully created the perfect mix of sadness and hilarity, much like the titular bag of sweets. Just as the audience begins to descend into sorrow, Legg catches them up in a joke, engendering rather tearful laughter. The jokes feel natural yet intentional, and none of them stray into the weak territory of simple comic relief. The audience is not always caught on this see-saw between sadness and humour, though; Legg leaves room for moments that need it, such as a touching conversation between Steven and Charlie's father.
"This unflinchingly honest production is exactly what the Corpus Playroom was built for."
Presenting different characters in a one-man show is no easy feat, but Legg achieves this remarkably well. Some character transitions are blurry, leaving the audience temporarily confused, but most are clear without being too jarring. One almost forgets that it is just a single actor on stage. The variety of characters is impressive and effective; Legg playing Charlie's mother, Kate, with a glass of red wine in hand is particularly amusing. Legg captures the dynamics of Charlie's family both in his character acting and his script. Although the relationships are well developed, more could perhaps be done with the theme of the erasure of Steven and Charlie's relationship, which is merely touched upon.
Steven and Charlie's love story was one of the most impressively developed aspects of the production. Legg captures exactly how it feels to be young and in love, but not immune to the pressures of reality. Legg does not fall into the trap of making Charlie a saint-like figure; Steven is all too aware of Charlie's faults, but it is his love for Charlie despite these faults that is so compelling. The audience cannot forget the futility of this love, however. "It's a bit like asking the girl behind the counter at Primark where the Versace collection is," Legg quips. "You don't say that you wanted to spend the rest of your life with a dead man."
The production elements of the play perfectly complement it straddling the line between hilarity and misery. Under Daniel Dickins' technical direction, the lighting creates distinct scenes without breaking up the action and the sound, while minimal, goes a long way to creating an atmosphere, especially in the incredibly powerful final scene. The props also work very well, keeping the focus on Legg's performance but supplementing the action of the piece.
This unflinchingly honest production is exactly what the Corpus Playroom was built for. The audience feel connected to Legg throughout the entire show. From laughter to despair, Legg's breaking of the fourth wall and direct address make each audience member feel a part of his story. For such a powerfully emotional piece, it also feels very intimate – a perfect fit for Corpus, and a perfect fit for a one-man performance. You're dead and I'm eating Pic'n'Mix is everything a one-man show should be: impactful, hilarious and worth seeing again (even if it's just for the cheese and pineapple hedgehog).