Escaped Alone review
A hilarious and haunting tale of apocalypse and tea-time gossip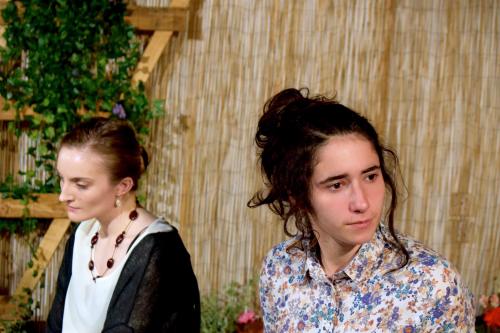 May Week features a number of outdoor garden plays, and although Escaped Alone isn't one of them, the Corpus Playroom set evokes an English small-town back yard with charm and delicacy. In it, four women meet for tea, seated on white chairs of intricate design, surrounded by potted plants, hanging baskets, and a wooden lattice with greenery and flowers growing on it. Birds chirp and church bells ring, and the women's chit-chat is periodically interrupted by descriptions of apocalypse.
A lot of care clearly went into setting the scene, and it is by immersing the audience so thoroughly in the environment that the four actors on stage are able to capture viewers with performances that can only be described as stunning. The women are meant to be over 70 years old, and although they are played by students in this production, the actors' manner and speech styles convey their characters' age.
They muse about everything from an unnamed but apparently gripping TV series to jokes and political correctness in a way that feel entirely natural and believable, never forced: the kind of conversation four women might actually have in our rapidly changing world. The women alternate between quickly bouncing off each other with easy familiarity, sometimes talking over each other, only for an awkward silence to follow.
All four women seem to be living their own personal apocalypse that never really goes away
Slowly, their stories begin to emerge. Lena (Lara Cosmetatos), messy-haired and timid, "doesn't get out much." She seems overwhelmed, withdrawn, and perpetually on the brink of tears; her eventual soliloquy about her experience of depression is understated, unsurprising, yet still gut-wrenching. Vi (Sophie Scott) and Sally (Alicia Hussey) are the more lively of the group and clearly close friends, gossiping together and often carrying the conversation, yet we sense the tension there, waiting under the surface to come to a head.
Hussey's breathless enumeration of all the places a cat could hide in her house, explaining why she has to check windows and doors and overturn her home over and over again just so she can be sure no cats got in is disarming, a grounded look at how anxiety and panic attacks can manifest. Sally's friendship with Vi is fraught with history surrounding the death of Vi's husband, and Scott excels at conveying Vi's tough personality along with her trauma using both her voice and facial expressions.
Anna Bullard as Mrs. Jarrett is a standout. Her character is the outlier of the group, only occasionally making a comment, and she is our de facto narrator. The play is broken up by her monologues, during which she stands to deliver visions of apocalyptic horror. She describes rains of rocks, flooding, famine, disease, storms, wildfires, "cities relocated to their rooftops": seemingly biblical components to the apocalypse, realized in ways that very much reflect modern anxieties surrounding climate change, wealth inequality, technology, and consumerism.
The way Bullard delivers these monologues is appropriately unnerving: she seems shell-shocked, horrified at what she sees and yet smiling joylessly, as though she is trying to both shock us and detach herself from these visions.
Whether Mrs. Jarrett's apocalypse is a memory, a prediction, or simply her imagination is unclear. All four women seem to be living their own personal apocalypse that never really goes away, and the actors relate that experience through the tiniest actions: Hussey constantly pulling her cardigan up onto her shoulders as though to protect herself, or Cosmetatos retreating into a sad and far-off gaze after every interaction. This is all underscored by very thoughtful and precise use of sound (Emma Jones) and lighting (Lara Mandell).
Mrs. Jarrett's apocalyptic monologues are backed by an amalgamation of sound that toes the line between music and howling wind. Silence is also used to great effect: the background track cuts out suddenly when the women each deliver their soliloquy – at the same time, the light zeroes in, the shadows seeming to trap them as they reveal their deeply personal struggles.
Escaped Alone manages to mesh elements that we don't typically picture together. The four women gossip and make cruel jabs at each other, laugh together and sing together. There is both companionship and unbreachable distance, and all the while the apocalypse rages around them and within them. The result is hilarious and haunting, entertaining and enlightening, and very much worth seeing.