The Bacchae review
This feminist revival of a classical tragedy contains an almost orgasmic energy of empowerment, and proves that it is possible to breathe new life into this ancient play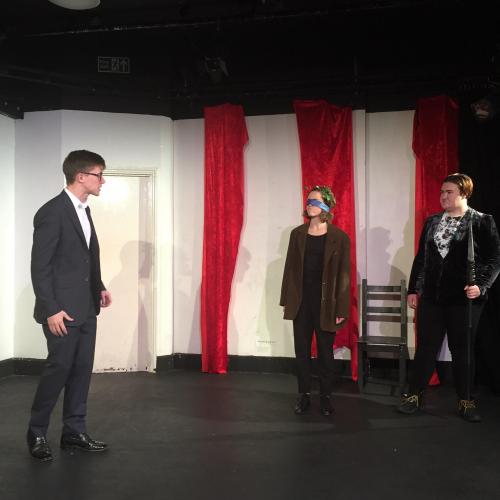 'So, Thebes, / Right now your royal women / Sit under the blue green pines / On the slopes of Kithairon / Worshipping me in mind-blasted / Ecstasy.'
So declares Dionysos at the opening of David Greig's 2007 translation of Euripides' seminal tragic work, The Bacchae. God of wine and the desire to 'lose' oneself, Dionysos thinks Thebes could do with some 'livening up'; specifically through partaking in his famed rituals of madness, apparently exclusive to women. Frenzied and intoxicated, his followers, the titular Bacchae (or Bakhai, after an alternative name for him: Bakkhos) give themselves over blindly to 'the Scream' in violent defiance of social order. Tragedy can't be far off.
"hysteria is transformed into a kind of orgasmic energy which empowers rather than undermines the female ensemble"
On the whole, Greig's translation works well as a means of creating an anachronistic, sharp-edged world of tragedy but one which still holds traces of lyric beauty. Director Amelia Hills has chosen to capitalise on the modernity of Greig's text, presenting the audience with a boldly feminist interpretation. As touched upon in the preview, The Bacchae is not necessarily a straightforward text to handle in a feminist context; the theme of hysteria (an idea which emerged in ancient Greek medicine and associated with female sexual disfunction) has often historically contributed to readings of the text as a cautionary tale about the dangers of sexually deviant women.
Under Hills' direction hysteria is transformed into a kind of orgasmic energy which empowers rather than undermines the female ensemble, and Dionysos' own gender is handled playfully. In a gesture in the direction of Judith Butler, Dionysos (an immensely entertaining Rosy Sida) is clad in a floor-length red dress and earns the first laugh of the show by gleefully announcing: 'Man? Woman? – It was a close-run thing. / I chose man.'
In general, I felt the actors' performances were the strongest aspect of the production. The female chorus was able to execute some striking moments of physical theatre, and performed its songs with poignancy, carefully planned by Musical Director (and actor) Alice Murray. In terms of individual performances, while some of the supporting roles were nicely done, if a little bland (I wonder if Hills might have done something more with Tiresias, for instance), the larger roles, such as Georgia Vyvyan as Agave and Eleanor Lind Booton as Kadmos, were especially well cast.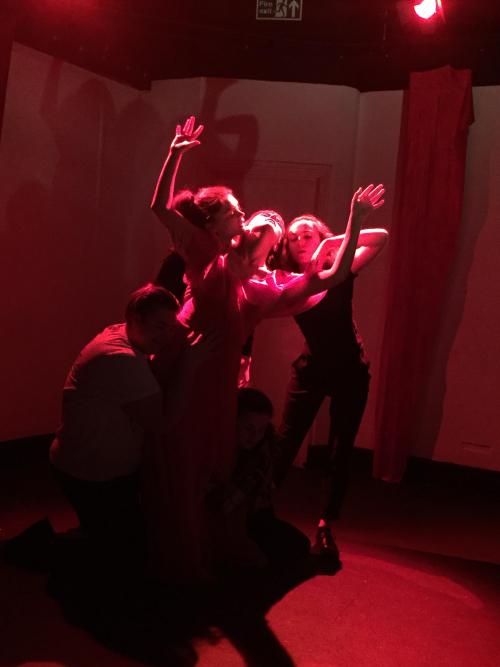 Vyvyan's Agave takes centre stage in the final scenes of the play and is wonderfully engaging as she progresses from dazed yet euphoric to devastated yet still queenly; likewise, Booton's Kadmos fared well in the opening scenes as sort of Jovial presence and still managed to convincingly portray a broken man at the show's conclusion. Ben Galvin was the lone male actor, portraying Pentheus as humorously puerile, which worked well as a means of emphasising the show's discussion of gender, with Pentheus as the sole representative of a dual patriarchal contempt for and fetishization of the Bacchae's sexual freedom.
I was less convinced, however, by the show's production design. Slipping into a high school-ish aesthetic of black leggings and red lipstick is something of a perennial danger with amateur Greek theatre, and while there's nothing wrong with it, it always feels a little uninspired. This production, I felt, could have done something more imaginative with some of its costuming choices and this is no doubt something it could have better achieved with a costume designer.
Props choices also frustrated me at various points, for example, the use of TK Maxx red plastic bags meant to hold the head and assorted body parts of the murdered Pentheus. This sort of visceral approach worked well but was undermined by the fact that Galvin was sat on stage with a sack over his head for the entirety of this final scene, and the attempt to be both gorily realistic and symbolic in the same moment was ultimately distracting.
The lighting (designed by Eduardo Strike), worked well, however, as it was suitably atmospheric and lent an air of unreality to the choruses. I especially liked the shadows produced in the final chorus, which effectively turned the four chorus members into innumerably more to create the impression of a final and universal pronouncement: 'No – you can't choose the gods that you worship / No – you just have to worship them all'.
The action itself seemed to lose a bit of steam towards the end, although the actors did their best with the somewhat drawn out conclusion. That being said, as a whole the production did not feel like two hours without an interval, and certainly proves that it's possible to breathe new life into this excellent tragedy.