The JCR preview
Sure to cure end-of-term fatigue, this unique comedy show expresses the frustration of bureaucracy through the lens of student politics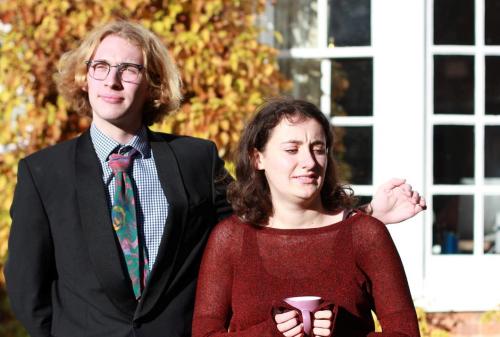 If you are anything like me, you perhaps spend an inordinate amount of time on Facebook, refreshing The Thick of Bridge, with any semblance of hope dwindling as the day proceeds. Fear no more: The JCR aims to cure end-of-term fatigue with some profanity-laden, unique comedy guaranteed to resonate with the average Cantab and even beyond the Cambridge circle. In the words of directors Seth Jordan and Adrianna Hunt: 'whatever you think it is, that's what it's not.'
The framing device of the show entails a mockumentary-style staging in a similar vein to The Thick of It and W1A, following a newly-elected JCR as they attempt to conduct their duties as elected officials. (For non-Cambridge readers: a JCR consists of undergraduate student representatives meant to attend to college-based matters.) Amidst a host of 'normal' characters one would see in a real JCR, the show also has a 'rights officer' whose acronym is far too long for me to recall and repeat, but the post encompasses a variety of rights – LGBT+, BME, women's rights and so on. A hard-hitting statement on the current state of Cambridge student politics, made even more apparent by the name of The JCR's President – Jane Toope. I ask Jordan and Hunt if they had anything to note on this, and they told me to 'work that out' for myself. I will, therefore, leave that to the imagination of the viewer.
In the words of directors Seth Jordan and Adrianna Hunt: 'whatever you think it is, that's what it's not.'
With this clear take on student politics in mind, how would The JCR appeal to a mixed crowd of more than just Cambridge University students? 'You don't need to understand the politics of it to watch it,' Hunt says, because the 'farcical nature' of the show stems from the a universal understanding of bureaucracy. But this sounded a tad like The Thick of It, in which the foolishness of politics is illustrated in a bureaucratic landscape. Nicola Murray, a leading figure and oftentimes the catalyst of catastrophe, appeared to share similarities to The JCR's Jane Toope. Both directors agreed with bits of my observation, although they were excellent in setting The JCR apart as a show of its own. Whilst there are similarities in terms of power, Hunt believes Phoebe Schenk shapes the Jane Toope character with strong elements stemming from her personal experiences. Jordan supports this wholeheartedly, noting that the writing process allowed for 'building the characters around what the actors were comfortable doing'.
This was because of a genuinely collaborative working method, where all parties involved wrote the entire show over an intense period of a week. During that week, clear ideas of staging were conceptualized to maximise the mockumentary-style depiction concerning a topic that is alienating to many of us on a personal level, yet familiar when viewed from the lens of student newspapers. Audiences can expect a firm barrier between the audience and cast members – Jordan states that this creates an effect of peering into the world of student politics rather than being actively involved in it. I see this as a way of emulating the barrier in place between JCRs and students. Either way, it will be a static visual depicting a series of meetings – a form of staging particularly appropriate given its subject matter.
If you have ever sat through a three-day Model United Nations conference, groaning at the unbearable pretension of delegates in their unkempt suits as they attempt to draft yet another 'original' resolution, this is the production for you. Even if you have not, the frustration of experiencing bureaucracy – a feeling familiar to many of us – is reason enough to watch this show. Or if you would like to see how ABBA function as key players to the show, a prospect I admit to being extremely intrigued by, make an effort to meet your JCR at the ADC, starting this Thursday.