I Need You To Be Quiet Now preview
A fantastically dark show looking into themes of male isolation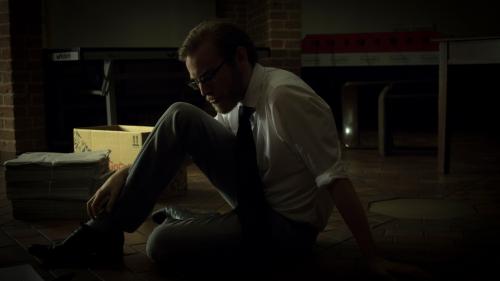 The premise of Victor Rees' and Charlotte Cromie's latest play sounds as simple as it does absurd: one day a table appears outside Matthew's tenement block, and for some reason, Matthew can't shake the impression. As Rees himself mentions, he has something of a penchant for plays that can be described in a single sentence. He mentions Equus, Peter Shaffer's 1973 classic, based on the true story of a troubled young man who blinded six horses with a steel spike. But of course, anyone who's seen Equus knows that this is not really where Shaffer's interest lies, as the play is constructed to move far beyond its premise; so too is I Need You to Be Quiet Now.
I Need You to Be Quiet Now is at its heart a compelling study of isolation, guilt, and family tensions. Alone on stage, surrounded by a rubbishy heap of props and of course by the large table upstage, the world Matthew (Lewis Owen) inhabits exudes a sense of emptiness, of futility. In this world the table and its chairs acquire a real significance: they seem to want to frame a conversation Matthew is incapable of having, each occasion on which he sits at it becomes an implicit recognition that there ought to be someone else sitting opposite.
"This theme of the inability to communicate is emphasised by the vision of director Benedict Mulcare"
It is difficult to provide any details of the plot without giving the game away, as Rees and Cromie have plotted a dark and suspenseful piece that the cast and crew collectively refer to as 'along the lines of Hitchcock'. Suffice it to say that early on in the action it is revealed that Owen, Matthew's younger brother, is being held in police custody and is unable to defend himself from criminal charges, as for some reason, he is unable to speak to anyone other than his brother. From here I can only really say that Rees and Cromie move the story along in increasingly tragic and darkly comic ways (but I promise the spoilers I was told are well worth the wait!).
This theme of the inability to communicate is emphasised by the vision of director Benedict Mulcare. My instinct is to assume that the show's preoccupation of the failure to communicate, particularly between two brothers, was a means of generating a serious discussion about the toxic nature of the pressures put on men in contemporary society, the expectation for men to repress emotional trauma or risk forfeiting their claim to masculinity. But Mulcare assures me that there's an element of that in the show, pointing out that there's been a surge in the number of shows trying to broach that particular subject lately and there is a kind of inherent 'subtext of masculine isolation' in the mere decision to construct a show around a man monologuing, but that ultimately that's not the direction in which he wants to take the show. To Mulcare, I Need You to Be Quiet Now is really appealing because of its surrealist quality and dark humour, even comparing it to Martin MacDonagh's 2003 The Pillowman.
In order to emphasise this inability to communicate, the team has chosen to set the show in what Rees calls a 'vague past space'. In his opinion, the show would be a very different one with the addition of social media, and Mulcare has pushed this concept to create an intriguingly retro feel, as if the show is taking place somewhere between the '80s and '90s. Otherwise the design concept is relatively simple, but one especially interesting choice is the inclusion of a musician, Ash Pratt-Jarvis. Pratt-Jarvis will be using bass and synthesiser to score the show but plans to improvise much of this, so that each performance will feature a noticeably different soundscape.
The evolution of the show is something the whole crew seems very keen on. Rees and Mulcare speak excitedly about the fact that the three performances will take place in three different venues around Cambridge and will have a few days in between to allow adjustments to be made. Mulcare describes the whole project as something of a 'labour of love'; it's an ambitious undertaking and its success depends on the commitment of the whole team. I ask Owen himself how he's feeling at the prospect of his one-man performance. He concedes that it's 'a bit daunting' but he sees it as 'a new challenge, as this isn't something [he's] really done before.' From what I've glimpsed in rehearsals, it seems like this is a challenge he's entirely up to.