Spoiler Alert preview: 'comical wackiness'
The winner of this year's Footlights' Harry Porter Prize, Spoiler Alert embraces the weird, the wacky and the whimsical, while engaging in an exciting subversion of typical gender dynamics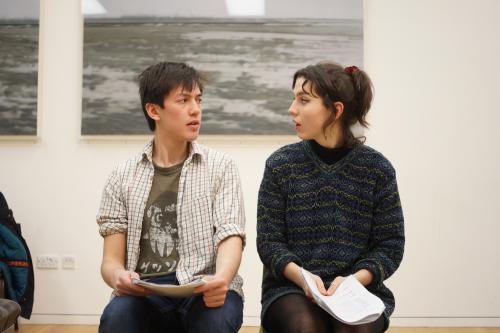 What this play embraces, the director, Megan Harding, tells me, is "comical wackiness". Spoiler Alert takes us on the journey of Maddy (Anna Wright), a loveable school teacher, who discovers her unusual ability to predict the future as part of a wider, imposing 'prophetic' community. Faced with such a delightfully farcical narrative, it becomes impossible not to embrace the weird, the wacky and the whimsical.
Charlotte Cromie drew inspiration for her writing from a place not unlike the domestic settings of the play. During an ordinary day with her family, her mother suggested that all the women of the Cromie family have prophetic abilities. From what could have been a mere throwaway comment, Cromie eloquently constructed a theatrical world which normalises the fantastical notion of accurate prophesising. By exploring one simple idea –  the ramifications of being prophetic – the comedy becomes unimpeded. The accessible examination of 'prophesism' allows the audience to suspend their disbelief. We can wholeheartedly immerse ourselves in an alternate reality where you may be able to see your partner age as you have sex with them, but it would be ludicrous to even contemplate the existence of superheroes.
An original feature of the play is that Cromie undercuts the traditional male-driven plotlines of Cambridge comedy. Spoiler Alert is acutely female-centric. Our attention is drawn to the compelling performances of female actors like Wright as the three-dimensional and relatable Maddy, and Lottie Elton as the eccentric yet identifiable Mrs Pope. Male characters, such as scatter-brained boyfriend Jim (Alex Franklin), are portrayed with effective slapstick and exaggeration. Whether being oblivious to the flamboyant, seductive strategies of Rosie (Issy Snape) or tumbling clownishly over sofas, Jim and his male counterparts are positioned as caricatures. These masculine parodies prop up the female narratives, in an exciting subversion of typical gender dynamics.
Visual comedy is a prominent feature of this show: I laughed at Snape's suggestive miming as Rosie pretends to reel in a fishing line to 'hook' Jim. I was charmed by the hilariously incongruous appearance of props like a snorkel and a dog toy. However, the humour is often heard and not seen. Most of the dialogue occurs in a minimalistic set, where characters spend most of their time seated. Through these static and intimate staging arrangements, a heavy emphasis is placed on vocalisation. I watched as Harding directed the cast in a series of vocal exercises to improve intonation, interrupted discourse and synchronised speech. The dialogue is used as the main tool to create the awkward and endearing interactions on stage.
Harding and Cromie tell me that Spoiler Alert does not seek to educate or deliver a message, but the play certainly poses some fascinating questions. The drama hinges on a contemplation of identity, exploring what happens when a categorisation of identity goes too far and assumes cult-like dimensions. The fictional 'marginalised' prophetic community is evocative of real-life liberal movements that overstep the mark. Therapeutic attempts to determine identity are teasingly satirised in scenes like the meeting of 'Prophetics Anonymous'. A familiar hypocrisy is betrayed when the leader of this discussion group states that "when we're talking about our identities, no one calls the grammar police" in the prophetic world of "strict rules" and semantics.
As the winner of this year's Footlights' Harry Porter Prize, Spoiler Alert promises to be funny and delivers in this promise. The show is a labour of love, a witty piece performed by a talented and receptive cast. This comedy will be the "slice of fun" that Megan hopes it to be and – spoiler alert – it will be a sizeable slice at that.
Spoiler Alert is on the ADC Theatre 7-10 March