Footlights Spring Revue: Judi's 40th review: 'impressive and well-orchestrated'
Our reviewer is entertained by the variety of sketches and the talent showcased by the Footlights this year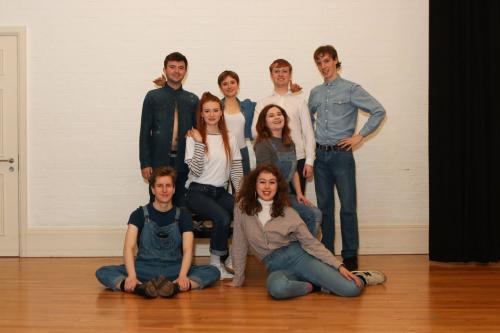 The Footlights Spring Revue: Judi's 40th was not altogether too dissimilar from my own Aunt Judi's 40th: warm, playful, and highly aware of death. Last year's Footlights Revue boasted a sophisticated, stylish set accompanied with some less impressive comedy. Judi's 40th reversed this by filling a low-key, unobtrusive set with a variety of strong sketches.
The narrative that interweaves the show is – as the tin says – Judi's 40th birthday party. It begins with an underwhelming patter of small talk as the Footlights await Judi's entry. This failed to set the audience alight. Nevertheless, the physical and vocal mastery of James Coward and John Tothill provided a number of giggles, setting the tone for the evening.
As the show moved towards sketches, we began to see the Footlights' talent. The audience was quickly brought onside by James Coward and Eve Delaney's peculiar animal testing facility and Virgilius, the language exchange student from Pompeii. Tothill, Coward, and Delaney left the crowd in raptures with their alternative takes on the workplace. Delaney explained the origins of Cadbury's most famous advert while Coward used ingenious methods to detect whether Tothill was ready for a job at MI5.
Declan Amphlett and Coward's Python-esque interpretation of Judas' Betrayal of Christ as well as Louisa Keight and Tothill's barbecue concerto further warmed up the crowd. Then, the Footlights delivered one of the best sketches of the evening: taking aim at the forgotten but loved Horrible Histories author Terry Deary. There is a brief lull before Coward and Delaney use a puffer jacket to explore the boundaries of mime – and they carry it off to perfection.
For the rest of the first act, Tothill rules the roost. As the eponymous star of Supernanny, he wrestles with his toughest case yet, showcasing wonderful physicality. Later, he rescues Rapunzel (Delaney) from her tower, only to be met by a less than fairy tale surprise. Both were excellent sketches and provoked heavy laughter.
The return to the Judi's 40th narrative somewhat dampened the middle part of the show, though it did signal a darker turn: death comes to the fore. Rufus McAllister's murderous father role and a gloomy CBBC moment featuring Barney Harwood gave us a taste of some darker comedy. Further darkness ensued with a creepy snowman, a dodo-murder, and a confusingly unnerving lunch-eater.
Then came the highlight of the night: Coward and Tothill's interactive Uniform Shop experience. Both transformed into middle-aged, midland-bred, Patty and Selmas who brought the audience into the performance. They did not make the mistake of cruelly humiliating audience members for humour – as interactive work so often does. They simply used them as props for specific, neatly crafted and well-deployed gags, before dispatching them back into the crowd. Apart from a highly entertaining series of tannoy announcements at a Watford service station, the show slowly comes to an end. It is tied together with one final dark spiral at Judi's 40th – though not a hysterical bang to end on, it serves a purpose of bringing all of the Footlights on stage for one final moment where they can be rewarded as a team.
Director Jasmin Rees must be praised for her emphasis on the comedy itself rather than theatricality – often the latter drowns the former. The selection of music was spot on, often nodding to jokes from previous sketches and occasionally driving the comedy itself: Ashleigh Weir's Depeche Mode-fuelled cake binge was a moment of pure joy. Further plaudits must go the stage managers and technical team who made a slick and smooth show.
Judi's 40th is an impressive, well-orchestrated work. Nevertheless, there are clearly some comics who are head and shoulders above the already talented group. Coward, Tothill and Delaney are indisputably the stars of the troupe. When collaborating with each other, all three illuminate the stage, and Cambridge is perhaps not aware how lucky it is to have them. If you not yet persuaded, see the show for this terrific trio.
Footlights Spring Revue: Judi's 40th is on at the ADC Theatre until 3 March