Boys Will Be Boys review: 'highly engaging and complex'
Matilda Wickham's directorial debut brilliantly contrasts dark comedy against the sordid background of the misogynistic finance industry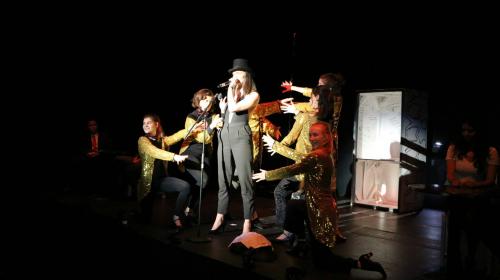 Melissa Bubnic's Boys Will Be Boys is a complex satire of city banking, and it's worth knowing the content warnings before going along (misogyny, sexual assault and rape). The play deals with difficult subject matter, notably the virulent mistreatment of women in the finance industry, but it is far from a simple, dramatic examination of the evils of the patriarchy. Matilda Wickham's direction brilliantly contrasts comedic moments against a sordid background, creating a dark comedy that speaks volumes about how men treat women, and how that affects how women treat women.
Featuring an entirely female and non-binary cast, the production is a conversation; it offers no answers, no resolution, and no real moral judgement, but it shoulders the discussion of female survival in a male world, with a female-dominated voice. The central characters, Astrid Wentworth and Priya Sengupta, circle each other like animals, wary of each other's power, battling to undercut, outperform, and dominate the other. What could easily slip into a one-dimensional portrayal of Strong Women In Competition (think power suits, and throwing drinks at each other) is given complexity by the performances of Jai Shende as Priya, and Wickham as Astrid (standing in for Georgia Vyvyan), both of whom embodied the multidimensional nature of their characters with ease. Astrid is not nice, but that doesn't make her evil. Priya is innocent, but that doesn't make her good. Ultimately, these are richly drawn and flawed women, who react to their situations in the only way they know how: by prioritising self-preservation.
At first, it seems easy to make judgements of good or bad in a story like this, but the production is clearly so empathetic to its characters' survival instincts and their treatment at the hands of others, that the reality is much more ambiguous than it might have been. The most tangible moments of visceral discomfort don't originate from the predictable, skin-crawlingly vile men of the play, but from other, seemingly innocuous characters, who prove to be capable of unimaginable brutality. Wickham's production does not prescribe a hero and a villain, but balances oppressors and victims in tandem, often within a single character, making for a highly engaging and complex viewing experience.
The element of cabaret in the production is especially well done. The choreography from Alice Tyrrell, Hannah Shury-Smith, Becky Shepherdson, Sarika Datta and Jessica Murdoch is rich and claustrophobic, and is complemented by the live band, who fill the air with sultry jazz tones and accompany several lilting songs performed by Astrid. Moody reds, cold blues and seductive pinks light the stage as the action travels from the bookie floor, to luxury hotels, to strip clubs, and there is a palpable sense of sinister and insidious intent throughout. The production also collaborates with Cambridge University Pole Society, to bring skilled pole performers onto the stage. This was a bold choice that was usually successful, but occasionally detracted from the action of the play.
For a directorial debut, Wickham should be highly commended for their work on Boys Will Be Boys. The pace was sometimes hampered by slow scene changes, and the actors faced an uphill battle to make themselves heard over the band, but the production buzzed with a persistent and inescapable energy. Sometimes it was repulsive and hard to watch, at others it was funny and charming, but it was never any less than captivating. At a time when more and more women are speaking out against mistreatment by male authority figures in their industries, Boys Will Be Boys has a resonance that goes beyond its boundaries, and it raises issues that will continue to be discussed for a long time to come.
Boys Will Be Boys is on at the ADC Theatre until 23 February