Spotlight On: Cambridge University Light Entertainment Society
Anna Jennings speaks to Sam Cocking from the theatre company devoted to reaching new audiences with light-hearted theatre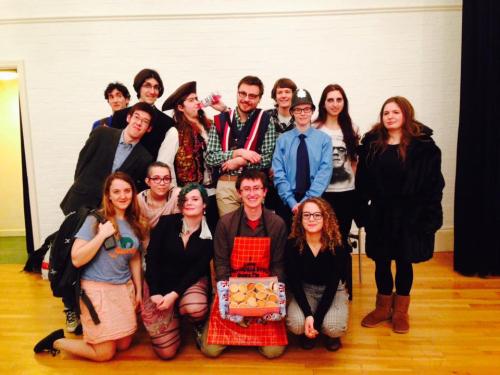 Founded in 1958 to put on silly, light-hearted theatre, Cambridge University Light Entertainment Society (CULES) has enjoyed a long and varied history. At its peak, some claim it rivalled the Footlights – with members such as Douglas Adams, John Cleese, Sandi Toksvig and Prince Edward, to name a few. After a drop in membership, CULES re-established itself in 2000 with a renewed focus on bringing theatre to those who don't normally get to experience it. They also see part of their goal as being to involve those in theatre who don't normally take part, and pride themselves on their policy of offering roles to everyone who auditions.
What differentiates CULES from other Cambridge theatre societies is their focus on external performances in the local community. As well as performing in college venues, CULES take their shows to local care homes, special needs schools, hospitals and more. Our members – as well as the audiences – seem to really enjoy this more unusual slant on theatre. It undoubtedly creates some memorable stories: there's one infamous tale of the time Andy Hamilton played Tarzan in a performance in a prison which he still sometimes uses in his stand-up.
One of CULES' favourite venues to perform at is Meldreth Manor, a residential school for children and teenagers with severe special needs. CULES have a long-standing relationship with the school, and enjoy returning year upon year – despite the challenges of performing to audiences here, they are able to see the positive impact their drama creates.
One of the biggest challenges for the society is the physical spaces to which they have to adapt their performances. Often CULES don't even know the details of the performance spaces in advance, meaning even basic things such as blocking a scene become much more complicated. The focus on external shows also places some different restrictions on the kinds of shows the company perform – a particular concern is their appropriateness for children, although they don't shy away from light entertainment and pantomime's long history of thinly-veiled double entendre.
While the Cambridge theatre scene has prodigious reputation owing to the hard work and dedication of so many students, as well as the high quality of the theatre, CULES sees itself as providing an important and relevant alternative to this mainstream. They provide a space for people who want a more informal and lower-commitment way to take part in student theatre.
One way to achieve this is by spreading each main production over an entire term. This means they can afford to have less intensive rehearsal schedules, and allows more time for social events, such as film nights and one-off readings of different scripts. In Easter term, instead of a main production they host a garden party where two or three short plays are performed. These are cast at the start of term, but rehearsals only take place after everyone has had a chance to recover from exams – and the performances themselves are intended to be somewhat less polished.
This term, CULES' main production is A Prior Engagement, written by Molly O'Gorman. It's a comedy of manners in the style of Wodehouse and Wilde about a couple of aristocratic families in early 20th century Britain. Two young members of these families, Colin Champness and Daphne Fairfax, have been arranged to marry by their parents and the action takes place over the weekend when they meet for the first time. They're both in love with other people and eager to end their engagement. When a black sheep of the Champness family turns up and the engagement ring mysteriously disappears, all hell breaks loose as the families attempt to safeguard their honour