Review: Love's Labour's Lost
Alex Sorgo feels that "despite strong performances from the cast, this production fell short of inspiring emotion either way."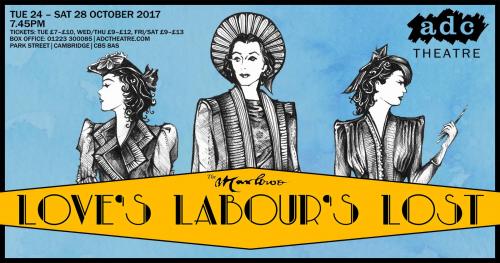 First years may connect with the plot of Love's Labour's Lost. It's Cambridge, 1938. The King of Navarre and his three companions have just started three years of studying and agree to swear off women for the whole undertaking. Luckily for them, not long into term the lovely Princess of France and three of her equally lovely ladies arrive on business at the King's College, I mean court. At first, the men are true to their word, making the ladies sleep in a tent off university grounds (I will forego, as the play does, comparisons with Girton). Nevertheless, one by one they fall for the ladies and attempt to win their hands. They send them gifts, perform a dance for them but mostly send them bad poetry which, I suppose, is roughly equivalent to receiving bad Tinder chat up lines. Just like bad Tinder chat up lines, the men's efforts are badly received in what can, in this production, often feel to be bullying rather than banter.
"Many scenes which should be funny fall a little flat"
This is the key. Many scenes which should be funny fall a little flat. What should have been a hilariously odd dance mid play feels awkward, though the choreography alone should have left the audience in stitches. This is perhaps not helped by chairs across the stage which made it look difficult for the cast to move around and made the scene feel too crowded.
The Shakespeare script has the potential to be very funny. Every scene features a ton of witticisms and jokes, as you would expect from the bard. These, however, are often lost in too fast deliveries from a cast a little too eager to show us how well they have learnt the tricky script. Xelia Mendes-Jones (Rosaline) and Joe Sefton (Lord Berowne) are particularly guilty of this, which is a shame as they have some of the best lines.
Saying that, the play is evened out by some very strong performances. Emma Corrin as the Princess of France was incredibly regal, although Will Gould as the King gave her a good run for her money. Ana Magliano-Wright as Moth and the Spanish comedy figure, Henry Wilkinson, work well together as a comedy duo, while Stanley Thomas as Dumain and Toby Waterworth as Longaville, companions of the King, bring great energy to the play. More very welcome energy is supplied by Comrie Saville-Ferguson who plays a loveable fool.
"Molly Yarn's work as the Costume Designer is very well done"
Pre–Second World War Cambridge is a great fit as a setting and Molly Yarn's work as the Costume Designer is very well done. The costumes look very professional and I would love to know what was done to the jewellery to get it to sparkle so brilliantly.
As the play draws to a close, "Wish me luck as you wave me goodbye" is played and we know that the fun times are over just as they are in the plot. But, what could be a very poignant ending is confused by an admittedly beautifully sung song from Amaya Holman. This gives a sense of an ending which the last scene doesn't match.
This is a play full of brilliant ideas, a clearly capable cast and good support from the production team. Sadly, however, the play just doesn't fully come off.
Love's Labour's Lost is on at the ADC Theatre with performances at 7:45pm, Wednesday 25th to Saturday 28th October