The Downing Festival of New Writing: Part I
Genevieve Cox is inspired by the "brilliantly imagined" pieces staged at this year's Downing Festival of New Writing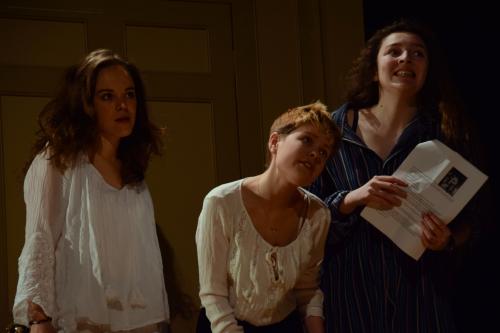 Whittled down from 50 plays to 10, I am lucky enough to be watching three of these ten on the opening night of Downing's annual Festival of New Writing where individuals with a passion for writing are offered the chance to direct and watch the concepts of their imagination come to life upon the stage.
Tonight's line-up included Oedipus Rex by Clare College English undergraduate Beatriz Santos, Waiting by Isla Cowan, third-year English undergraduate at Corpus Christi and Abba, Mamma by Eloise Poulton, third-year English undergraduate at Trinity College. And I was definitely in for a treat.
Opening with Oedipus Rex, Beatriz offered a retelling of the famed classical tale of Oedipus, framing it with ideas of pre-destination and the self-conscious role-play of actors who are aware that "all the world's a stage." Threads of the three witches from Macbeth were also woven into this amid intertextual allusions that worked well for the alert and knowing audience member, yet that were potentially inaccessible to those unfamiliar with the tale of Oedipus or other literary heritage from Shakespeare. However, it was fantastically written and with a zeal for language, evident in the clever manipulation of rhyme, prosody and imagery, that was truly delightful to see brought to life on stage.
"The script worked fantastically following the inner-workings of an individual, making clear tangential links that enabled the audience to delve into the character's mind"
The second play, Waiting, followed the thought-process of a young woman, waiting at a restaurant for a mystery partner to arrive. Delivered in monologue (albeit with brief interruptions from an anxious waiter to perpetually refill her wine glass) this was brilliantly written. The script worked fantastically following the inner-workings of an individual, making clear tangential links that enabled the audience to delve into the character's mind and slowly familiarise themselves with her situation.
The processing and progression of thought was carefully staged to parallel the consumption of the entire bottle of wine, with thoughts getting increasingly desperate, personal, reflective and unstable, with each glass until ending in screams for "the bill!". Although, as pointed out by the judges at the end, the character could have been a little more well-rounded and lacked some detail, Isla managed to reveal, bit-by-bit, details about her protagonist, answering initial questions through the build-up of conversation. The acting of this monologue was also phenomenal, truly bringing the character to life in the dramatisation of an increasingly drunken state and a vivid re-enactment of memories.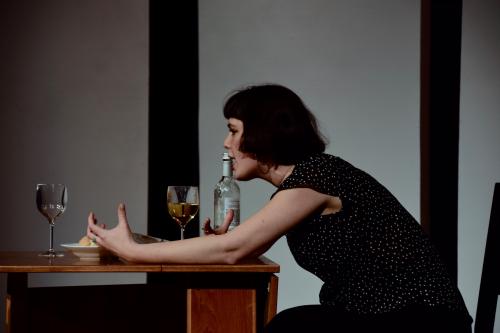 After a short interval, the final piece was Abba, Mamma. Lucky enough to have seen Eloise's adaptation of Dahl's short stories for adults in Are You Sitting Comfortably? last Michaelmas term, I had high expectations of what she had to offer in her own script, and I was not disappointed. The choice of theatre as her medium for story-telling was evident in this piece and this tale of mothers and daughters was brought to the stage through song and contemporary dance. The three interweaving tales of mothers and daughters which develop from childhood to adulthood offered different interpretations of drunken maternal figures, confused adolescence, 'saviour' mothers, 'lost' mothers who no longer remember due to Alzheimer's, and the lingering haunting presence of a potential ghost. All in all, this was brilliantly written and staged.
Having seen the three plays, the three writers and three judges were invited on stage for feedback. The judges, featuring Tanya Ronder, trained actor, play adaptor and co-writer for a new BBC series; Susan Everett, illustrator turned director/script-writer and David McDermot, TV drama creator and writer. Such eminent individuals offered clear direction for the aspiring student writers, giving both positive and constructive feedback. It was really inspirational having the chance to see the writers behind the plays, to hear their feedback. However, this workshopping session was potentially prolonged.
Overall, a fantastic evening and a source of encouragement for other aspiring writers. Some brilliant acting, directing and – of course – 'New Writing' staged at Downing and compered by Isaac Jordan. Although several roles had to be changed due to last-minute drop-outs, the evening was pulled-off successfully and a relaxed environment was established.  Thank you to all the writers – brilliantly imagined, created, written and directed plays all-round