Review: Love in a Maze
Simon West and Ella Godfrey's production of Love in a Maze is replete with ribaldry and slapstick humour that keeps its audience chuckling from beginning to end, writes Vanessa Braganza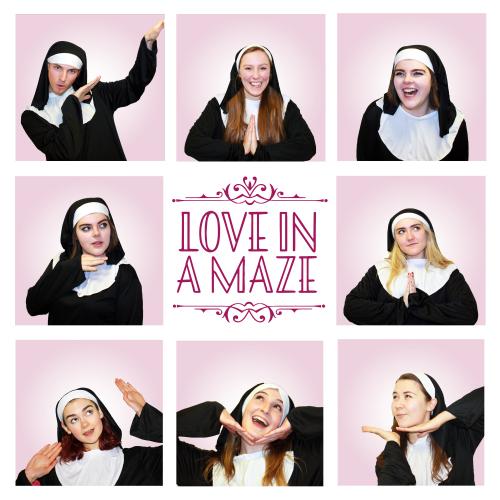 After attending the Selwyn Mighty Players' production of Love in a Maze, you may never look at nuns in quite the same way again. Directed by Simon West and Ella Godfrey, this adaptation begins at the end of Eliza Haywood's theatrical novel, Fantomina, after its heroine has been consigned to a convent for having a child out of wedlock by her lover, the aptly named Hugo Beauplaisir (Simon West).
However, this comic rewrite of Haywood's text finds Fantomina (Kathryn Cussons), the Mother Superior presiding over a convent of incredibly bawdy and boisterous nuns whose antics soon scandalise Ginny (Ellie Cole), a straight-laced new novitiate. The real 'Sister Act' begins when Fantomina starts to tell her story, recounting the many disguises in which she seduced Beauplaisir – and prompting the nuns to cast off their penguin suits in quick succession to become the various characters in her tale.
The play astutely capitalises on the inherent theatricality and theme of disguise within the novel. Every character's identity is as mutable as Fantomina's own, as she pursues her ever-changeable lover in various costumes. Cussons and West have a good rapport, and their performance cleverly parodies the elements of erotic roleplay in Fantomina's singular way of getting the guy: "Remember the gravedigger?" she sheepishly responds to his incredulous stare when he beholds their newborn daughter.
The most explicitly meta-theatrical moment occurs when West declares that the real action of a theatre transpires not onstage, but in the stalls. As the spotlights shift towards the rows of seats (to every spectator's rising panic) Beauplaisir roasts the audience with a flourish of his blue coattails, and with plenty of smut and Georgian high style.
Without a doubt, however, Jasmin Rees steals the show with her jack-of-all-trades performance as Sister Gertrude, the recalcitrant Inn Keeper, and the Carriage Driver bent on revenge after the lovers "defile" her horse-drawn buggy. Her comic timing is impeccable, and the hilarity of her performance consists in her adoption of distinct, larger-than-life caricatures (and various rustic accents) for each of her characters. Her slapstick portrayals appeal to the childish side of the audience's humour with enormous success, without once falling flat or becoming cheesy. This is particularly true of her depiction of the Inn Keeper, whose repeated and shrilly insistent "Do you think I have time for this?!"  becomes a hilarious and anticipated refrain that earns uproarious laughter every time – and forces even her fellow actors to suppress a smile once or twice.
The production is frequently buoyed along by an amusement with its own jokes. The play is thoroughly entertaining, although the actors trip over their lines several times, and there are one or two awkward moments in which the comic timing is slightly off, this is by no means the norm of the performance. Jessica Murdoch delivers an amusing but slightly overdone performance as Fantomina's flirtatious mother, and Ellie Cole's performance of Ginny is largely eclipsed by the rollicking comedy of the other characters.
The production works well with minimal props and sets, which facilitates the elision of two settings throughout – for the action never fully leaves the convent. The drama is perpetually in a sort of explicit flashback mode, the action taking place between the theatrical audience and the onstage audience of the nuns – who seem well in the habit of frequent onstage costume changes. The result is, appropriately, that the play never loses its consciousness of putting on a performance – a theme very consistent with Heywood's original text. Love in a Maze – or, indeed, in an astoundingly unconventional convent – is replete with ribaldry and slapstick humour that keeps its audience chuckling from beginning to end