Lent Bumps 2022 sails to a dramatic end
The final three days of competition provided bundles of action, including Homerton's men earning superblades for the first time since 2013 and Caius scoring blades in the W1 division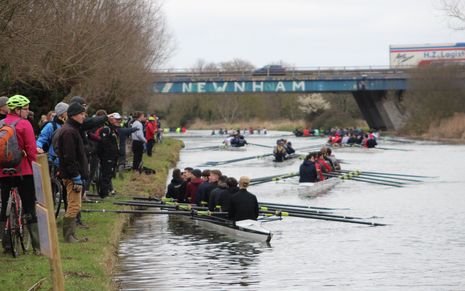 As action on the River Cam wound down to mark yet another successful Lent Bumps, Varsity recounts all the drama and highlights from the final three days of racing.
Day Three
Thursday (3/3) began as an eerily quiet day for the M1 division, both on the start line and down the river. There were a number of whistles but few bumps, with Lady Margaret, Pembroke, Caius, First and Third, Downing, and Trinity Hall all rowing over at the top of the division. Beneath them, Jesus bumped Robinson after a row over the day before.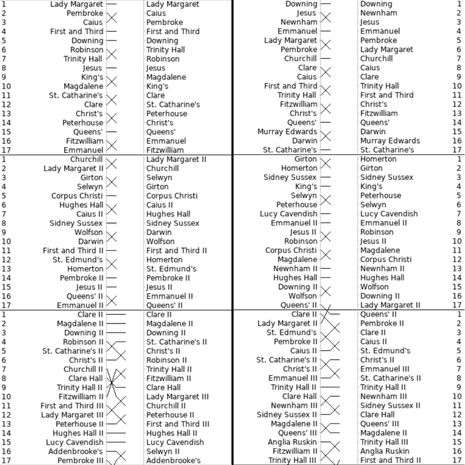 A bump from Queens' on Christ's in the path of Emmanuel led to a crash, meaning a re-row was required from the King's boat downwards, in which Lady Margaret II, the sandwich boat, bumped Fitzwilliam to secure their place in the division.
In the W1 division, Newnham bumped for a second day running, claiming headship of the river from Downing despite a very powerful start from the Downing crew. Emmanuel got close to Jesus, whose nerves began to show, but what was otherwise a strong fight sadly ended in a rowover for both crews.
Caius and Trinity Hall both got the all-important second bump, on Churchill and Clare respectively, but lower down there was mostly clear water, with First and Third, Christ's, Fitzwilliam, Queens', and Darwin all rowing over. Murray Edwards was bumped again, this time by Queens, ending the day at the bottom of the division.
Earlier in the day, in the second men's division, Selwyn bumped Churchill and found themselves under Fitzwilliam at the top. In the first minute, Pembroke II bumped St Edmund's, and later Corpus Christi were bumped by a triumphant Caius II, marking the start of their slide down the table.
A bad start from Hughes Hall meant they were quickly caught by Sidney Sussex, but by far the highlight of the division was events in the middle of the table, where First and Third II bumped Wolfson, leaving Homerton to overbump Darwin. Elsewhere, Emma II bumped Jesus II, and Queens II also slid downwards, bumped by Clare II, the sandwich boat.
Finally, in the W2 division, Homerton maintained the space at the top, while Girton, bumped again, slid down into third position. A very early bump by Magdalene saw them take Jesus II out of the race, followed by a second bump from Peterhouse who caught King's on Ditton Corner, leaving Selwyn to be caught by Lucy Cavendish on the long reach.
Newnham II and Hughes Hall both rowed over, but chaos ensued beneath them in the division. Queens II, having dropped down into the third division on Day One, came back with an overbump, passing Maggie and Downing II, the former having bumped the latter. Wolfson, who bumped Downing II also on the first day, sunk down three places into the lower division.
Day Four
On a hectic day (4/3), characterised by poor conditions and frequent bumping, the Lady Margaret M1 boat maintained its ascendancy, while Newnham did the same in W1.
In the afternoon's penultimate race, the W1 division, rankings remained unchanged at the top of the table. Newnham raced away from the pack and kept a comfortable three-length lead over challengers Downing in second.
Downing were equally far ahead of Jesus. Jesus, Emma, and Pembroke all bunched together and a bumping seemed imminent. It never came, however, thanks to some strong rowing from the Jesus crew to keep all trailing and the standings at the top the same.
But lower down the table it was bumping galore, as Clare was the only other crew to reach the finish line. Caius bumped Lady Margaret, continuing their hot streak of bumping a boat per race, and rose to sixth after having started the week in ninth.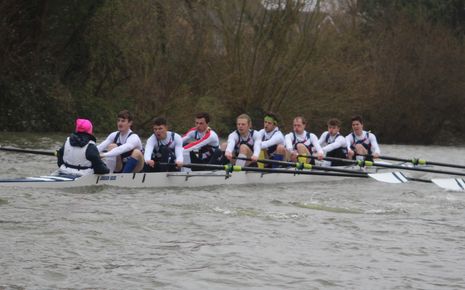 In spite of their smaller college size compared to St John's, Trinity Hall shared the same form, rising to eighth having started at 11th earlier this week, bumping Chruchill to gain another place on Day Four.
Further down the table, Christ's rowed particularly well, showing good rhythm and managing their second bump of the week to knock Trinity's First and Third boat down to 12th. Queens' also bumped Fitzwilliam, and St Catharine's bumped Darwin, while Sidney cemented their W1 status by bumping Murray Edwards, who had been caught in every race so far.
In M1, the Lady Margaret boat managed to hold off a strong push for the number one spot from Caius, who didn't have quite enough to manage the bump, although they can take many positives from a strong row. Downing successfully bumped a strong First and Third boat to go fourth, too.
Most of the men's bumping came towards the final stretch or on it, and Jesus were no exception as they continued their strong form to move past Trinity Hall into sixth place. Getting towards the middle of the pack, Magdalene bumped a poor Robinson boat, who had just Day Five left to put a stop to their record of being bumped every outing thus far.
Clare looked off, and took an especially odd line around Grassy Corner before crashing some oars against the bank and moving on. This poor form led to a bump from Catz towards the end of the course, resetting both teams to their original positions at the start of the week in 11th and 12th.
The best drama was reserved for the top and middle of the M1 division, however, as the only bump at the bottom of the table came from Emma, who bumped a Christ's side in crisis, who dropped to 16th after starting the week at 13th.
Day Five
On Saturday (5/3), in the men's top division, a totally unbumped Lady Margaret M1 retained their 2019 headship position. Caius and Pembroke, having switched places on Day One, but then managing only to row over, took second and third places respectively.
Spoons - given to a boat that gets bumped on every outing - were sadly earned by Robinson and Christ's, but the division saw no successful blades campaigns despite some impressive final bumps from Jesus, Queens', and Lady Margaret II, the only second boat in the division. It is perhaps also worth noting the rivalry of St Catharine's and Clare, who switched places with each other three times during the week, only to end up where they were after Day One.
In the W1 division, Newnham held on to the head of the river title, with Downing, Jesus, and Emmanuel beneath them all rowing over, in a rather flat end to their bumps campaigns. In fact, Emmanuel saw no action at all, rowing over every single day.
Blades - awarded to boats that bump every day - were achieved by Caius after an aggressive ascent up from ninth to fifth, ultimately giving Pembroke W1 their only bump of the week. Sadly, Trinity Hall rowed over, in what would have otherwise been a successful blades campaign, while Murray Edwards were bumped yet again, earning spoons for their efforts.
The second men's division saw Fitzwilliam maintain headship, followed by Selwyn and Churchill who both rowed over. Lower down the table, Homerton pulled off perhaps the most enormous feat of the week, going up six places to earn superblades for the first time since 2013. Spoons were received by Wolfson, who slid down from ninth to 13th position, along with St Edmund's and Queens' II, with the latter ending up in the M3 division.
Lastly, in the W2 division, it was Homerton who once again stole the show to claim headship. Peterhouse failed to catch Murray Edwards, missing out narrowly on blades, but the highlight of the division was the Selwyn crew's race. They managed to simultaneously save themselves from spoons and ruin the blades campaigns of both Magdalene and Robinson, with a bump on Robinson coming at the top of the Plough Reach.
Jesus II took spoons, while Hughes Hall finished a boring week by not bumping or getting bumped for the fourth day running. Downing II were pushed down into the third division, and Pembroke II unfortunately rowed over, ending their blades campaign after an otherwise very successful week.
All college rowing crews will next dip their oars into the Cam in this year's May Bumps, which will run from Wednesday 15th to Saturday 18th June, with the Getting-On Race on Friday 10th June. Similar to the Lent event, this will mark the end of a two-year hiatus for May Bumps after the 2020 and 2021 competitions were both cancelled due to the Covid pandemic. The latter competition, however, was replaced by a one-off Eights Regatta, which successfully ran from Sunday 20th to Thursday 24th June last year.
Full results from Lent Bumps 2022 can be found here.
Varsity is the independent newspaper for the University of Cambridge, established in its current form in 1947. In order to maintain our editorial independence, our print newspaper and news website receives no funding from the University of Cambridge or its constituent Colleges.
We are therefore almost entirely reliant on advertising for funding and we expect to have a tough few months and years ahead.
In spite of this situation, we are going to look at inventive ways to look at serving our readership with digital content and of course in print too!
Therefore we are asking our readers, if they wish, to make a donation from as little as £1, to help with our running costs. Many thanks, we hope you can help!