Double First: Cambridge Boat Race Win
Cambridge Light Blues and Goldies take home silverware on the Thames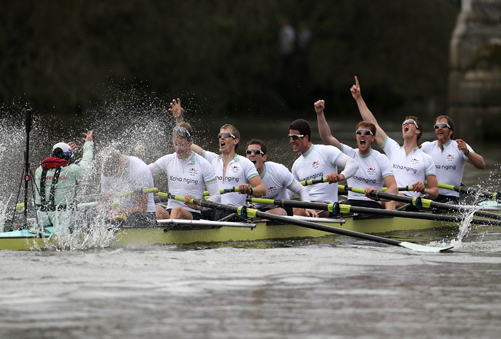 Cambridge University Boat Club have won an impressive victory in the 156th Xchanging Boat Race. Recording a time of 17 mins 35 seconds over the 4 mile and 374 yard course, CUBC beat Oxford University Boat Club by 1 1/3 lengths, in the first victory for Cambridge since 2007.
Oxford started powerfully, with the favoured Surrey station, pushing past Fulham FC's Craven Cottage pitch a quarter of a length ahead, with Cambridge strongly hanging on stroking at a rate of 36 strokes a minute, with Oxford at 35. As they came into Hammersmith, Oxford were up by 6 seats, and looked the stronger crew, with Cambridge dropping further behind so that Oxford stroke Charlie Burkitt was level with Cambridge bowman Rob Weitemeyer. Oxford went under Hammersmith bridge 10 seconds off the record time for the course, in 6 minutes and 30 seconds, looking as though they would make their Surrey station advantage count.
But Cambridge hung on, narrowing the margin of the Oxford lead as the Dark Blues called a push past large crowds lining the banks at Furnival gardens. At Chiswick Eyot Cambridge began to rope in the tiring Oxford crew, who had failed to take advantage of their early lead. With the Middlesex advantage coming ahead, cox Ted Randolph will no doubt have been telling his crew that they could go on to win this one, as the crews passed level at Chiswick Steps. Cambridge began to pull ahead from there, and never looked like relinquishing their lead.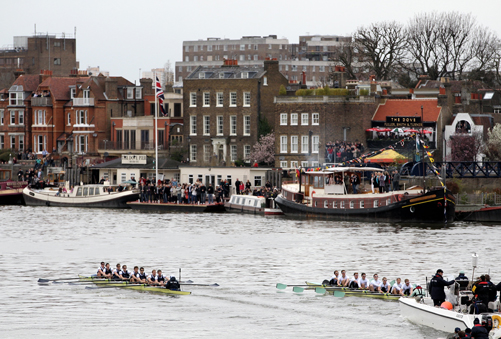 The Light Blues' boat, named the '800' in honour of the University's celebrated anniversary, were ahead coming into Barnes bridge, a situation from which only two crews have gone on to lose. This year proved no exception to the rule as Cambridge passed under half a length clear and continued to move onwards, Randolph moving level with Oxford bowman Ben Myers. The stroke rate was maintained at 36 to Oxford's 34, as the Oxonians lost further ground. Cambridge responded to Oxford's final push, maintaining their margin of a length, before crossing the line 1 1/3 lengths ahead.
The omens looked good for Cambridge, as their reserve boat, Goldie, won by 1 length over their rivals Isis, showing a greater strength in depth for CUBC overall. Over the last three years, a reserve team's win has been followed by victory for their first team counterparts, with today proving no exception.
The Cambridge crew looked exuberant in their celebrations, having pulled off the big win after months of intensive training and physical determination, with their undoubted pain numbed by the adrenaline of victory.
Taking to the winner's podium, the team were awarded their trophy by Olympic rowing champion Sir Steve Redgrave, who was immediately doused in winner's champagne. Reflecting on the race, CUBC President Deaglan McEachern stated "it wasn't fun, but it was good!"
As well as a fantastic double victory for Cambridge, today's result also stopped Oxford from gaining a hat trick, and ups Cambridge's total victories to 80 over Oxford's 75, making it undoubtedly a proud day for the Light Blues.