Men's football Cuppers kicks off with victory for Girton over Clare
Last year's beaten finalists Girton sweep aside Clare in a comfortable 3-0 victory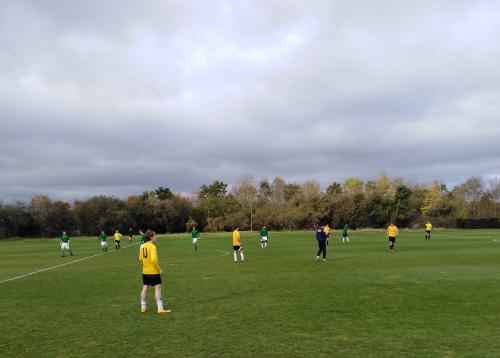 On paper, the first round cuppers tie between Girton and Clare was something of a mismatch. Premier League side Girton are one of the highest-ranked sides on the college football circuit, reaching last year's cuppers final and finishing in the Premier League. By league position, meanwhile, Division Three Clare had lost both of their opening matches, including a 7-0 defeat at the hands of Corpus Christi.
So when Girton captain Chris Davies gave his side the lead in the opening couple of minutes with a cross-cum-shot that floated in at the back post, the signs looked ominous for Clare.
To Clare's credit, however, they did not cave in and worked hard defensively to nullify Girton's threat. Indeed, the pace and strength of Clare central forward Arya Theivendram posed a constant threat to the Girton backline in the first half, and his intelligent runs in behind allowed Clare to create a couple of half chances in the first half without ever recording a shot on target.
"Clare were left to reflect on their missed opportunities at the beginning of the second half, though it was a valiant effort against a talented Girton side"
It was Girton who dominated the possession. Central midfielder Tommy Nervkla, a member of the 2018 Varsity Kestrel squad, was particularly prominent in the first half, and was the focal point for much of Girton's best attacking work, reeling out the full range of his skills in his languid but elegant style: the instant control, the ability to hold the ball in any space, to pass and set the rhythms of the game around him. Sure enough, it was a free-flowing passing moving initiated by Nervkla that enabled Davies to rifle home his second from just inside the area shortly before half-time, putting Girton two up and seemingly out of sight.
The beginning of the second half, though, was a different story.  The Clare side came out with renewed vigour and intensity and capitalised on some lax defensive work to create two gilt-edged opportunities. First, a neat passing move presented the Clare substitute right-winger with a shot at goal from just ten yards out, but he could only scuff wide. Minutes later, a stray pass from a Girton midfielder allowed Theivendram to be played in one-on-one, only for him to be denied by a fine reflex save from the Girton goalkeeper.
The feeling amongst their substitutes was that Clare would come to rue those missed opportunities, and Girton gradually regained control of the game. It took a moment of real quality, however, from Girton's Jasper Nepveu to finally put the game to bed. Picking up the ball twenty-five yards from goal and with no options ahead of him, the midfielder smashed the ball into the bottom-left hand corner, sparking jubilant celebrations from a Girton supporter on the touchline and sealing a 3-0 win for the home side.
Clare, then, were left to reflect on their missed opportunities at the beginning of the second half, though it was a valiant effort against a talented Girton side and there were plenty of promising signs as they seek to turn around their fortunes in Division Three. Girton, on the other hand, march on into the next round and re-asserted their status as strong contenders as they look to go one better in this year's tournament.

Round-up of other first-round matches:
Division Two Trinity Hall came close to causing the shock of the round against Premier League Churchill, dominating proceedings and taking the lead three times. A late goal from Matt Beazeley, however, handed Churchill a 4-3 victory.  This season's early Premier League frontrunners Gonville & Caius, meanwhile, thrashed their Premier League counterparts Queen's 6-0, while Robinson edged past Sidney Sussex 3-1 in the other all Premier-League encounter. Division Two King's were no match for Premier League Downing, and lost 5-0. St. John's comfortably beat Emmanuel 3-0 in the only all Division Two encounter. Finally, Division Two Pembroke sent out a strong message that they will be a force to be reckoned with this season by demolishing Division Three Darwin 8-0. Selwyn and Homerton' match was postponed until this weekend. Winners of the first-round ties will be joined by Trinity, Peterhouse, Fitzwilliam, Christ's, Jesus, Magdalene, St. Catherine's and Corpus Christi, who all received a bye into the second round.

Second Round Draw: (ties to be played on the weekend beginning 9 November)
Trinity vs. Selwyn/Homerton
Gonville and Caius vs. Peterhouse
Fitzwilliam vs. Churchill
Girton vs. Christ's
Jesus vs. St. John's
Pembroke  vs. Magdalene
St. Catherine's vs. Downing
Robinson vs. Corpus Christi