Blues basketball team shoot into BUCS Cup quarterfinals
Cambridge's dazzling skills and quick feet were enough to defeat the University of Surrey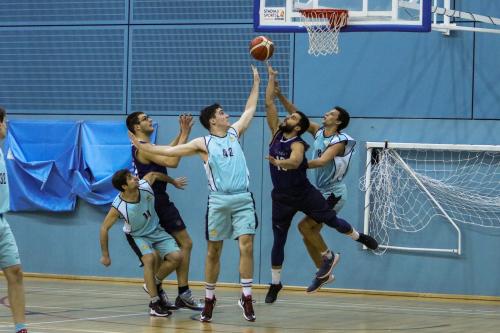 A Round-of-16 cup game against the University of Surrey was the perfect way for the Cambridge Mens' Basketball Blues to prepare for their Varsity clash next weekend.  Both teams are mid-table in their respective BUCS leagues, which should have made for an exciting game, but once Cambridge got into their stride, there was only going to be one winner.
The first quarter started in a scrappy fashion, as neither team were able to score for the first two minutes of play despite numerous chances.  Eventually, Surrey got the first points on the board thanks to a fortuitous rebound, but this elicited an immediately response from the Blues, as Skoril netted a two-pointer from Cambridge's fifth shot.  Surrey then extended their lead to 6-2, but this proved to be short-lived and would not be recovered for the rest of the game, as the Blues' extended periods of possession began to wear down Surrey's defence.  Cambridge scored 10 unanswered points in the last two minutes of the first quarter, including two three-pointers from Masina and Priddey to make the lead 18-8 at the first break.
Surrey regrouped to make a brighter start to the second quarter, as their forwards robbed Masina of the ball twice and managed to capitalise on both occasions.  This reduced the deficit to 18-13.  Once again, Surrey's good start was quickly undone, when they started to miss relatively simple chances.  Adebay rebounded very well and Cambridge managed to start rapid counter attacks from his impressive defence leaps.  The Blues scored seven points in a row, creating a 25-13 advantage. They demonstrated their flair for shooting on the move, as Surrey found Skoril particularly difficult to mark.   The half ended 35-22 to Cambridge as the sides traded several blows on the counter attack.  The Blues' better execution began to pay dividends, scoring two tricky attempts for three points, while their opponents criminally missed four consecutive uncontested free throws.  The only disappointment in Cambridge's dominant first half performance was a nasty ankle injury to Walsh, who did not return to the court for the rest of the game.
Most of Cambridge's scores up to this point had come from good finishes after individual runs, but after the half-time break, they managed to make their attacking passing game more effective.  The interplay between Skoril and Argelague was delightful as they amassed an impressive 14 points between them in the third quarter.  Cuttoa di Montesalles and Adebay increasingly showed some silky dribbling skills out of defence, frequently creating space for themselves and their supporting teammates by shaking off their opposite numbers. The fluidity of the transition between defence and attack meant that Cambridge could score freely, continuously cutting open their opponents with speedy changes of direction.  Towards the end of the quarter, Cambridge created a 23-point gap at 56-33, only to be pegged back to 56-36 by Surrey's first three-point score on the hooter signalling the final break.
Disappointingly, Cambridge's intensity dropped in the final quarter as the victory was all but confirmed.  The Blues' main strategy appeared to be to retain the ball for as long as possible in attack before taking a shot, to prevent Surrey from creating too many threatening goal-scoring opportunities.  However, this did not work particularly effectively, as Surrey managed to outscore Cambridge in the final quarter, successfully sinking three three-pointers as they tried to reduce the arrears.  Nonetheless, one of Cambridge's best plays of the game came in the middle of the quarter, when Argelague threw a pass covering most of the court, finding the unmarked Masina, who duly added two points to the scoreboard.  The game ended a comfortable 73-59 win for the home team.
Coach Tim Weil said after the game: "Overall, I am happy with the performance, but we should have been able to extend the lead in the second half.  There is plenty to work on ahead of Varsity and we are going to have to bring a lot more energy to the court, but I have no doubt the boys will show up for that occasion." 
Last year, the Light Blues won Varsity by a single point in double overtime and will be looking for a less tense encounter next weekend.  If they are going to repeat last year's feat, they will have to make sure that they do not switch off defensively, especially when they are tired and improve their poor 30% conversion rate from free throws.  Otherwise, it might be a very long journey back from Oxford.
CuBBC: Priddey, Cuttoa di Montesalles, Argelague, Masina, Lenox, Panayitau, Adebay, Skoril, Walsh, Krstayis, Kurdi
University of Surrey:  Sotirellos, Kohkouravas, Nouky, Teagles, Makamotti, Yanev, Ampatsogiou, Velvchev, Xadwen, Tsiros