Eni Aluko: 'My agenda was always to tell the truth'
Paul Hyland talks to Eni Aluko at the Cambridge Union's Women in Sport Panel about whistleblowing, playing in America, and the future of women's football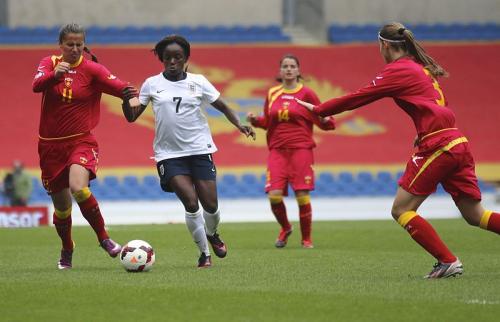 "You have challenging moments in life where you have to dig deep and find out what you're about as a person," says Eni Aluko. She, understandably, will not be drawn on the matter of last Wednesday's Select Committee which heard that she had been the victim of racial discrimination from former England manager Mark Sampson in 2015, but the Chelsea forward takes a philosophical attitude to what has been a difficult 18 months: "Sometimes you find a way of being able to channel that negative energy into something positive," she tells a group of assembled hacks at the Cambridge Union. "My agenda was always to tell the truth and hopefully enact changes around grievance procedures for professional athletes."
Barrister Katherine Newton's report had originally cleared Sampson of discrimination in August of this year, though the investigation was re-opened when it was revealed that key witnesses, including Aluko's mixed-race England teammate Drew Spence, had not been approached as part of the investigation. FA chief executive Martin Glenn subsequently released a statement noting that it was "regrettable" that Aluko and Spence had not been involved in the initial investigation.
"Whistleblowing procedures aren't tailored to athletes," Aluko explains, "which is why a lot of problems arise. So hopefully I can be part of that reform going forward and we can start talking about something more positive than my case."
So, to the positives, one of which is how women's football seems to be catching up - if slowly - with the men's. "When I was growing up, women's football was not an organised sport, it was just a lot of ad hoc teams dotted around. So I grew up effectively playing with boys until I was 12. I only actually became a professional when I was 22 and I graduated from university. If you compare that to men's football where they're signing pro contracts at 16 or 17, we're kind of late bloomers! But now if you look at the academy system in the women's game, it's a lot more organised than when I was growing up."
Aluko credits a sojourn in the USA - whose World Cup triumph over Japan in 2015 was attended by over 53,000 people, with lighting the blue touchpaper on a career that has seen her add 102 England caps to three FA Women's Cups and two Women's Super League titles. "It was a real game changer for me," she says, looking back at a leap of faith taken at the age of 22. "When I went out to America I'd only known the semi professional system, so I was plucked from obscurity if you like!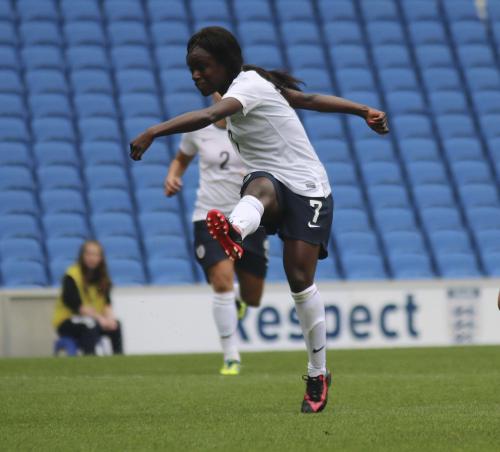 "When I got there, it was sink or swim. The American system is quite ruthless in the sense that they trade you almost like a card, so if you don't perform you can be traded. It really developed my winning mentality. Playing in America really changed me in terms of my professional capacity, so that when I came back to England it was more natural to be a professional."
An international since 2004, Aluko was an impact substitute in the England team that came within an own goal of reaching the World Cup final two years ago. When the dust had settled on her team's bronze medal performance, column inches were crammed with favourable comparisons to the England men, whose last appearance in the world's top three came in 1966. What I want to know is - does she find media rhetoric like that helpful?
"I think sometimes it is an unnecessary comparison because women's football is now a standalone sport. Sometimes it can be quite fun and lighthearted and other times it can be quite burdensome. But it was an achievement, when you talk about the England banner in its entirety, including the youth teams, women's teams, men's teams, everybody was proud that we'd got a bronze medal. And vice versa — if the men were to do the same, we'd celebrate it as if it were us too.
"What may have been acceptable ten years ago because all eyes weren't on women's sport is no longer acceptable now. We have to be aware of our performances, our actions, our words, because women's football is no longer in the shadows, it's a sport people report on. I've come here today and you guys are frantically scribbling away about women's sport!" she laughs. "Quite honestly that wouldn't have happened ten years ago. With the demand on athletes and coaches comes scrutiny and the awareness to have to behave in a professional way, and make sure standards are upheld."
What changes can football make, then, to uphold those standards? "Certainly a level of representation at the governing level," she suggests. "At the moment you see the Danish team striking because their contracts aren't good enough, the US women's national team just won their lawsuit against the US Federation and successfully increased their contracts; the Brazilian players, half of them have just retired because they're fed up with how they're being treated.
"All of that can be avoided if there's representation at the decision-making level of players. A lot of people who are decision makers don't understand football, and don't understand the daily workings of football. So players should always be part of the decision making processes and representation."
Later, she tells the Union debate chamber of the one policy she hopes to see introduced in women's football. "Equal pay!" she says, with no amount of hesitation. "It affects so much in terms of women being able to say "I don't have to work two days a week to pay my mortgage: I can live comfortably, train, just like the men do, and not worry." In women's football there's always a sort of threat because you're not paid enough."
Finally, in a discussion on power of social media to win hearts and minds, there's a message for the press: "Everybody who cares about women's sport needs to share that voice and communicate!" she says, "When governing bodies see it in the media, they're going to take it seriously. So I would encourage everybody, use your platforms to talk about women's sport and women's issues. Talk about it, write about it! You guys at Varsity have a voice. It's about using it to make people aware of these issues."