How Oranje went from the edge of glory to the brink of collapse
Paul Hyland chronicles the decline of the Dutch national team since they reached the World Cup Final in 2010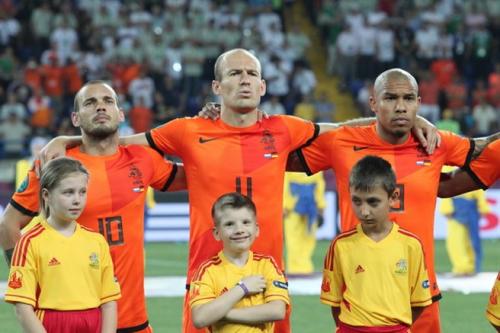 Johannesburg, 30 minutes on the clock, a moment of madness. A vicious, studs-up kick to the stomach has left Xabi Alonso prostrate on the floor. Opposite number Nigel de Jong has just miraculously avoided becoming the fifth player to be sent off in a World Cup final. Referee Howard Webb deems his act of common assault worthy of yellow at most, and so continues one of the most infamous matches in the tournament's history.
For a country that has a knack of producing players who have moves named after them - Cruyff's turn, van Basten's impossible over-the-shoulder volley in '88 - the de Jong kick is by far the most ignominious. And it is by far the most emblematic of Oranje's decline from football's perennial nearly-men to a team absent from two consecutive major tournaments. Now after a lacklustre qualifying campaign, next year's World Cup will now have to do without its three-time beaten finalists.
The great Dutch sides of yesteryear were once the envy of the footballing world. Their characteristic brand of totaalvoetbal - part philosophy, part aesthetic, and when played right, completely lethal - first took hold at club level, putting three consecutive European Cups in the Ajax trophy cabinet in the early 70s.
The system, perfected by manager Rinus Michels, was passing football at its logical extreme. With no fixed positions, players had to constantly move into space created by teammates when not in possession in order to create the maximum possible number of passing opportunities. When the Amsterdammers had passed and moved their way into the history books in 1973, they did it having won every one of their home matches for two seasons.
Imported by English manager Jack Reynolds, total football had been incubating in the Netherlands since the mid-forties. By 1974, it was ready to take on the world. Negotiating the World Cup group stage unbeaten, Oranje dismantled the mighty Argentina 4-0, before confirming their place in their first ever World Cup final with a 2-0 victory over Brazil. Seleção manager Mário Zagallo later declared that his side had been beaten by the best team on earth.
Unlike the one that took on Spain in 2010, this was a Dutch side determined not only to win its first World Cup, but to win it with style. And Johann Cruyff's penalty-winning jink straight through Beckenbauer's defence had the Dutch ahead when Neeskens netted the spot kick without West Germany having even touched the ball. Had English referee Jack Taylor not awarded the Germans a dubious penalty for a challenge on Bernd Hölzenbein, the World Cup trophy would likely have gone home to Amsterdam.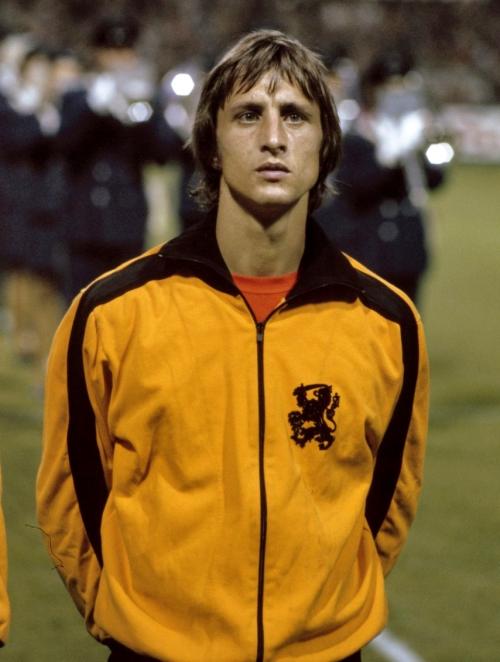 True, the Dutch never quite made it to the pinnacle of world football. Unfortunate to contest two consecutive finals against opponents with the luxury of home advantage, the Netherlands' tactical innovations never quite culminated in world glory.
Or at least, not for them. When Rinus Michels left Amsterdam for Barcelona in 1971, he brought his tactical masterplan with him. More important was Cruyff's big money move to the Nou Camp in 1973. Together, the Dutch duo helped to lay the foundations of something that would surpass the total football they had pioneered at home. A Barça legend as a player, Cruyff was appointed club manager in 1988 and set about educating his players in the ways of endlessly pressing, constantly exploiting spaces and jealously guarding the ball. Four years later, Barcelona were European champions for the first time in their history.
Spanish football succeeded where Dutch football failed, because Cruyff left a legacy in Barcelona that never took hold in Amsterdam. Training the first team in the ways of passing football was never enough. Young players had to be taught from the get-go that there was a right way to play football, one that sacrifices individual glory for the benefit of the team. And so, thanks to Cruyff's pioneering work with La Masia, Barcelona's youth academy, boys as young as six would spend years learning how to play the Dutch way. Over half of the Spain team that started the World Cup final in 2010 had come through that very system.
Football's most successful countries are the ones who consistently import and adapt new tactics. The fact that the Netherlands exported their greatest contribution to the game without importing anything nearly as good in its place is the reason they are where they are today. The way Oranje kicked and bullied their way through the final in Johannesburg in 2010 wasn't so much a tacit admission that their opponents could soundly beat them at their own game, but a thumping, walloping announcement of it.
It was a fact also acknowledged by Dutch television, whose Nike-sponsored World Cup TV promo showed Robben and co pulling on their famous orange jerseys in a dressing room plastered with slogans that deliberately undermined everything that had once been good about the national side. Voetbal is pas totaal als je wint ("Football is not total without victory") read one; Mooi verliezen is toch verliezen ("Losing pretty is still losing") read another.
The Netherlands' performance at the 2010 World Cup is best remembered for Nigel De Jong's karate kick on Xabi AlonsoMark James
Sensing Spain's inexorable ascent to the top, the Dutch tried to own the narrative about no longer being the world's best footballing team, and spin it into a positive: that they were the ones who would win by any means possible, unlike the Iberian aesthetes who always tried to walk it in. What was clear to the rest of the world was that the "bad boy" image they adopted was far more out of necessity than by design.
The World Cup final 2010 was where Oranje's place as a serious force let out its swan-song. By contrast, Iniesta's extra time winner for Spain propelled his team to the height of world football's newest trendsetters.
Since then, the story for the Netherlands has been one of consistent regress. A third-placed finish in Brazil in 2014 was the clear outlier among a 2012 European campaign in which they lost all three group games and whimpered out, and now two consecutive no-shows at major tournaments.
Last year the 1988 European champions felt like a glaring omission from the tournament. Next year, they won't be missed. Amid all the yarns spun of finding new ways to win sits a team resting on the laurels of talismanic talents such as Arjen Robben. Seven years ago the mercurial winger was his country's best chance of World Cup glory as he fired two edge-of-the-seat opportunities straight at Iker Casillas.
This week, when only a 7-0 victory at home to Sweden would do to secure passage to next year's tournament, all hopes of an impossible recovery were pinned on him. In better circumstances his two-goal performance might not have been so futile, as his team fell five short of their target. The Netherlands consoled themselves with one final taste of Robben's considerable talent as the 33-year-old announced his international retirement shortly after the final whistle.
So what next? What now that a country with pretensions of winning tournaments can't even qualify for them? What now that the disappearance of van Persie and Robben has yielded spaces to players vastly inferior to them, like Vincent Janssen and Ryan Babel? And what, now that the revolutionaries of yesterday have been surpassed tactically by their European rivals?
Back in the 70s the Dutch always had the aura of a team on the brink of glory. Now, facing a tournament absence of at least six years, they stand on the precipice of total collapse.  Maybe the future isn't quite so orange after all