More than a game: FC Barcelona have a responsibility to keep the politics in sport
If Barcelona are to live up to their motto of 'mes que un club', they need to properly represent Catalonia in all respects, argues Alex Mistlin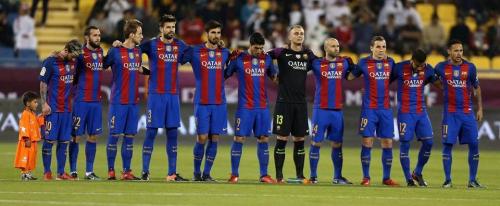 Most football clubs have mottos. Some are good, such as Liverpool's immortal 'you'll never walk alone'; some are not so good, such as Olympique Marseille's 'straight to the goal'. Ultimately, they are largely unimportant, a neat way to reduce the club's philosophy into something that can be classily stitched beneath the badge. However, FC Barcelona's motto 'mes que un club' is altogether more significant. It means more than a club and that is exactly what Barça (as the football club are affectionately known) are to the people of Catalonia.
However, in the latest struggle for independence triggered by the referendum of October 1st, Barça's hierarchy has been reluctant to provide the strong leadership befitting of an institution that is so culturally revered. In the wake of violent protests throughout the region, in which 761 were injured, Barcelona neglected to cancel their home fixture against Las Palmas. Instead, Barça's workmanlike 3-0 win was played behind closed doors, in an attempt to keep out the political turmoil enveloping the city around it.
Given the disturbing scenes erupting across Catalonia, this was in many ways a remarkable decision not least because of the hesitation that preceded it. FC Barcelona is an incredibly prominent symbol of Catalan identity both at home and abroad; the club even features the red and yellow bars of the Catalan 'Senyera' flag in the top right hand corner of its badge. Although they did request a postponement, their reluctance to pull out of the fixture altogether represented a blow for Catalonia's independence movement.
Historically, the club's hierarchy have been unafraid to profess their belief in Catalan autonomy if not independence. Indeed, Manuel Vazquez Montalban once described it as Catalonia's unofficial army and this was a particularly relevant description during the civil war in which many players fought against the forces of General Franco. In the ensuing period of military dictatorship, Barça were placed under restrictions as a symbol of "undisciplined catalanism". Pep Guardiola, who played for, captained and managed Barcelona, argued in a recent interview that the club "were important because in the era of General Franco, our liberties were prohibited, when you couldn't speak Catalan, when you couldn't sing in Catalan, well, the stadium of Barça was a place where you could express what the people Catalonia wanted". Central defender, Gerard Piqué is one of many major figures to concur with this sentiment, and it is to the club's eternal credit that through some of western Europe's darkest times, it acted as a bulwark against cultural and linguistic imperialism.
Barcelona fans have been vocal supporters of Catalan nationalism for a majority of the club's historytotssomdelbarsa
In theory, this proud history and the subsequent pride Catalan people have in the club is supposed to inform every decision taken by the club's hierarchy. For many years this seemed to be the case, as everything from the lack of a commercial sponsor to the promotion of homegrown products of the club's famous La Masia academy was supposedly derived from Barça's social responsibility to the Catalan people.
In practice, short-termist executives and the growing need to adapt to commercial imperatives has seen the club slowly move away from its long-developed ethos. Not only has the club's kit featured a kit sponsor since 2013 (first Qatar Airways, now Rakuten), you can now get an FC Barcelona university qualification, you can buy a bottle of the club's very own red wine and you can even pay to hire the Barcelona team bus for a private function. However, the club's commercialisation has not been limited to the gift shop; it's clearly evident on the pitch as well. In 2009, Barcelona started the Champions League final with seven players who had come through the club's youth system, all of whom had strong roots in Catalonia. In 2015, this number was down to four with the team's style shifting from their homespun tiki-taka to a much more direct style of play built around their trio of legendary South American forwards: Messi, Suarez and Neymar.
Of course, Barça are not the only football club who have been forced kicking and screaming into the 21st century, but there is much sadness in the knowledge that some truly admirable principles which not only made the club unique but successful have been abandoned in pursuit of greater financial returns.
If nothing else, the club's reticent reaction to the ongoing constitutional furore serves as a reminder that politics cannot be entirely separated from sport, particularly when the fate of a potent symbol is at stake. Ultimately, the events of the last week don't represent another victory for commercialism over community; the fact that two of the club's directors resigned in protest at the game against Las Palmas going ahead shows that, for the time being at least, FC Barcelona is indeed more than a club.