In Conversation with: Daisy Irving-Hyman
Lawrence Hopkins sits down with the new President of Cambridge University Athletics Club, Daisy Irving-Hyman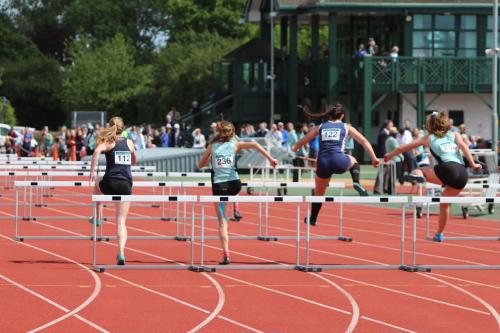 Founded in 1857, Cambridge University Athletics Club is one of the oldest athletics club in the world. Now under the leadership of fourth year Johnian Daisy Irving-Hyman, the club is looking forward following a painful 4-0 loss to Oxford at last year's summer Varsity Match.
Lawrence Hopkins: "Good summer, I trust, or has your new role already swallowed up all your time?"
Daisy Irving-Hyman: "It's actually been really nice to have the time and space to sort through all that is involved with the role; I've been able to speak to various people, reflect on the past three years, and brainstorm with the committee."
LH: "What does it mean to you to be president of the oldest athletics club in the world?"
DI: "How special this role is dawned on me over the summer. My decision to go for the role was primarily motivated by the desire to give something back to the club, and positively impact it, rather than the position itself. However, it was the film Chariots of Fire that first introduced me to Cambridge when I was 14, and so for me, it is incredibly special to be president of the same club that Harold Abrahams once led. I am so grateful for this opportunity."
LH: "Is responsibility weighing heavy on your shoulders, especially after last year?"
DI: "Are you referring to Oxford's win?"
LH: "Yes."
DI: "I don't believe that the president's responsibility should change in response to how well Cambridge does at summer Varsity. I prefer not to see the presidency as a weighty responsibility, but more as an opportunity to set the club in a positive direction."
LH: "So how are you planning on turning things around?"
DI: "Oxford's strong performance drew our attention to several key areas: developing a depth of talent in all the squads, the importance of infrastructure in the way the club operates, and the value of consistent training. I'd like to reach out for feedback from athletes and coaches more often, as well as involve squad leaders more heavily in the running of the club."
LH: "Are there any areas that the club are looking to invest in specifically?"
DI: "A significant portion of the funds always goes to paying for coaching staff, and is increasing this year. The club serves its paying members, and fundamentally what those members want, and need, is quality training. This is also a key part of turning things around, in terms of developing a depth of talent.
"There are, of course, other areas we are investing in: training facilities at the Sports Centre, physio, and equipment. To help develop the throws squad in particular, we are planning on purchasing a number of new shot puts, hammers and training equipment. We would like to encourage women to get more involved with throws, and this new equipment should support their training."
"I prefer not to see the presidency as a weighty responsibility, but more as an opportunity to set the club in a positive direction."
This may all be well and good, but if the athletes are not there to compete, the Match may never be a contest. With this in mind, the conversation turns to the topic of access and recruitment; after all, subs paid by members keep the club afloat and its athletes supported. A club without members will be a club no more.
LH: "Recruitment must be a big focus of your work currently, how are you looking to entice freshers when there is a wealth of clubs out there?"
DI: "By just being ourselves. CUAC really is a great club to be part of, so rather than making hugely apparent changes, I hope we can shift how we present the club – how we communicate what it means to be a part of CUAC. Making sure people are correctly informed about CUAC is imperative."
LH: "I believe that historically our barriers to entry have been a lack of awareness, misinformation about 'joining standards', and ultimately limited reach of encouragement. We are hoping to work closely with college captains to facilitate continual recruitment throughout the year. Freshers' week is so overwhelming so understandably people drop off or miss out."
DI: "Having the Cuppers competition so close to the beginning of the term will hopefully also help, as it will double as a 'come and try' weekend."
LH: "Beyond Cuppers though, how do you plan on keeping any that do interest training and being part of the club?"
DI: "I think that 'come for the training, stay for the social' is appropriate here. Training is training, but I think that most people stay because of how it feels to be part of CUAC. We are a very inclusive club, full of diverse backgrounds and this creates a great environment which must be conveyed if people are to stay on."
LH: "What about subs, these are not insignificant?"
DI: "£70 is no small sum, yes, but we are a fully student run club and our subs go straight back to the athletes. Courtesy of subs we run several competitions, subsidise physio, hire out the high-class facilities at the Sports Centre, and, above all, hire coaching staff.
"I think compared to some other university sporting clubs, our subscriptions are definitely at the lower end and members should not feel like their money is disappearing."
LH: "Finally, at what is certainly a busy period, do you have any personal goals or is it all about the club?"
DI: "My goals on the track have always been to do my very best, and that is one of the reasons I love athletics, and CUAC especially. Everyone can get behind achieving a new personal best, whatever that may be. As the CUAC mission statement suggests, the ultimate goal of the club is to be the best club it can be, in terms of both performance, and creating a supportive and encouraging environment for athletes to develop in. I don't see either goal as one which trumps the other. Rather, they are connected, and can be pursued cooperatively."