'A lot of factors come into play – it's very unpredictable': 2s Varsity tennis preview
Ahead of the 2s, 3s and 4s Varsity tennis clashes, Imran Marashli sat down with the captains of the Grasshoppers and Ladybirds, Charlie Song and Charlotte Milbank, to preview a big weekend for Cambridge tennis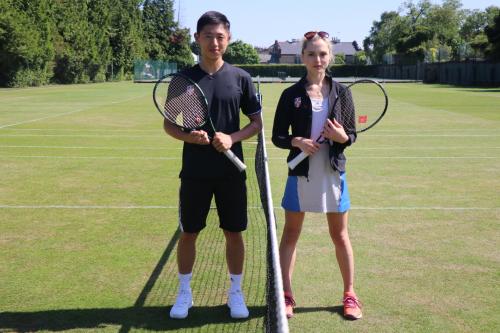 What is the general confidence and mood among the team?
CS: We're in quite a strong position. We effectively won the BUCS league earlier this year, and the Oxford 2s are in the same league. We've pulled out quite a few strong performances. It's clear we have a strong team considering that we haven't gained promotion in quite a few seasons now. Having said that, we have been hit by a few injuries and illnesses recently, so that's set us back a little bit, but I think everyone's pretty pumped to get the win.
CM: We're feeling pretty confident overall. We're both defending wins from last year – the women won 15-6 last year – and we're looking to do that again. We've got a strong team this year; we have two returning players from their year abroad, so that's really boosted morale. We've got a few freshers, so we've got a nice balance of experience and new Blues.
Can Cambridge be considered the favourites?
CS: It's very hard to pick a favourite for the match. During Varsity a lot of factors can come into play – it's always very unpredictable. We know we have a strong team, and, if we perform to the best of our abilities, then there's no reason why we can't win comfortably. But everyone needs to be on the top of their form and really focused. That's the message we're trying to drive home. We are in a good position, but we need to make sure that our focus is there and we don't have any slip-ups. It's a motivation to try and win again.
CM: There are so many different things that come into play. You never know which team Oxford's going to field. I don't want to 'dirty' Oxford, but often their 2s team in BUCS isn't always their 2s! Having that in your mind that you're defending a win motivates you to go.
The matches take place over two gruelling days of play: how do you prepare physically and mentally?
CS: It's really physically demanding. You go out there on the first day at 8/9 o'clock in the morning, and we only came off the court at about 10 o'clock at night. Once you get in after that you're in bed past midnight, and you're up at 8 in the morning again. Keeping up momentum is also very demanding.
CM: We can't specifically have a drinking ban, but we encourage everyone to take May Week a little bit easier just so everyone's well rested and not doing anything too silly. We're training hard in terms of hitting, fitness sessions, and match practice. We all play each other just to keep it competitive. It is so tiring: you're on court for seven-eight hours in one day! We play the full three sets, unlike BUCS, which is only the best of three sets. You just have to get into that state of mind, and once you've done it, it's OK.
It's always good to have support, so encourage everyone to get down to the court!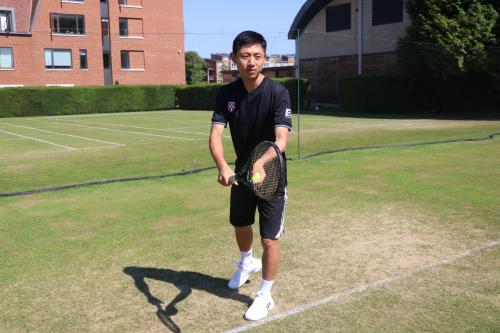 Is tennis overlooked as a University sport?
CS: I definitely wish there was more publicity for tennis. Compared to rowing and rugby, there definitely isn't as much spectatorship. On the publicity side, it's very difficult because rowing is 20 minutes or half an hour, and rugby is one 80-minute match, whereas ours is a two-day period, so logistically it's quite difficult. It would definitely be good to get lots of support down, especially for the home Varsity.
CM: There will be graduates hanging around, though. Because it is a two-day event, and because it's at home, we should be able to get a few people to just drop in for a few hours. We're hoping to live-stream it as well online so people can tune in.
The 2017 2s Varsity tennis matches take place on 24 and 25 June at Fenner's