May Bumps Final Day as it happened – Climax of the blades battle
Follow along with Violet Editor Danny Wittenberg as the titles were won and lost on the biggest, busiest day of the Cambridge rowing calendar on Saturday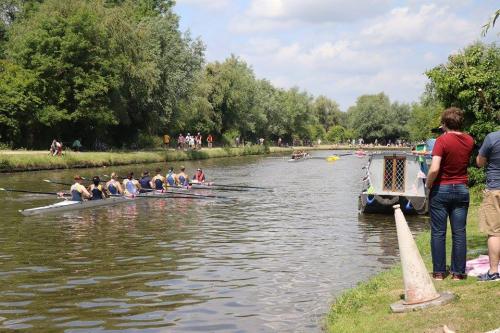 Live Text
(Refreshes automatically)
Jesus W1 hold on to finish Head of the River for the first time since 2007
Lady Margaret M1 retain the Headship for the second campaign running 
Lucy Cavendish claim overall Pegasus Cup thanks to W2 super blades
Students and alumni descend on the banks of the Cam at Fen Ditton, building up to May Week in traditional style
6:02pm …And it's back into town for the boat club dinners. Farewell from a glorious Fen Ditton. Our riverside reporter Imran Marashli is off for a lie-down and a cold towel, and I've been Danny Wittenberg.
5:58pm After a cracking battle against Clare, Lady Margaret have rowed over to retain the Head of the River. They manage the same feat last term in Lent, and have been rock-solid for some time.
5:56pm Robinson have rowed over for the first time, falling agonisingly short of their blades.
5:54pm Meanwhile at the back, Lady Margaret have bumped Churchill M1 right on the reach.
5:51pm Clare had Lady Margaret in their sights and looked considerably closer than yesterday, but the St John's crew have dug their heels in and still lead by three lengths.
5:49pm Magdalene have caught the First and Thirds. Emmanuel have bumped to earn their blades while Trinity take spoons.
5:47pm It's a go in the Men's Division One and Clare are giving Lady Margaret a decent run for their money at this stage.
5:45pm Newnham W1 have caught Downing, inflicting spoons on last year's champions following the confusion of a re-row.
Men's First Division
5:40pm Lady Margaret are aiming to retain the Head of the River having held their position all week. They face one hell of a final chase from Clare, however, who bumped twice in the first two days but couldn't catch the St John's boat in yesterday's race.
There is an interesting contest for eighth place between Emmanuel and the First and Thirds, with Emma gunning for blades and Trinity needing to bump them to escape spoons.
Further down the river, Robinson and Christ's are also anticipating blades. Robinson have moved up from 16th to 13th so far, while Christ's have advanced from Division Two.
5:39pm The inside of the Plough is drained of drinkers as spectators jostle for position ahead of the final race. There's lots of vehicle and bicycle traffic, too, as the crowds compete to reach the river in time for M1.
5:36pm The flagship men's race is less than ten minutes away. First though, a re-row to resolve a technical issue between Downing and Newnham from the women's finale.
5:27pm Lucy Cavendish have accumulated an unassailable lead in the Pegasus Cup, making them the best overall boat club with 11 bumps and one special set of super blades.
"It has been a fantastic year for the club," says captain April Bowman.
"It's been absolutely brilliant! All three crews have worked so hard and I'm proud. We have had amazing support through the college, coaches and boatman; truly could not be done without them!"
5:16pm So, there we have it. Jesus have finished Head of the River for the first time in a decade, following up on their success in the Lent Bumps earlier this year. The college have extended their lead as the most successful boat club in Mays history with their 29th winning crews.
5:15pm Lady Margaret become the fourth crew of the division to claim blades after catching Clare.
5:10pm Homerton have bumped Magdalene at the back of the river, ending a disappointing campaign for the latter who take spoons. Coming all the way from Division Two, Homerton have taken their blades.
5:09pm Peterhouse and Fitzwilliam join Emma in picking up their foliage and their flags. They, too, clinch blades after maintaining their 100% bump record in this Mays campaign.
5:05pm Emma have done it! Which means so have Jesus! Jesus have held onto the lead and finish Head of the River in the women's bumps.
5:03pm Never mind Jesus and Caius. That's now looking like it could be a coronation for the leaders. Emma are closing in on Caius, though, as they passionately chase blades.
5:00pm The starting canon has struck. Jesus are making good headway on what could be their crowning row.
4:58pm This is one of the largest turnouts I've seen here at Fen Ditton as rowers from lower divisions rub shoulders with spectators to try and catch a glimpse of the much-anticipated duel between Jesus and Caius. No doubt about it, this is the big one.
Women's Division One
4:54pm Here it comes. The toughest female rowers in Cambridge are on their way to the starting stations… 
Jesus are fighting to finish Head of the River after bumping twice in the last two days. Second-placed Caius could yet avenge yesterday's defeat and come back to claim the title.
Emmanuel, third on the river, are competing for blades while, behind them, 2016 winners Downing are hoping to dodge the ignominy of taking spoons the following year.
Peterhouse and Fitzwilliam are also blade runners. At the back of the river, though, Magdalene will have to catch a consistent Queens' crew if they are to shun wooden spoons.
The Pegasus Cup

Danny Wittenberg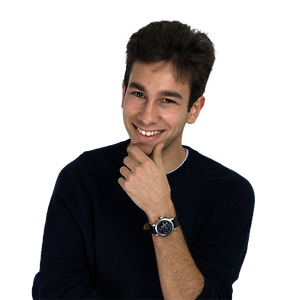 4:36pm With only the top divisions still to take part, it's finally time to take a look at the overall picture.
The Pegasus Cup is the big all-round gong for the most successful college boat club at the May Bumps. Think the World Constructors' Championship in Formula One.
Pegasus Cup points are awarded for every place a college boat club gains over the course of the week, as well as each night a college retains the women's or men's headship in Division One. One point is also deducted for every place a boat club loses.
The total number of points acquired over the four days is multiplied by 12 and divided by the number of boats entered by that particular college in order to reach a final score.
4:30pm Reports from Fen Ditton of a legend in the Hughes Hall bow, rowing back to the boathouse with one hand and a cold one in the other.
4:25pm Clare have also managed to avoid spoons, while Darwin M1 were less successful and have fallen again.
4:24pm Tit Hall have rowed over for the first time this week at the last attempt. Downing have also escaped spoons by bumping Jesus M2 late on.
4:20pm Girton have bumped St Catz to clinch victory in Division Two. They will be looking to reclaim their place in the top flight as the sandwich boat for Division One later today.
4:18pm Sidney have forced a concession from the First and Thirds M2, completing their quest for blades.
4:11pm Clichéd but true, you can really feel the surge of energy among the crowd on riverside as the minutes tick down to race time. The weather is just as spicy as the rowing, with dogs even jumping into the Cam in a vain attempt to keep cool.
Men's Division Two
4:02pm The boys are on their way to the starting line for the next race.
St Catharine's have one last chance to rescue their Mays campaign after being bumped in each of the previous races, all the way down a division. 
Girton, who also began in Division One, could take the consolation of a division lead if they bump them. Meanwhile, Wolfson are currently on track for blades in third position.
Down yonder, Sidney Sussex could also pick up some metalwork with one more successful bump, but the danger of spoons looms over Trinity Hall, Downing and Clare M2.
https://twitter.com/DannyWittenberg/status/876092056128684032
3:42pm Downing W2 have bumped Corpus who do collect their spoons.
3:40pm Homerton have rowed over in first place to earn one last shot at promotion into Division One. St Catz W1 are safely behind them.
3:37pm Further up the river, Trinity Hall W1 have successfully carried out bump on King's W1 and, in a battle of the female colleges, Newnham W2 have bumped Murray Edwards W1.
3:33pm Lucy Cavendish W1 have pulled off an early bump on Selwyn, ensuring they pick up their spoons.
Meanwhile, Wolfson have already caught Robinson W1 to practically sail home with their blades, and condemning 'Binson to spoons.
3:30pm Downing College are filming their W2 progress on Facebook Live. They're in 16th as it stands.
Women's Division Two
3:22pm There's about ten minutes to go before we switch back to the women's Bumps programme.
Homerton, the division leaders, have bumped in every Division Two meeting this week and are going for another shot at the big time after Friday's Division One row-over.
Wolfson are the only boat who could claim blades in a rather volatile division, with Selwyn, Robinson and Corpus Christi all spoon-risks.
3:11pm Please do hit me up via Facebook or Twitter if you're following the Bumps this afternoon. Be warned: any submissions are almost certain to make it onto our live coverage.
3:05pm Lady Margaret are the only of the three crews who started in contention for blades to achieve them after catching Christ's M2. St Catz and Queens' M3 ended up rowing over.
3:01pm We have also just witnessed a remarkable overbump at the back of the river. Bottom-ranked First and Thirds M3 have secured their place in Division Two in stunning style, latching onto Emmanuel M3 after Clare M3 bumped Corpus Christi M2.
2:58pm A couple of confirmed results are on their way. Queen's M2 have safely rowed over for a seventh consecutive race and will have an eighth row in Division Two 90 minutes from now.
Elsewhere, Robinson M2 have bumped Trinity Hall M2 and Fitzwilliam M2 have bumped Churchill M2.
Men's Division Three
2:43pm Now we have a somewhat wholesome division with none of the crews facing the prospect of spoons. Queens' M2 have suffered a shattering Mays, straddling the second and third leagues with six row-overs, so they probably deserve some respite. 
The Queens' M3 boat has been equally busy, amassing three bumps from three races so far. St Catharine's M2 and Lady Margaret M3 could also claim blades this afternoon.
Watching Brief

Danny Wittenberg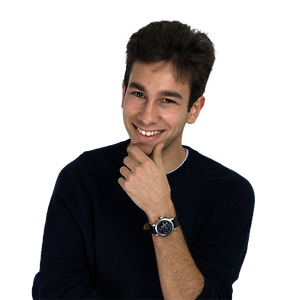 2:39pm If you have no plans this afternoon, you can still get yourself down to the Mays in time for the top divisions. The Bumps course is downstream of the start of the towpath along the River Cam at Chesterton, a 45-minute walk from Midsummer Common.
The Plough pub, in the village of Fen Ditton on the southern bank of the river, is the best place to watch, as many bumps occur around Grassy Corner and Ditton Corner. There's also a bar and a barbecue to keep you entertained between races.
2:24pm And congratulations to St Catharine's W2 and Churchill W2 who both bumped towards the back of the division, catching Emmanuel and Pembroke W3 respectively. Emma came achingly close but have failed to escape their spoons fate after all.
2:17pm A special shout-out should go to the Trinity Hall W2 seven-seat in that race for teaching me everything she knows about rowing. She will be passing on her Tit Hall 'Cheeky Devil' crown at their boat club dinner, but who could be more deserving?
2:14pm That also means Newnham have missed out on their blades after failing to catch Lady Margaret W2.
2:12pm A stream of row-overs at the top and bottom of the division means Clare W2 have earned another shot at promotion to the Women's Division Two and will row again at 3.30pm.
2:09pm St Edmund's W1 bump Murray Edwards W2 at the second attempt ­– a third catch for the graduate crew.
2:06pm That Lucy Hall triumph means Christ's have to collect spoons. Can Emma hold on for their first row-over?
2:04pm Lucy Cavendish/Hughes Hall have already done it – with the first bump of the race! That's the sixth place they have climbed this week, so super bumps are in store for the mature duo.
https://twitter.com/DannyWittenberg/status/876062047884251139
1:58pm The canon is about to strike for a promising Division Three race.
This race centres on whether Lucy Cavendish/Hughes Hall W2 can win special super blades, achieved for bumping each day, having overbumped Pembroke W3 on Wednesday. 
Nevertheless. Christ's W2 and Emmanuel W3 start on either side of the Lucy Hall syndicate and are both aiming to avoid collecting spoons.
Also in contention for the bog-standard blades are Newnham W3.
1:55pm It's an absolute picture-postcard day here at the Plough Pub in Fen Ditton and a pleasure to be reporting on today's denouement. The atmosphere is serene, Pimm's and ice-cream aplenty. Competition is about to hot up with W3 in 10.
1:51pm We've just witnessed the climax of the Men's Division Four, where Caius M4 bumped up into the division by completing a sensational seventh catch of the Mays campaign.
Blades were also awarded to Caius M3, as well as Anglia Ruskin M1, Pembroke M3, and First and Third M4. It was a poor show from the graduate colleges, however, with Darwin M2 and Clare Hall M1 both receiving some shiny spoons.
1:42pm The decisive action is already underway at Fen Ditton, so spare a thought for those of us who were at May Balls last night – especially those competing this morning:
In the Men's Division Five, Downing M3 and Selwyn M3 were the first unfortunate recipients of spoons after suffering their fourth bump of the week. Trinity Hall M3, meanwhile, moved up a fifth place in three days following yesterday's overbump.
The Women's Division Four saw enough spoons to fill a cutlery draw. Fitzwilliam W2, Christ's W3, Magdalene W2, Sidney Sussex W2 and Emmanuel W4 all fell to the same fate. On the other side of the coin, super blades went to St Catherine's W3 who began at the back of the river but overbumped on Day One.
Bumps Jargon Guide

Danny Wittenberg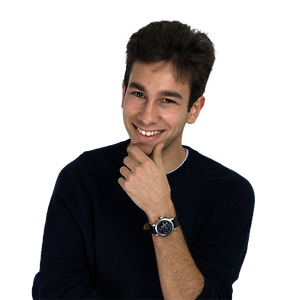 1:34pm First things first, here's some vocab to keep you clued-up:
The May Bumps are a set of boat races split into several divisions. Each college enters multiple crews and their league position is key.
A bump happens when a boat catches the one in front. Both boats then end their involvement in the race and swap places in the division.
An overbump occurs when a boat makes up the gap left by a pair of bumped out boats and bumps the crew three places in front.
Blades are awarded to crews who bump in each day of racing.
Spoons are given to crews who are bumped during every race.
First and Third is the name of a syndicate of Trinity boats. 
Lady Margaret is St John's (never ones to keep it simple).
1:30pm Thanks for popping into Varsity's live coverage of the 2017 May Bumps as the annual college boat regatta approaches a thrilling conclusion. I'm Danny Wittenberg and, together with our riverside roving reporter Imran Marashli, we'll be keeping you up to date with every race and every chase.