Cambridge suffer hard-fought defeat in Men's Boat Race
A strong showing after a difficult start wasn't enough to make it two in a row for Cambridge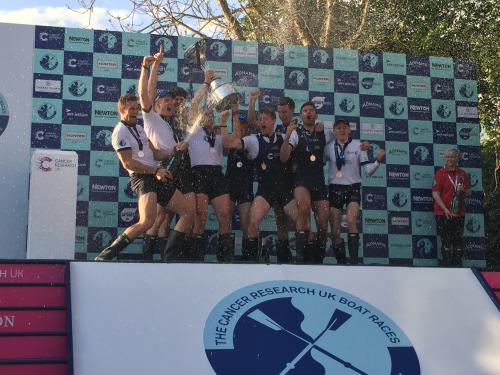 CUBC were unable to make it two in a row as they suffered a spirited defeat in the Men's Boat Race on the Thames this afternoon. Oxford started the race in the ascendancy, and never relinquished the lead they enjoyed from the starting flag to the finish line.
The pre-race omens didn't bode well for Cambridge, with cox Hugo Ramambason asking the umpires to delay the start until conditions on an increasingly choppy Thames began to settle. And when proceedings did get underway, the Light Blues found themselves on the Middlesex bend that was the graveyard of the Oxford women's hopes earlier in the afternoon.
It was there that the race was lost and won. A shaky start of missed strokes forced Cambridge further away from the Surrey bend than they might have liked, and a superb Oxford boat put itself a quarter-length ahead before Cambridge had developed any rhythm.
On paper, the Light Blues were second favourites, and on water so it proved. In the tussle for the best of the Tideway, hoping that more favourable waters would propel them ahead, Cambridge's rowing started to become somewhat erratic. Drifting over towards the Oxford crew, there were hints of oars touching. Freddie Davidson clashed with Oxford number 3 Oliver Cook, and Ramambason was ordered to keep distant by umpire Sir Matthew Pinsent. Cambridge had come out second best in the battle for territory, and soon they were to come out second best in the race.
With only two remaining members of last year's victory in their boat, it was hard to see Oxford's international experience not showing through. A boat replete with talent such as American Olympian Michael Di Santo, Olivier Siegelaar, a Dutch Olympic medalist, and Team GB's Oliver Cook was always a clear favourite next to a relatively inexperienced Light Blue crew. The greatest compliment you could pay Cambridge is that they hung on in there, making it respectable against a boat full to the brim with talent.
As the crews flirted with crossing stations on the Surrey bend, infringing race laws, the Light Blues did all they could to launch a revanche, at times bettering Oxford's speed and stroke rate. But there was little that could be done, despite coming almost to within a boat-length of their rivals.
Oxford held firm, and, passing the bandstand on the north bank of the Thames, began to build up a head of steam. A length ahead by Barnes Bridge, Oxford didn't quite have Cambridge breathing down their necks, but the Light Blues had done enough to make a race of it, always in sight of the leaders but never quite close enough. In the 163rd men's Boat Race, Oxford were champions once more.
Oxford President Michael di Santo, who rowed for Team USA at the Rio Olympics, told the media: "It feels so good to win. I feel so indebted to [head coach] Sean [Bowden] and OWBC. I don't think I'd have made it to the Olympics without him and his guidance. He poured his heart and soul into this season. This means a lot to us and it means a lot to him too."
Oxford coach Sean Bowden was full of compliments for a Cambridge boat that had given it their all: "We were ready for some aggressive coxing from Cambridge," he said. "It was a tough race for us and a tough race for the umpire. You're in a really difficult position when you're winning – the pressure is more on you. I think our cox did it really well. I think it's a tough day at the office for our cox to be defending against a powerful crew that was out for blood."
And the final word went to Steve Trapmore, head coach of CUBC, after his tenth Boat Race on the Tideway: "We knew Oxford were fast," he told the press at Mortlake, "and we knew that we had to take the race to Oxford and that's what we tried to do. Hats off to them – they made us make some moves and made us respond, and we did respond – we were on the front foot for a little bit, we didn't quite have the platform and the horsepower to sneak up in the middle and maximise that advantage.
"But I'm really proud of the Cambridge guys for sticking in there. These guys are grinders – they've worked hard for the whole programme, and it's just such a shame that there's a loser in such an amazing race. But Oxford deserved to win because they were better on the day"