Crews announced for 163rd men's Boat Race
This year's rowers were announced at the Francis Crick Institute in London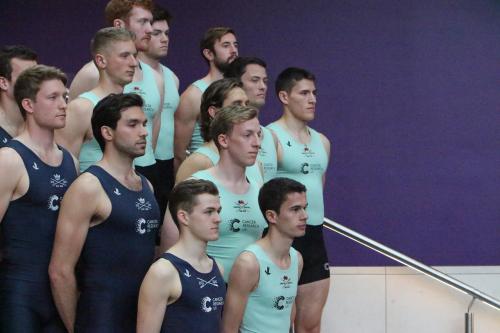 With less than three weeks remaining, the official crew announcement and weigh-in have taken place for the 163rd men's and 72nd women's Cancer Research UK Boat Races.
Hosted by the BBC's Andrew Cotter in the Francis Crick Institute, London, the men's and women's crews of Cambridge University Boat Club (CUBC and CUWBC) and Oxford University Boat Club (OUBC and OUWBC) were formally unveiled and weighed amid a buzzing atmosphere, for what promises to be another enthralling chapter in the world's most historic sporting rivalry.
For the men, it is Cambridge who will possess the advantage in total weight, finishing with a combined weight of 747.6 kg to Oxford's 721.7 kg, excluding the coxes. The event was not without its psychological games and drama, though, as Oxford's Vassilis Ragoussis engaged in a tense and protracted stare-off with Cambridge's Henry Meek before their weigh-in, to further whet the appetite ahead of Sunday 2nd April.
CUBC President Lance Tredell spoke with Varsity after the weigh-in. "We're focused on continuing on the development we've seen in recent weeks, and we're approaching every day as an opportunity to improve, and we're seeing good results." Having beaten Oxford last year, Tredell tentatively reckons that the Light Blues can go into the race with a psychological edge. "There's a certain element of confidence in the squad, but, at the same time, we approach every campaign as a new challenge. I think it's important to do that, and that's certainly the way that we've approached this year."
Preferring to focus on his own crew's performance, he added: "I think we've prepared well, and we'll continue to prepare well over the next 19 days. I think we'll stay focused on our processes, and if we deliver the processes that we know we're capable of doing then I think the result and the outcome will be a good one."
Cambridge Chief Coach Steve Trapmore also spoke to Varsity after the weigh-in, and reflected on the men's crew's preparation ahead of 2nd April. "I think it [the team's mentality] is positive, and I think it's realistic, and very focused. We know that there's a big challenge ahead, but we also know that we've done a lot of work to put us in a good position at this point. These next few weeks leading up to the race are about consolidating, making sure that we can really stretch the boundaries and move on."
Plunging into an illustrative metaphor, he went on: "We've spent a long time building this engine, and the last little bit is about fitting the bearings on and making it aerodynamic and getting the most out of what we have, and that will not stop until the last stroke of the race."
Although the Light Blues were victorious in the men's race in 2016, Trapmore made it clear that the past was exactly that: past. "It was absolutely fantastic to win last year, but that was last year," he said firmly. "This is a new year, a new team. We have got a lot of confidence from winning last year, but that was last year, and each year is a different journey with a different group of people."
Reflecting on the narrow weight advantage Cambridge enjoy, the Olympic gold medallist was similarly cautious. "We've never focused on it as a big thing." Redeploying his metaphorical tools, he continued: "If you're heavier, you've got to be able to use that weight. I liken it to boxing. If you have a heavyweight boxer fighting a flyweight boxer, and if the heavyweight boxer is tiring and cumbersome but powerful, he has to cope with the movement of a flyweight, who's going to be dancing around. But if that heavyweight connects with the punch, then that has a devastating effect. So you have to able to use any advantage you have."
Trapmore, however, was unequivocal in identifying the Light Blues' strength: "Hard work! There's no shortcuts: to achieve something that's worth achieving, you have to put miles in and the hard graft in. Nothing comes easy. And the way we've approached the programme has been a really good, hard work ethic. We've been working together as a team and as a unit – we mustn't forget the reserve crews and the spares. Just because the spotlight is on the Blues' boat doesn't lessen the rest of the team. It's a huge team effort, this thing, and I think that's probably the main thing that sets us apart, and our programme apart, and our mentality apart from Oxford."
Trapmore's Oxford counterpart, Sean Bowden, previewed the Oxonian crew for the big day with Varsity: "The mood's good: the guys are very keen, very motivated, and training hard. We had a slow start, and it took a while to get everything in place and to get the team fitting together. But there's been a steady build-up of some good momentum after some hard races we've come through, so I think they're in good shape."
OUBC and OUWBC have also recently benefited from a recent £12.6 million endowment in the form of the Topolski Fund. The Oxford Chief Coach explained the importance of the Fund for his crew and, more widely, for the Boat Races themselves. "The setting up of the Topolski Fund is a really necessary step for our club – and it may well be for Cambridge in the future – to make sure we can safeguard the future of the Races without too heavy a reliance on commercial interests. I think it is about protecting the amateur status of the Race as best as we can: it's a really good thing that we've started, and hopefully we can pull it off. I'm confident we will, and certainly three or four years down the line it will be a significant support to the Races."
Bowden, nevertheless, candidly owned up to some of Oxford's relative weaknesses, adding to the mental handicap of losing last year: "I think they know they need to be better," he conceded. "We need to know that the standards are higher than what we've shown so far. There's got to be some psychological effect, but hopefully that's all turned into a positive determination. You're looking at this year and the context of this year."
Cambridge, however, cannot write off the Dark Blues, and the Oxford Chief Coach ended on an upbeat note by highlighting his crew's improvements over the last 12 months: "They're physically a lot stronger; there's a lot more rowing experience in there. Those will be the two main things. I think in those broad, objective areas, they are a level above last year's boat."
The 2017 Cancer Research UK Boat Races will take place on Sunday 2nd April between Putney and Mortlake on the River Thames, with the women's race first, at 4.35pm, and the men's race following at 5.35pm.
Cambridge University Boat Club
Ben Ruble (bow), 87.3 kg
Freddie Davidson, 81.9 kg
James Letten, 106.5 kg
Tim Tracey, 97.4 kg
Aleksander Malowany, 94.4 kg
Patrick Eble, 90.4 kg
Lance Tredell, 94.3 kg
Henry Meek (stroke), 95.4 kg
Hugo Ramambason (cox), 55.3 kg
Oxford University Boat Club
William Warr (bow), 94.2 kg
Matthew O'Leary, 74.8 kg
Oliver Cook, 91.7 kg
Joshua Bugajski, 99.2 kg
Olivier Siegelaar, 101.2 kg
Michael DiSanto, 89.9 kg
James Cook, 84 kg
Vassilis Ragoussis (stroke), 86.6 kg
Sam Collier (cox) 59.8 kg