Rogue Sport of the Week: Australian Rules Football with CUARFC
Paul Hyland speaks to coach Dave Sykes and player Alex Westin-Hardy about one of Australia's biggest spectator events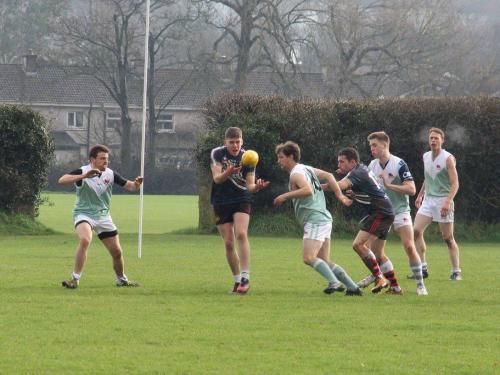 CUARFC junior treasurer Alex Westin-Hardy, and coach and session leader Dave Sykes took completely different routes into one of the biggest sports from Down Under.  The Loughborough-born Westin-Hardy almost wandered into the sport when he arrived at Cambridge, having previously been a rugby player first and foremost. Having stumbled upon the sport by way of a Facebook event, the Pembroke NatSci is now an Aussie Rules player through and through, and has gone on to represent Cambridge at Varsity level and at a university tournament in Cork, Ireland.  
As for Sykes, though born in Zürich his broad Aussie inflection more than explains his love of the sport. He started playing Aussie Rules in Victoria, Australia not long after moving from Switzerland, before moving to Queensland where he was picked to represent the state at Under-17 and Under-18 level.
Here they give us their lowdown on a sport most of us have heard of but have never managed to get our heads around.
How did you get into Aussie Rules?
Alex: I played rugby since I was really small, came here, played rugby for the college and for a couple of the uni teams and then saw the club on Facebook, saw the guys training on Parker's Piece, thought it could be a good laugh, came down for training and it's been really good.
Dave: I played Aussie Rules back in Australia so it made sense to kind of find something similar. A lot of the guys here, a lot of the Aussies who come over are doing it by themselves, so to have something that's similar to back home, especially in the sport it's a really good social environment, it's good to get the guys along and show what the sport's all about and really grow it here in Cambridge, because it's been around for quite a long time and no one really knows about it.
How does Aussie Rules even work?
Alex: There are goals at either end, and the aim is to kick the ball through. I'd say it's kind of like a mix of every sport you've ever seen. So the ball is a rugby ball, the pitch is a cricket oval essentially, and the way you move it's a bit like netball, you're kicking for the mark and then obviously there's free play within that as well, and obviously big tackles and big marks. And there are 18 players per side on the pitch.

Dave: There's four spare, so an average team should have 22 players with 18 on the ground at any one time. In terms of tactics, there are so many things happening to players ahead.  So it's got the speed of soccer, and the tactics of American Football where you can break down every single play, so as soon as someone's got the ball and they're running ahead at the back line, not only are they looking for the next play but then the players after that are thinking 'right, where can I position myself?' It's really interesting because so many different things can happen out of every single play. 
Also, you've got to handball. You've got to connect the ball with a fist. You can't just throw it or it's a free kick to the other team. So it's a handball or you've got to kick it. And that can be in any direction.
Were you surprised when you found that Cambridge had an Aussie Rules team?
Dave: No because there's a team in every major city in Europe. There's levels of competition that you wouldn't even realise from Hungary through to Spain. The European League is huge.
Who are the major players in European League?
Dave: So the European Cup was held in Portugal this year and you've got a major team for every country. You've got Serbia, which is really strong and Croatia's a really strong team, the French and the Germans are really good as well, apart from the British! 
Is there an international team that can give Australia a run for their money?
Dave: There is an international cup that's held in Australia but because the footballers there are full-time athletes, they don't play against those teams so it's all amateur competition. The British team, I believe they're called the Dragonslayers, they do really well in competitions, and they're predominantly made up of British players.
Do you find it's mostly Australians getting involved with it at Cambridge?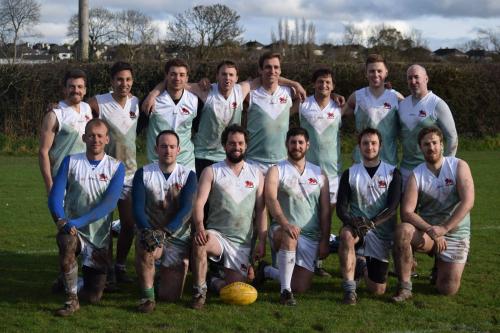 Dave: Between Cambridge and Oxford there are more Australians, but in London there are many British players there, and all the way up I think there's a team near Newcastle where it's mostly British players too.
Is the sport growing in popularity?
Dave: There's a big push in England towards becoming a national governing body, which is something they haven't ever been. So as soon as that happens they start getting avenues of funding through Sport England and from then on they can really start promoting Aussie Rules as a national sport.
Are Cambridge on their way to that level?
Dave: Absolutely. It's going to take a few years but we're working towards it. This year's the first year where we'll have a combined Oxford and Cambridge women's team take on the women's team from London at the Varsity weekend which is a really big step for us.
Do you get much of a following at matches?
Dave: No. I mean last year there was quite a few at Oxford for the Varsity so I think we probably had maybe 100 people there. Last month we all travelled to Cork for the Universities Championship and there was quite a few people there as well so, there was multiple teams plus the personnel, then the people interested so.
Who are the biggest names in the sport?
Alex: Buddy Franklin's probably the biggest name.
Dave: Yeah Buddy Franklin, he plays for the Sydney Swans.
Alex: Then you've got Nat Fyfe who did a sponsorship deal with Gareth Bale, and he's been compared to that kind of sportsman.
Dave: You've got 18 teams based all around Australia so depending on who follows who, everyone will say their own team is the biggest team. But I think the biggest are gonna be Sydney, Collingwood, Adelaide, West Coast Eagles, those sorts of teams.
Where does it rank in Australian sport?
Dave: The domestic competition is the fourth highest domestic competition in the world on average by average number of people turning up to each game.  The grand final is the highest attended domestic grand final in any sport in the world. The Melbourne Football Club is the oldest football club of any code in the world. It's ten years younger than soccer and one of the people that invented Aussie Rules studied here in Cambridge. The rules were codified in 1858. And grand finals are played in front of 100,000 people at the Melbourne Cricket Ground. Some of the big rivalry games you can get close to that about three or four times a season.

Do you get to play at places like Fenner's?
Dave: Our home ground for Varsity is at St John's. We're not allowed to play at Fenner's – yet!  A lot of the game play takes place over the pitch where the cricket wickets would be, so a lot of the groundsmen don't like that.  So we tend to play across two rugby fields at St John's.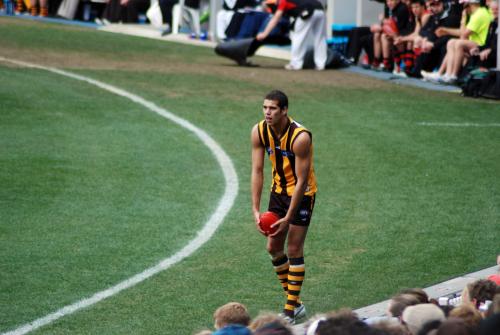 What's your training schedule?
Alex: So generally once a week we'll train out on Parker's Piece doing things like kicking skills, team play, team run-throughs, that kind of stuff, then we'll do a fitness session and things like that. Training on a Sunday is absolutely ideal for us.
How would you persuade our readers to give it a go?
Alex: I think the pace of the game is what I really enjoy. A lot of the skills are transferable from rugby and soccer, but the pace is increased, that's what I find enjoyable about it. 

Dave: It's quite fast paced so you could really look at it as a hybrid of soccer, rugby with the physical intensity of ice hockey based on a cricket field. So you've got to be fit, you've got to be strong, you've got to understand where you are, you've got to have vision, you've got to be able to get rid of the ball quickly.  There are so many things at any one time. It's very much like contact chess on a big field!
Alex: Rugby is very two-dimensional, you're always running at a flat line, always going backwards to go forwards, whereas with this you have to be much more cerebral because it's a 360 degree game, with big hits and the ball moving in all directions, so it's always interesting. 
And the progression you get, learning how to kick, learning how to handball, that's sometimes easier to learn as a beginner because you don't have those bad habits a few of the more experienced players get.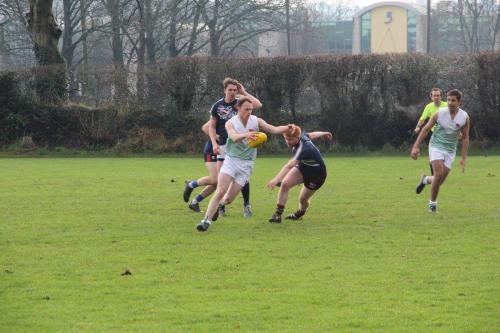 Is there anything else you want us to know?
Dave: As much as we want to promote the men's game, we're taking big leaps and bounds promoting the women's game as well. We want to try and cement a team for next year, even if it's just nine a side, we're trying to find a home for us in Cambridge, it's really difficult being out on Parker's Piece. So if there are any women who are interested, that's where we really want to aim for our sport. Because we can get 18 guys to come and have a kick, that's easily done, but to get the women playing, that's our real focus at the moment. And we're working with the AFL Europe women's officer to develop that as well.

You must be heartened by the way Cambridge is promoting women's sport?
Dave: Seeing that is really good, but for us we're finding it difficult to promote it, because if you say 'Aussie Rules' people seem to think it's for Australians. The name doesn't help!  But it really is for everyone, anyone can play, we break down the skills so that anyone can learn at any time