Rogue Sport of The Week: Croquet with James Brind
Paul Hyland discovers the serious side of a game most of us only ever play during May Week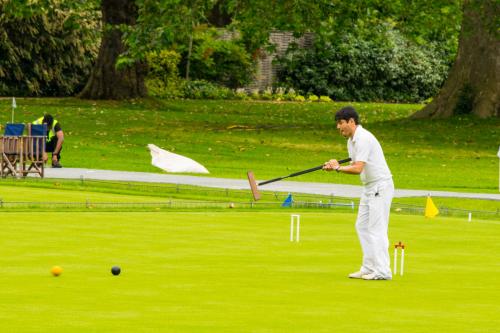 Athlete Profile
Name: James Brind
College: Corpus Christi
Degree: Engineering, PhD
Hometown: Dorchester, Dorset
Unlike many of our other interviewees, James Brind isn't even convinced you can call what he does a sport. It doesn't take too much energy, training schedules are far from rigorous and it's commonly played by slightly worse-for-wear revellers at Cambridge garden parties.
With the game not exactly a mainstay of the school curriculum, Brind first picked up a mallet when he was a first year. And from then he couldn't really put it down. A quick taste turned into a serious commitment, and he's gone on to represent the University at Varsity on three separate occasions. The Cambridge University Association Croquet Club captain shares his experiences of a game most of us only play during May Week.
How does croquet work?
The basic aim is to use a mallet to hit your ball through a series of hoops on a grass lawn, and finally hit a post in the middle of the lawn to win. You get extra shots for either hitting another ball or going through a hoop. The finer points are quite complicated, which leads to many rules variations in casual games. The competitive rules are of course standardised.
How did you get into it?
I had never played croquet before coming up to Cambridge. I was shown how to play on the college lawn in my first year, with the obligatory glass of Pimm's in my hand. I enjoyed it, playing more often in later years, and was soon skilled enough to play for the University.
Some might argue it's a game and not a sport. What do you think?
Personally, I don't consider it to be a sport and I prefer the term "practice" to "training session". It involves both physical skill and tactics, but it certainly does not require a high level of fitness. It has to at least be in the same category as shooting, I'd say.
What's the hardest thing about croquet?
In a competitive game, you need to maintain concentration on every shot, as one mistake can give your opponent a good opportunity to score and turn out to be very costly.
What do you need to be a success at it?
An ability to think several turns ahead, and the technique to reliably play the most suitable shot. The tactics are quite involved as well, so knowledge of strategy is also crucial.
Who's the most famous croquet player?
John Solomon – a Magdalene alumnus – is widely considered the greatest croquet player of all time, winning pretty much everything in the '50s and '60s. On one occasion he was able to win a doubles match even after his partner didn't turn up, by using his ball to hit partner's through all the hoops and to the post!
Croquet is stereotyped as quite stuffy. Is that deserved?
I don't think that is really fair. The croquet players I have come across, within and outside our university, tend to be very friendly and welcoming.
Is access ever a problem? Do you find it's a diverse enough community?
Despite what I said before croquet, does tend to attract those who are relatively well-off, have lots of spare time, or commonly both. I suppose there is a bit of an image problem. But the barriers to entry for students here are very low: we provide equipment and some coaching at no cost. The only cost to you would be the train fare for any external fixtures.
What's the state of croquet in Cambridge?
The club has been doing well recently: winning the Varsity Match for the first time since 2002 last summer. The college croquet lawns are OK for practice but a bit too small for competitive games. Newport Croquet Club (a short train ride away) have generously agreed to some use of their facilities, but it is a long-term ambition of ours to get a full-size lawn somewhere more local in Cambridge.
Do you have a training schedule you have to abide by?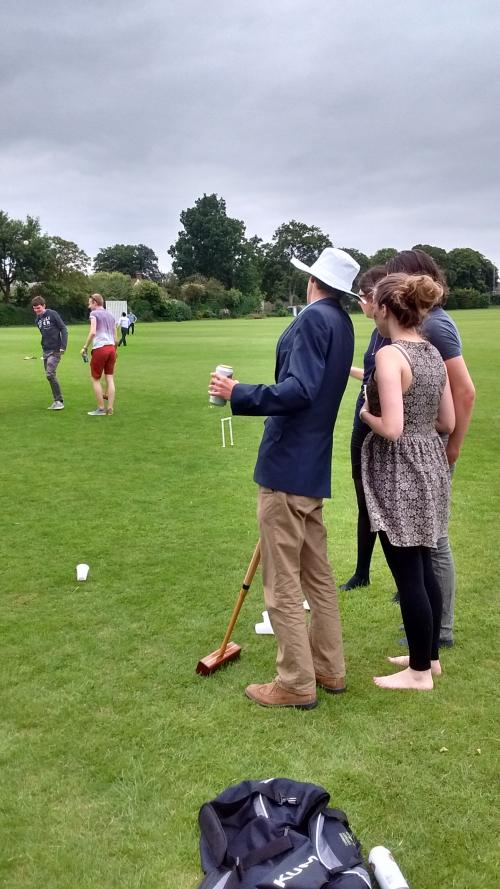 It isn't as regimented as that, but in Easter Term we have practice weekly and external fixtures once every fortnight or so.
How do you reconcile it with your Cambridge workload?
I am a PhD student, so I have the flexibility to take occasional afternoons off, but undergraduates in the grip of exams find this harder. But you shouldn't underestimate the value of a break outside in the fresh air. The pace of the game is slow enough that you can take work to attempt while waiting for your opponent to complete their turn.
How would you persuade people to get involved?
Croquet is really just a fun way of spending some time outside in the sun, and you can be as competitive as you want! Most colleges have a lawn and a croquet set stashed away somewhere. I would encourage people to just have a go, and, if they like, enter a team in Cuppers. The standard is fairly low so all teams, even novices, should get a couple of decent games. Look out for advertisements early in Easter Term or check the website.
This interview has been edited for length and clarity