Rogue Sport of the Week: Korfball with Bethany Mason
Keir Baker is welcomed to the crazy world of korfball by the first-team captain of the Cambridge University Korfball Club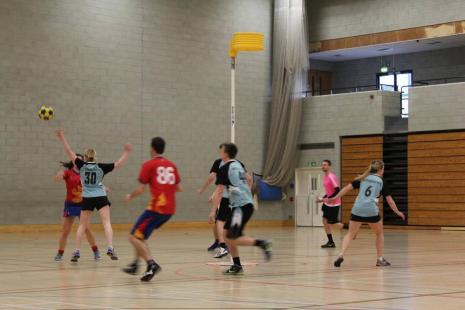 Athlete Profile
Name: Bethany Mason
College: Clare
Degree: Pathology – PhD
Hometown: Scarborough
Bethany Mason's korfball career has been a meteoric rise: having only started playing in her final year at the University of Manchester – which she represented at the 2015 British University Championships – her arrival at Cambridge in January 2016 saw her promoted to the first team with which she won the Varsity match against Oxford, topped division 2 of the local Cambridgeshire leagues after an undefeated season, and finish sixth with Cambridge at the 2016 British University Championships. She is now the captain of Cambridge University Korfball Club's first team.
Can you give us a brief summary of korfball?
It's a combination of netball, basketball, and handball, though it's largely its own thing. It has its origins in Holland – who are the world's best country for it. The overall aim is score as many goals as possible by throwing the ball – which is similar to a netball – through what looks like a bottomless basket, which is on the top of a 3.5-metre-high pole. There's a slight space inside the court too, so, unlike netball, you can run all the way around them to score. It's usually played inside, though we recently went on a tour to Holland where we played on grass!
There are eight people on a team, and they have to be four boys and four girls. To make it fair, girls can only mark girls and boys can only mark boys in what's known as duels. And they're divided into two divisions – an attacking division and a defending division, and you can't leave your zone. However, these divisions swap after every two goals.
It's a bit like netball, in the sense that you cannot run with the ball and it's also a non-contact sport. The matches are 35 minutes each way. But the most unique rule is the 'defended rule', which states that if someone is between you and the goal, close enough that they could touch your shoulder, you can't shoot. This makes korfball a lot more dynamic than netball; you have to be really quick to pass it round and get a free shot.
How did you first get into the sport?
I first started towards the end of my degree at Manchester. I'd played a lot of netball before, so a friend of mine suggested I come along and try korfball; she thought I'd really love it. And I did – it was something new that was a lot quicker and faster than anything else. The mixed-gender elements add a nice dynamic to the game too.  
And the fact that you can swap divisions too means it's not as rigid as netball; you have a chance to play as an attacker and a defender – it's probably more demanding of your talents and abilities!
What traits helps facilitate success in korfball?
It's definitely one of those sports where hand-eye coordination is a must, and being tall definitely helps too. But the unrelenting speed of the game means you really need to be able to read the game well, anticipating where people are going to move so you can block their shot or make some space to allow your team to score. Having played netball helped me a lot with that, but it's something you can pick up really easily.
What is the state of korfball in Cambridge, in the UK, and internationally?
We have a reasonably big squad at Cambridge – we're able to put out both a first and a second team. And that's reflective of the state of the sport in Cambridgeshire too: it has six clubs including the University team, five of which are based in the city, and three league divisions as well. And recruiting girls and boys for the gender balance hasn't been too much of problem for us really.
It's definitely getting more popular: every year, there are more and more universities competing are the British University Championships. The clubs tend to be concentrated in the South of England though, and there are loads around London in particular. When I was in Manchester, there weren't many other clubs in the North, though that's changing now – some have appeared in the Northern cities like Sheffield and Leeds, while there are also a few in Scotland.
Not only do we have a student national side, but we've also got a GB side who compete internationally too. In fact, at Cambridge, we've got a guy called Ollie Bell who played for the under-23 England side as well as someone who plays for Japan's national team too. And one of our coaches plays for Wales too!
Internationally, Holland and Belgium tend to dominate. Every continent tends to have a team, which is good, and there are at least 60 countries. So with the number of countries playing, I don't see why it couldn't be in the Olympics in a few years' time: it has been there before when the Olympics were hosted by Belgium and Holland in 1920 and 1928.
What is your training schedule like?
We train twice a week – quite late at night because of the court availability – and that usually involves a bit of shooting practice and skills-based training, though sometimes we play our home games then too. We're hoping to bring in strength and conditioning sessions this year too, just to give us that added edge!
How do you reconcile a Cambridge workload and your training schedule?
"I'm the type of person who can't sit down for too long, so having that guaranteed time during a week where I'll be able to get out from behind the desk and run around and forget about everything is really important. I see it as a chance to spend time with people who don't do my course and whom I don't see regularly: you can't work all the time, so it's important to get that back. I even used to play during exam term because of the benefits exercise brings!"
How might somebody interested in korfball get involved?
They would get involved through the Cambridge University Korfball Club. The website is a good place to visit and there's a specific Facebook page for korfball too! And if anyone wants to keep up-to-date with our matches and tours, we have a Twitter page too. But if anyone has any specific questions about Korfball, they can email me (c.u.korfball@sport.cam.ac.uk).
This interview has been edited for length and clarity.