Rogue Sport of the Week: Motorsport with Richard Morris
Keir Baker chats with the captain of the Cambridge University Automobile Club about the fast and furious life of a racing driver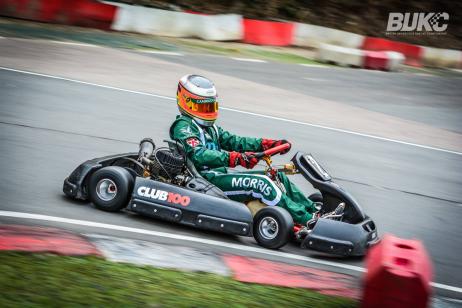 Athlete Profile
Name: Richard Morris
College: Trinity
Degree/Faculty: History – PhD
Hometown: Birmingham
Richard Morris is one of the most successful Oxbridge karters of all time. He is currently the captain of the Cambridge University Automobile Club and is the only driver to have been on the podium at seven consecutive Varsity matches in a row. Racing competitively since he was 14, Richard finished second at this year's English Championships and third at the British Open Championships, where he has been racing since he was 16. 
Outside of motorsport, Richard fences at an international level and is currently president of the Cambridge University Fencing Club. He is also a Full Blue for both sports. 
Can you give us a brief summary of motorsport?
There is a wide range of karts you can race with. Beginners at Cambridge would start on an outdoor circuit racing karts that have no gears – just an accelerator and a brake – but they're still fairly quick and can get up to about 50 mph, which feels faster when you're skimming along the ground. You would race in grids of around 25-odd karts. Typically, a short qualifying session is followed by a full race that lasts about 30 minutes. Sometimes we run team endurance races too. We like to vary the circuits and formats we use to keep things interesting!
Meanwhile, I currently race in the fastest types of karts: known as 250 gearbox karts, they can do 0 to 60mph in under three seconds and reach speeds of over 125 mph. The more experienced members of our Club also compete in the British University Championships, which take place across a number of circuits in Britain. There are about 90 different teams across the difficulty levels, and they are random grids of about 36 karts.
How did you first get into the sport?
I'd always been keen on watching Formula One and fell in love with racing, but I didn't start driving karts until I was 12. It was a friend's birthday party and we just went to the local kart track – it was a one-lap shoot-out and I crashed into the barrier on my lap! But I loved it and from there it just progressed up until where I am today. I like to think this means I'm a better normal driver than most, but I guess you don't have to parallel park go-karts!
What is the hardest thing about Motorsport?
The level of focus and concentration you need is incredible. Races are 30 minutes of intense concentration with no breaks, and when things are going so quickly, if you make one mistake it can cost you a lot of time and a lot of positions.
What traits helps facilitate success in Motorsport?
A good sense of balance is something people don't often realise is important, but a lot of racing drivers talk about it. You need to be able to feel the grip that you've got and feel whether the kart's sliding or what it's about to do. So you need a very good sense of balance and good feel in your hands and in your backside.
Who is the most famous athlete in your sport?
These days, the most successful karters go on to become famous Formula One drivers – Max Verstappen, for example, was in go-karting only two years before he was in Formula One. Lewis Hamilton was also a karter too! These days you can't become a Formula One driver without having done it!
What is the state of the sport in Cambridge and in the UK?
We enter a wide variety of races, from the British Championships to internal racing between Cambridge students. The first team we have that represent the University at the British Championships have four drivers per round, and we have five or six in the squad that we rotate for that. And the Varsity match against Oxford requires a 10-person squad, so we have a good level of opportunities for experienced drivers. And we're looking in good shape, but we could do with a few more people.
Unfortunately, we notice a gender divide: we're predominantly male but that's something that we – and motorsport as a whole – is looking to tackle. There's no particular reason why motorsport as a sport is dominated by men: it's certainly not out of deliberate selection or separation because it's one of the few sports where men and women compete equally. I think it's ultimately a case of breaking down stereotypes – there are some very successful female drivers in the UK, and we'd love to have some more female members too!
In the UK, we're extremely strong and one of the best countries in the world. Almost all of the major motorsport teams are based in Britain and we've got a strong contingent of British drivers at the top level of motorsport. There are an awful lot of good young drivers coming through in particular!
What is your training schedule like?
The people in our racing squad, they have gym sessions three mornings a week because fitness is really important in the longer races. A good amount of cardio is important, and you also need good upper body strength in your chest and arms – after all, whenever you turn the kart, you've got major resistance up against you!
The amount of time we can spend training on the track is restricted by the number of test days there are but we attend those as much as possible. We also do video analysis sessions – just in people's rooms – and watch onboard footage of them driving and see if we can find places where they could have braked later or taken a different line.
And how do you reconcile a Cambridge workload and your training schedule?
It's really not easy, it must be said. But it's a case of prioritising and seeing what the workload you have to do in a week is and weighing that up against your sporting commitments. And seeing the sport as a break from the monotony of work is always a good way to think about it.
How might somebody interested in motorsport get involved?
They would get involved through the Cambridge University Automobile Club – they can visit our website or our Facebook group. We'd love to hear from anyone, even total beginners, and start them on their motorsport journey. But if anyone who thinks they could potentially race on the team has any specific questions about motorsport, they could email me directly (rlmm2@cam.ac.uk).
This interview has been edited for length and clarity.