Rogue Sport of the Week: Yachting with Rob Glew
Keir Baker jumps aboard with the main trimmer of the Cambridge University Yacht Club's racing team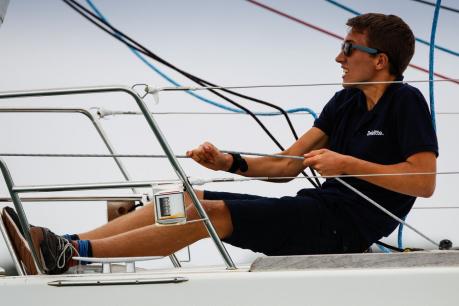 Athlete Profile
Name: Rob Glew
College: Queens'
Degree: Engineering – 2nd Year
Hometown: St Albans
Rob Glew has been sailing for 12 years with incredible success: he recorded a race win at the prestigious Cowes festival, a major racing festival on the Isle of Wight which features up to 8,000 competitors. In the summer of 2015, he translated his passion for the water in yachting and is now the main trimmer of Cambridge University Yacht Club's racing team.
What distinguishes yachting from other forms of sailing?
The main difference is the vessel which you use. Dinghy sailing usually takes place on a lake and involves using small boats for three or four people which can capsize. Meanwhile, yachting takes place on the sea and uses enormous 10-20 tonne boats with weights on the bottom so they can't capsize. They have at least two huge sails: everything is just much bigger, much louder, much faster and a bit scarier.
A yachting crew is comprised of eight sailors who have two different types of role – the people who pull ropes and the people who think. The tactician and a navigator decide the yacht's course through the water – their success makes a big difference on how you do: I like to think of yachting as 'chess on water' – while the trimmers are those responsible for each sail. My role as the main trimmer means I'm responsible for the main sail.
How did you first get into yachting?
I sort of fell into yachting. It is a major thing in the City because they like to use it to entertain clients and, during my internship in the City last year, and I found my way onto one after telling someone who knew someone else that I could sail. I spent the first day completely scared of everything, but after a while I got into the competitive and tactical side and fell in love with it.
The addictive thing about it is that it's a thinking sport: if you win, it's because you beat your opponents by being cleverer than them and out-thinking them. It's an intellectual sport, with a massive rule book that you're looking to manipulate. As an engineer, too, I find how the sail works fascinating – you're looking to move the sail and change its shape just a little bit in order to get more power from the wind to drag the yacht forward through the water.
What is the hardest thing about yachting?
The size of the yacht can make yachting quite daunting: when we're starting the race, we have about 20 yachts all within 100 yards of each other, moving quite fast with everyone shouting, and that is initially quite scary. Of course, they rarely hit each other – there's just an element of 'chicken' going on! So that fear is something you need to get past; you need to get cool-headed and keep calm in the face of what seems like danger.
What traits helps facilitate success in your sport?
You have to be comfortable with technical detail – sailing and yachting are all about fine-tuning the little things like the sails and the steering. You also need to be able to think tactically: most other sports don't require you to be thinking ahead as to what you're going to be doing around two hours in the future.
Who is the most famous athlete in your sport?
There are two types of yachting race really. You have the short races that last at a maximum a day and then the endurance races that can take up to 80 days! In the short, Ben Ainslie is certainly somebody that everyone should have heard about: as well as being an Olympian, he's competing (and leading) the Americas Cup, which is the closest yachting and sailing gets to the Formula One, in the sense that they do regattas at lots of different locations around the world.
Meanwhile, in the endurance form, these guys get into this pattern where they sleep for 20 minutes, yacht for 20 minutes for 80 days! And there's a guy called Alex Thomson – who is a one-man yacht racer for the Hugo Boss Racing team – who does races like the Vendée Globe (which goes all the way around the world) and has a bit of a reputation for getting halfway then doing something stupid to break his yacht when trying to make his boat go faster.
What is the state of the sport in Cambridge, in the UK, and internationally?
The yachting club at Cambridge is quite a complicated club – there's a race side, a training side and a cruising side. We have about 250 active members, of which about 80 per cent are post-graduates because people tend to get into yachting as they get older.
The training side is where we train people to become better sailors and skippers. The cruising side are those who take our two yachts that live in Ipswich out on the weekend – most weekends, they'll be out cruising on the East Coast or occasionally taking trips to Holland and Belgium. And the racing side, which I'm part of, are based in Portsmouth and have won the national competitions and raced at the student yachting world championships! Unfortunately, we lost our four-year winning record in Varsity last year – we got pipped at the post, though we attribute the loss to our weather-disrupted training!
In the UK, there is amazing funding for yachting because the City loves it – you get companies like Deloitte and PwC sponsoring boats – while on a global scale, it's the Americans, the French and the UK who dominate.
What is your training schedule like?
As well as actually going out for training cruises a couple of times a term, we sometimes do collective training, too, but that can be tricky: different people need different strengths. For example, I need more upper body strength than the guy who just has to steer but there are also other guys who need to be even heavier than I am. Because weight can make a major difference depending on the wind, the training advice we give to the crew is to make sure you have enough muscle to pull what you need to pull – indeed, I do a fair bit of cardio to try and stay lean!
How do you reconcile a Cambridge workload and your training schedule?
Fortunately, it's not that great a commitment: unlike football or rugby, you're not required three nights a week. Yachters can almost forget they're a yachter for three weeks, but then we demand an entire weekend of attention instead and this is pretty helpful: you know when that weekend is going to be and plan for it, ensuring you're far enough ahead to make sure you can cope.
How might somebody interested in yachting get involved?
They would get involved through the Cambridge University Yacht Club. If you sign up to our mailing list, you'll hear about everything we do from racing to cruising weekends that are great to help escape from Cambridge stress. We also have a Facebook page and there is loads of information on our website, but if anyone has any specific questions about yachting, they can email me (rg522@cam.ac.uk)."
This interview has been edited for length and clarity