Gig: Laura Marling, Cambridge Corn Exchange
Anastasia Bow-Bertrand is captivated by Marling's intensity and range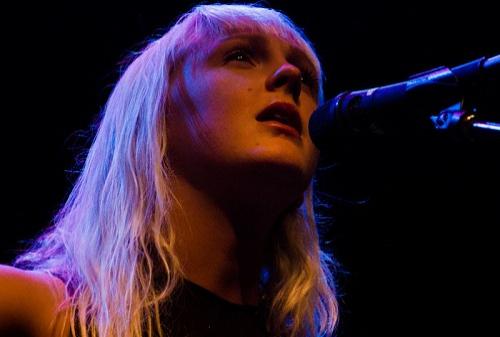 "What are you lot on?" jokes Laura Marling in response to yet another shout out of "you're perfect"; "we love you".
At 23, even with four albums to date and another on its way, Marling still can't quite believe that the stunning, dramatic Cambridge Corn Exchange is packed out on a Friday night. We've come for her, to hear her, and the latest set on her UK tour.  Certainly, Nick Mulvey's support act is a popular draw being a local boy, with a preview of his new work featuring lyrics inspired by D.H. Lawrence's captivating 'The Piano'.  But the anticipation as Marling enters is second to none.
Unassuming, with her petite frame clad in white shirt and black skinnies, Marling cuts a solitary figure. As the first tingling notes of 'I Was An Eagle' blossom, the room is filled with Marling's creative intensity. Her forehead tilted back, body poised on tip-toes, her voice in live performance surpasses the magical clarity of her recordings. 
Her style is current, evocative, fresh – this is Marling at her best.  Her voice is at once dulcet, then guttural, husky even: but mainly soulful. The latest album Once I Was An Eagle retains the folksy beauty of her former work but her lyrics, ever the life-blood of her art, have grown up.  Bestial imagery meets folkloric, Native American legend in 'Master Hunter', with her characteristic guitar accompaniment throbbing with energy and earthiness: "I am a master hunter/ I cured my skin/ Now nothing gets in/ Nothing as hard as it tries". 
This year's work sees Marling stretching herself. Her tonal range is, as ever, harmonically stunning, but it is broader, treating us to the limits of her register.  Calm, lullaby segments punctuate 'Breathe' before the audience lift with the more familiar, more frenetic tunes of 'I Speak Cecause I Can' and 'Ghosts'.  'Alas I Cannot Swim' needs no introduction but she offers up a few modest reflections of her work since that debut album back in 2008.
Her music creates a controlled shivering in the Corn Exchange, whilst her self-deprecating charm and anecdotes buoy her performance.  At one point, she worries she'll mess up a slightly rusty song.  Of course, she doesn't.  She leaves us with 'Where Can I Go?' and the applause of the audience is the answer - she is only getting greater.