Theatre: Snap Out Of It!
George Morris experiences an exquisitely artful portrayal of the effects of mental illness

Charlie Bindels and Elizabeth Schenk have created something which could unpretentiously be called a masterpiece. By stringing together the verbatim testimonies of victims of mental illness, they have fashioned something which will undoubtedly provoke an authentic emotional response from anybody, whether or not they have themselves been touched by the problems portrayed. With an excellent cast of actors and an exquisitely well-designed set, this is beyond question one of the best performances I have seen in Cambridge. It is telling that the other play I would compare it to, both in its craftsmanship and in its capacity to inspire thought and feeling, is the acclaimed Vagina Monologues, which came to Cambridge earlier this term.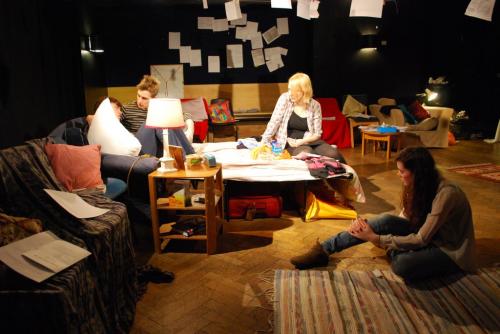 Had it taken place in the ADC, Snap Out Of It! might have joined the Vagina Monologues in receiving a well-deserved standing ovation. It would have seemed inappropriate, however, in the intimate setting of Pembroke New Cellars, where the audience are invited into the performance by taking comfortable seats in what seems to be a student bedroom. Dimmed lighting and the assorted litter and memorabilia of student life grant the closeted space a feeling of intimacy which brings out further the sombre emotions of the piece. The line between audience and actors is blurred, culminating in the question and answer session at the end, where we are offered the chance to talk about our own feelings and ask any questions about the fascinating development of the play.
The acting is superb. None of the cast ever disturbs the beauty and eloquence of the real-life script they read from by taking their expressions too far, and each excerpt is delivered magnificently well. Given the content, the performance is greatly enhanced by the natural style which the actors perfect, with the interview scenes in particular being startlingly realistic. At points, it seems the actors are asked to improvise and give their own personal responses to the material they are dealing with; that I was never clear whether or not these were scripted speaks for the quality of the acting throughout.
At one point, during the delivery of a beautifully written and brilliantly delivered speech, Megan Dalton looked right at me, with eyes which seemed to be filling with very real tears. The look was so intense, so believably real and so clearly engaged with the testimony which was being recited, that I couldn't hold the gaze. I looked to the floor, scattered with sheets of the correspondence which provides the brilliance which underpins the entire work, and to my own thoughts.
As it is noted by one person at the beginning, calling this a play is problematic. It is an engaging work of art, a collaboration between the actors, the sufferers and ourselves, and I expect that no two performances will be quite the same. I'm going again on Friday.