Opera: The Marriage of Figaro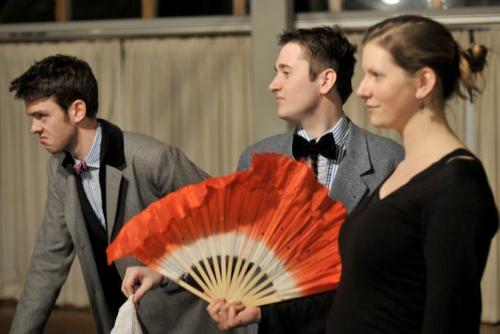 More than 200 years after it was written, The Marriage of Figaro remains one of the best-loved and most performed operas. Mozart's sanitised take on a rather more subversive Beaumarchais play – initially banned in Vienna , where the opera premièred – has inspired many productions by the Cambridge University Operatic Society over the past half-century. Few, if any, can have been better than this.
Figaro's plot is as relevant today as it was in 1786: it is an astute observation of society's workings and failings. In short, a working-class man (Figaro) wants to marry a working-class lady (Susanna), but is thwarted by the power and jealousy of his social superior (Count Almaviva), who is cheating on his wife. I'd love to see a staging in the upstairs/downstairs landings of 7 Jesus Lane: if ever an opera was ideally suited to the Pitt Club, this is it.
As it is, West Road makes a fine venue indeed. In fact, the set and stage workings for this Figaro had been designed so cleverly that the stage seemed to have grown - it genuinely felt and looked like a theatre, rather than a concert hall dressed up in operatic garb for the night. The set, a multi-level dolls' house, really did exploit the wow factor, with the piece de resistance - a rising trellis for Act Four's garden party – prompting much cooing from the audience. Director Imogen Tedbury and designer Gillean Denny, along with army of techies on secondment from the ADC, deserve the utmost praise.
This is not to rain on the parade of the excellent cast. Mozart's operatic roles provide a perfect terrain for young and developing voices, and in this production star power was found in spades.
Maud Millar carried off Susanna's stage-managing of the plot with pizzazz, ensuring that we didn't miss an ounce of dramatic spark in her pursuit of vocal finesse, and vice versa. Other cast members were still reaching for this elusive balance, with elements of the chanteusing seeming rather disjointed when singers were distracted by dramatic duties. While Millar's repeated declaiming of recitative passages off the voice began to wane somewhat after the interval, her silky soprano floated through Susanna's final aria with utter sublimity.
Foregoing the irritating fashion to install electronic surtitles for opera in English proved to be a wise decision by the production team, with the majority of cast members projecting to the very back. Special mention must go to Nicholas Mogg who managed Bartolo's fiddly geriatric musings with clarity and aplomb. Frustratingly, Isabella Gage's countess proved an exception, as she minced through Jeremy Sams' witty translation; I'm still not sure whether she forgave her husband in the finale.
Perhaps the starriest talent of the evening, though, was to be found in the bari-hunks, with Henry Neill's and Dom Sedgwick's superb performances as Figaro and the Count respectively. Neill is a true all-round performer, the stuff of an opera director's dreams, with a rich, meaty baritone formed from the best cuts of beef, alongside the comic liveliness and theatrical skill which are so necessary for the title role. It's very easy to allow the Count to become a caricatured Machiavellian figure, but Sedgwick managed to strike that crucial equilibrium between Almaviva's sensitivity and pantomime villainy. This brilliant performance drove the action forward throughout the lengthy four acts of the opera. Bravi in the highest.
Mention must go to the supporting cast, and particularly toBradley Smith's fabulously camp Basilio and Anna Harvey's Marcellina. After opening-night jitters, Amy Lyddon relaxed into her role as the cross-dressing Cherubino – the famous 'Voi Che Sapete', a song of phallic longing, revealed a fruity mezzo which was somewhat disguised in her executions of recitative.
Despite appearances, it takes incredible finesse from the pit to do justice to Mozart's orchestral writing. James Henshaw and his players were almost there. Cambridge's opera orchestras are never note-perfect, and these guys were no exception. They weren't helped by split notes, wonkified entries and issues of ensemble, alongside some more serious tuning problems, mostly caused by the erroneous tuning systems of the fortepiano and the more contemporary instruments. A little rough around the edges, then, but a valiant effort – the overture in particular effused great spirit and magnificence.
Overall this production was impressive. Very impressive. Perhaps at times Tedbury had a tendency to under-direct, relying on the powers of her lavish set and leaving her singers to park and bark. And some elements of the concept did seem redolent of Jonathan Miller's famous Figaro production for the Met. But these are minor quibbles. This was a no-gimmicks production, which had great potential for growth during the course of its regrettably short run in Cambridge.