Music: The Richard Thompson Band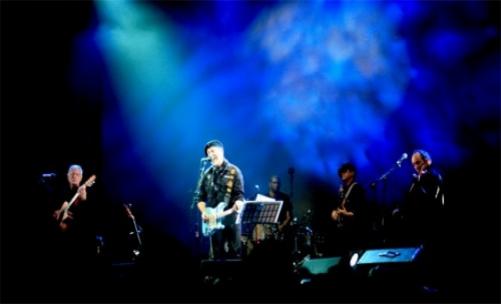 There are few things worse than ageing rockstars like Iggy Pop and Ozzy attempting to resurrect personas which were just about bearable when youth and arrogance could overcome revulsion at what is now, frankly, boring music, leathery sinews and misfiring neurons.  Even some excellent folk musicians carried on a bit too long: one particularly strong memory of mine is witnessing John Martyn steadily demolish a litre of vodka during a set, with predictable consequences for his diction and guitar prowess.  Consequently, I wasn't sure what to expect from another of the 'old guard' of folk-rock, and Richard Thompson is certainly getting old at 62.
However, rather like an 1825 Perrier-Jouët, he only seems to be improving with age. The 160 minute gig comprised two sets: the first his latest album Dream Attic in its entirety, the second a collection of hits. However, 'hits' is an optimistic term: Thompson proudly proclaimed that his first solo album was the worst selling in Warner Brothers history.  This may not be much to boast about, but it is emblematic of his acerbic, humorous style of between-song banter.  It is also indicative of his staunch yet ageing fanbase, and the second set certainly felt a little more 'vintage' than the first.
Thompson's band is a stellar outfit, whose collective session resume spans artists from Lucinda Williams to Philip Glass. Thompson's guitar playing exceeded all expectations: an effortless infusion of country licks, chromatic jazz lines and blues attitude.  The band's rendition of 'Al Bowlly's In Heaven' was particularly jazzy.  The rocky slip-jig 'Sidney Wells' also featured some lovely playing (most notably the violin solos) in an awkward 9/8 signature.
Whilst it was the improvised instrumental sections which stood out most, Thompson's voice and lyrical wit resonate just as powerfully as ever.  The song 'Here Comes Geordie' is a STINGing portrayal of a certain Geordie, whilst innuendo-rich lyrics such as "Here at Warbrook and Jones it's all tradition, we never pimp and we don't hustle.  If you'll just bend over a little, I think you'll feel my financial muscle" firmly set 'The Money Shuffle' apart from most self-righteous, anti-banker whining.
Thompson fully deserves his recently awarded OBE: few can match his staying power, even fewer his continuous evolution as a musician.  I was ultimately saddened by the thought that this may be one of the last gigs of the folk-rock 'old guard' I shall witness: however dated and wizened they occasionally seem, they were fine musicians, and that's something to be treasured these days.