Interview: Two Door Cinema Club
Julia Carolyn Lichnova and Nathanael Arnott-Davies chat to Two Door Cinema Club about America, electro-pop and cockroaches.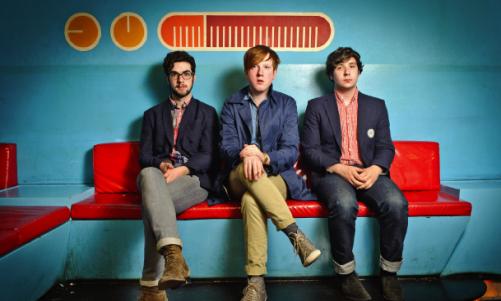 Slouching on couches in a bare dressing room, they have all the look of a band on the go. Now playing more shows than ever, Two Door Cinema Club are really making their own Tourist History. "Glasto was great. The nights at Shepherd's Bush Empire were amazing – completely sold out", they rave. Benicassim was good too: "They don't just make up these rock'n'roll stories – there really was a pool backstage," reminisces bassist Kevin Baird. "We heard it was just going to be lots of big sweaty crew guys… but it was really good."
Hailing from Northern Ireland, the band started out on the Belfast music scene. "It's pretty small and pretty contained - quite isolated. There are a lot of very good bands. Belfast in my head was what a music scene was," notes Kevin. "Everywhere we went after that, like say London, didn't really feel like there was a music scene, because there were so many bands." "In Belfast everyone is really good friends and helps each other out. But London is very competitive," adds guitarist Sam Halliday. They plan a mini-tour of Ireland in December.
Meanwhile, they're working on the second album. "We're not going to take any time off to make it," says Kevin, spitting in the face of Difficult Second Album syndrome. "We never set ourselves a boundary, we just see how it goes." The band are equally blasé about their album artwork, "the last thing they think about", though Kev loved the Tourist History cat's eyes so much that he had them tattooed under his left collarbone. His comment: "It hurt."
We discuss new directions. Are they moving away from electro pop? "I wouldn't say we were electro-pop," comes the disapproving reply, only to have lead vocalist Alex cut across: "That's pretty much what we are. Yes, there's a lot of pop in the charts. I'd like to see more rock bands." The sounds of the next album remain mysterious.
Rather than taking their cue from current musical trends, the band's main influence is their travels. "The more experiences we have, the more there is to write about," enthuses Alex, "like with America the last time. We had a little van and drove all round the States – one of the best times we've had. It sounds stereotypical but it was amazing. Once I was in a shop in Texas and this bloke came in with a massive bright orange hollow body guitar, proper cowboy boots, flared trousers… you just wouldn't see that in London."
The band recently gave up their London flat. Kevin exlains: "We had a flat in Whitechapel…" "Shitechapel", Alex corrects him – "…we spent most of our time in East London, but we stopped renting a few weeks ago as we were touring so much. And our tour bus is a lot nicer – it doesn't have cockroaches like our flat did." Currently, the band prefers West London, and wonder why they don't live there instead.
You may have seen TDCC in May Week last year. "It's just ridiculous how much money they must spend on balls", they sigh, having played at Christ's, Jesus and Sidney Sussex. "The shows were awful," Alex announces bluntly. "They were all outside, near residential housing. We couldn't make any noise because we couldn't go over 70 decibels which is the volume of us talking. But some of it was good – like in Sidney Sussex ball when they flooded the front lawn. Basically I just got pissed. That's really all that the kids do."