I'll Be Back Before Midnight
ADC
The anticipation in the theatre last night was palpable as I took my seat for the first-ever ADC thriller. The lights went down and we were introduced to our comic narrator (Alastair Roberts) who gleefully tells us to "sit back in our seat and start feeling uncomfortable". Now I must admit – I wasn't that scared – but the people around me – they were bloody screaming their heads off. Tom Kingsley's show feels like you've jumped aboard a schizophrenic ghost train with a creepy soundtrack of whispering voices and bellowing cows. Set in the living room of The Manor Farmhouse, we are told the story of Gregg (Rory Mullarkey) and Jan (Alex Clatworthy) who have moved down to the country so that Jan can recover from a breakdown. The living room itself holds dark secrets of murder – told by a neighbouring farmer, George (Tom Williams). When Gregg's twisted-bitch-of-a-sister Laura (Betsy Vriend) comes to visit – Jan starts to feel uneasy in the house. As the story continues the lines are blurred between reality and fiction. Is Jan really seeing these apparitions? Or is she just completely mental? All is revealed. Scarily.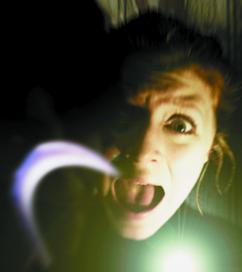 All four actors give spectacular performances. Vriend as Laura the power-hungry-city-girl – is something of a fiend. Physically delicious with her slutty movement and the coldest of stares - she is the devil wearing prada and, by God, she wears it well. Mullarkey as the bumbling geologist Gregg is superb – always leaving the audience wondering whether to trust him or not. He also gives one of the best physical performances I have ever seen with a Mr-Motivator-style dance to an eighties classic re-mixed by Kingsley with gun-shot and explosion sound-effects. George, the farmer, is endearingly portrayed by Williams whose welly-clad-west-country demeanour and exceptional versatility brings a spellbinding comedy to the production. The audience were desperate for his flirtations with Jan to explode into a fully blown country-haystack romp. Sadly, this is never realised. It is Clatworthy as Jan who creates the sense of foreboding to utter perfection and steals the show. In Kingsley's absurd world of Lynch- inspired insanity (there are some beautiful references to Twin Peaks that left me feeling quietly cultured), Clatworthy's naturalistic execution of her pivotal role is where the fear becomes tangible.
Electric, hilarious, spine-chilling and compelling this thriller is a rare beast with a massive twist that deserves not to be missed.
Five Stars
Osh Jones