Refusing to teach children about LGBT+ issues perpetuates dangerous social divides
Freddy Legg criticises Question Time's recent discussion of whether it is 'morally right' to teach children about LGBT+ issues, and the decision to halt the 'No Outsiders' programme at Parkfield School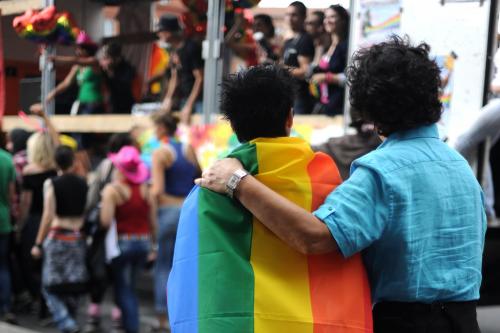 CN: references to homophobic language and behaviour, self-harm, and suicide
In 1988, Margaret Thatcher's government passed the Local Government Act, section 28 of which was designated as the "Prohibition on promoting homosexuality by teaching or publishing material". It was introduced as a measure to combat the alleged rise of homosexuality and the widening HIV/AIDS crisis, in a time when 75% of Britain believed homosexual activity was "always or mostly wrong". It was fifteen years before it was repealed.
In 2019, just over three decades on, Parkfield community primary school in Birmingham has been forced to withdraw plans to discuss homosexuality, bisexuality and transgender identities as part of their 'No Outsiders' initiative, following protests from parents against the "inappropriate" nature of educating children on these issues. The plan was the brainchild of Andrew Moffat, who has been awarded an MBE for his work in equality education, is currently shortlisted for the world's best teacher award, and is in a same-sex civil partnership. When even leading political programs like Question Time are asking whether it is "morally right" to discuss LGBT+ issues in a primary school setting, the tragic parallels between the suppression of LGBT+ culture in the 1980s and today are inescapable. The fine line between adhering to traditional values and normalising prejudice against marginalised communities grows increasingly blurry.
The plans were criticised by parents as being "inappropriate, very adult and complex" for children, but to my mind it remains unclear what is so adult, inappropriate and complex about these issues. Admittedly, there is something inherently adult about developing romantic and sexual relationships, but this is identical for same-sex relationships and opposite-sex relationships, and we do not shy away from introducing heterosexuality to children. As a child, I was many times asked if the girl I was talking to was "my girlfriend". I remember feeling pressured into getting romantically involved with girls from the age of 11. Nonetheless, I was told when I first started to come out from the age of 13 that I was too young to know quite how I felt, even though I had been encouraged to have a girlfriend two years earlier. The double standard is plain to see.
In 2017, it was identified that 40% of LGBT+ pupils received no education on LGBT+ issues. This is just part of a larger problem, though – we can extrapolate that 40% of non-LGBT+ students have reached adulthood with no education whatsoever on LGBT+ issues. While this places a burden on LGBT+ young people to self-educate for their own benefit, we must also consider the consequences this has on our non-LGBT+ young people. It creates a greater divide between LGBT+ people who will learn about the realities of being an LGBT+ person through research or experience and those who will never know about these at all.
"We do not shy away from introducing heterosexuality to children. As a child, I was many times asked if the girl I was talking to was "my girlfriend""
Speaking to some of my heterosexual and cisgender friends about this, we found some statistics that they found appalling, but which did not surprise me. They found it shocking that one in five LGBT+ people have experienced a hate crime or incident in the last year, but it is just a fact of life to me. I've been spat at and called a "faggot" on Jesus Lane in the middle of the day in the last year, and other students in Cambridge have reported similar experiences. Over half of gay and lesbian pupils experience homophobic bullying in school. I can remember each blistering slur, including other pupils refusing to change in the same facilities as "a fag" or being referred to as 'AIDS' on a year-wide group chat, although I count myself among the lucky few in terms of having a generally positive high school experience. The world I have experienced as a gay man is radically different to those of my straight friends, and they often have very little understanding of my reality.
The detriment this has on LGBT+ people's mental health is clear. 71% of lesbian and bisexual women and 57% of gay and bisexual men aged 18-24 have thought about killing themselves. Nearly half of LGB young people have deliberately harmed themselves this year, and 30% have attempted suicide in the last year. We are living through a mental health epidemic in which the LGBT+ community are suffering the most, yet still we see opposition to positive reform to the ways in which we think about gender and sexuality.
This, however, is hardly surprising. The Parkfield debate has opened a ferocious can of worms within the UK, revealing a deep-seated discomfort with LGBT+ people in wider society. It is a political sentiment LGBT+ people are no doubt familiar with, whether they see it in the failings of the Gender Recognition Act, the noted asexual nature of civil partnerships or the striking opposition to same-sex marriage in 2013. By allowing the debate on the morality of LGBT+ lessons, Question Time were in effect once again breathing new life into Margaret Thatcher's infamous 1987 speech that "children are being taught they have an inalienable right to be gay. All of those children are being cheated of a sound start in life." In reality, the only way in which those children are being cheated is through their schools failing to teach them that it is normal to be LGBT+, and allowing hate to continue to breed.
If we continue to fail to educate our young people on LGBT+ issues, we will perpetuate a status quo wherein nearly a third of LGBT+ young people try and take their own life annually. While Parkfield Community School is only a symptom of this wider problem, it is plain to see that if we do not teach our children about social diversity from a young age, we teach them to hate themselves and those not like them. And while many of these young people will suffer through mental health issues and become thriving individuals, you have to ask yourself the question: why should we make them suffer in the first place? Is it because we simply don't care? I would certainly hope not. It is simply troubling to me that within society we are still allowing the divide between "us" and "them", and that we are still permitting LGBT+ people to suffer as the casualties of our inability to accept and embrace those who we perceive as different.