Galloway: "Julian Assange should receive the Nobel Peace Prize"
Speaking at the Union on Monday, Galloway was typically outspoken and insisted that he's not "in his grave" just yet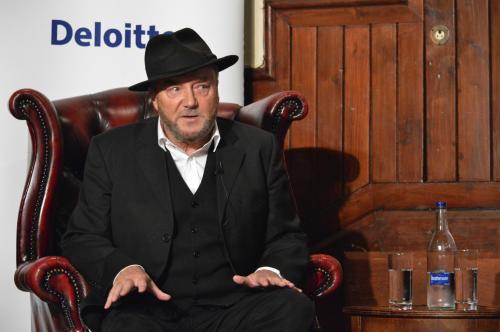 George Galloway is a man used to scrapping. Cutting a sombre but distinct figure in a black suit and his signature black trilby, he speaks to the press in the Mountbatten Room at the Cambridge Union. Beside him sits his wife, Putri Gayatri Pertiwi, who nods as he answers questions and occasionally reinforces what he says.
Having lost his Commons seat in a landslide defeat in May, he told the media he wasn't "in his grave" just yet and, a month later, the controversial former MP – expelled from the Labour party in 2003 – announced his intention to run for Mayor of London.
Speaking about the upcoming election, he dismisses his rival Sadiq Khan – perceived to be his clear rival on the left and who is leading in early opinion polls by a substantial margin – as a "very boring man" who "supports Corbyn as the rope supports the hanging man", describing himself as "doing quite well".
Having on several occasions criticised him publicly on Twitter, he sees Khan as no threat. "My experience to date," he says, "is that the vast majority of Muslims in London will be voting for me."
During the Labour leadership campaign, Galloway stated that he would be interested in re-joining Labour if Jeremy Corbyn won. Now, he is "demanding" they "rescind his expulsion"; if they were to do so, he would automatically be reinstated into the Labour Party.
Met with applause and a simmering of boos as he takes his seat in the Chamber, there is a clear tension in the air – people are waiting for him to say something controversial.
His interviewer, Sachin Parathalingam, begins by asking about Corbyn. Galloway, who spent nearly 30 years as an MP in four different constituencies, emphasises his closeness to the new Labour Leader by saying: "Jeremy Corbyn has my absolute loyalty and support and love."
He goes on underline his faith in the British people to elect Corbyn in 2020, rather than his probable opponent, George Osborne, whom Galloway dismisses as a "pasty-faced product of the English ruling elite".
When speaking earlier to the press, Galloway had conceded that Corbyn faces problems, "the principal difficulty being that, though elected by a landslide majority of the members, the great majority of Members of Parliament are not with him." But he is not pessimistic about the Labour leader's future.
"I think he's going to continue as the leader. I don't think they're going to be able to push him out, which is what they constantly threaten and talk about," he said.
Parathalingam continues by asking Galloway about his opinions on Union's recent Julian Assange referendum, given that in 2012 the former MP described Assange – wanted on suspicion of rape – as guilty of "bad sexual etiquette", claiming that he had been the victim of a "set-up".
After briefly contesting Parathalingam's definition of rape – his repartee to the former president of both King's College's and the university-wide Law societies that "you're obviously not a law student" draws a lot of laughter – Galloway began to address what he perceives as a "fix" by the United States in order to extradite Assange, subject him to a secret trial and imprison him.
"Julian Assange should receive the Nobel Peace Prize," he proclaims, a murmur of laughter spreading across the chamber.
Galloway is certainly confident in his delivery: his oratorical style, which won him the Spectator's 'Debater of the Year' award in 2001, is clear and compelling. At times, however, he lets the mask of confidence slip.
"I've given my enemies opportunities to attack me," he says. This is no surprise given that he seems a man who considers himself an outsider in a battle against mainstream politics.
And it doesn't take long for his other controversies to catch up with him. Soon, the obligatory questions about Israel, of which he is a vocal critic, Hezbollah, and Iran were raised – he is certainly not short of a history when it comes to ruffling feathers.
"This feels like a trial," he responds at one point.
Perhaps he's not far wrong, given that the first question from the floor comes from a Christ's student, who, among other parts of a confused and angry speech, says the former MP reminds him of the lines from WH Auden: "The Ogre stalks with hands on hips / While drivel gushes from his lips."
Galloway's dismissal of this as "just a stream of ad hominem abuse" and "not worthy" of response elicits a firm round of applause. This doesn't stop the questions, however – the former MP is quizzed again on his involvement with Iranian Press TV and his refusal to participate in a debate against an Israeli student at Oxford last year.
After the event, I speak further with Galloway on the phone and ask what he plans to do if he does not succeed in becoming Mayor. Sidestepping the question, he responds by saying "I don't regard my political life as a career."
He's been embroiled in a lot of controversial topics over the years, but Galloway remains infamous for his appearance on Celebrity Big Brother in which he impersonated a cat, a subject I dare to broach with him – does he think it damaged his political reputation?
Unsurprisingly, he responds in an exasperated tone, denying that people even remember it. I point out that this cannot be true given that David Dimbleby mentioned it during the BBC coverage of him losing his Bradford seat. "More fool him, but it's not something that troubles the average voter," he replies.
He stands at the foot of the greatest political mound he has ever tried to climb, but George Galloway is a man used to making comebacks. For now, he still has a fight left in him, and, tempting though it may be, can't quite be written off.